A bibliophile challenges herself to a yearlong tour of books penned by Iowa writers.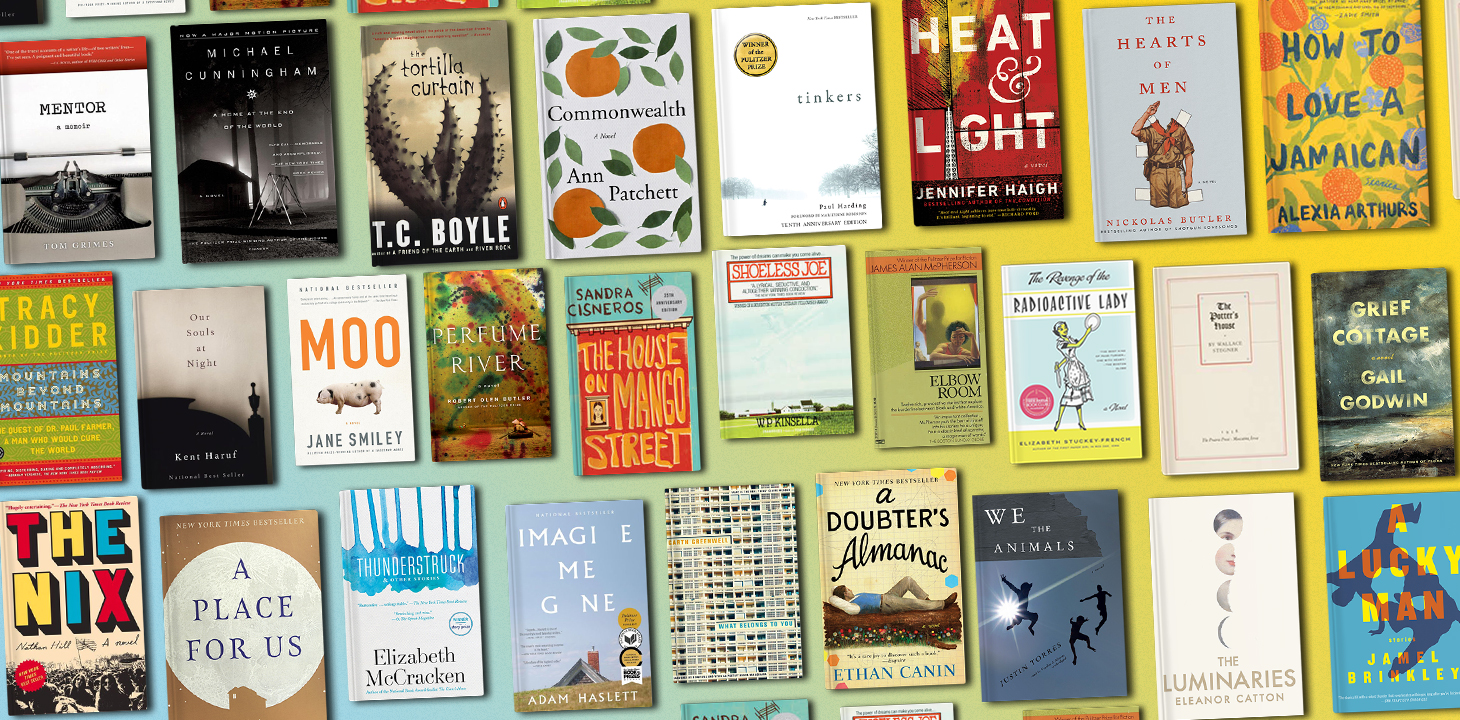 Home, for me, is not the house in Glenwood, Iowa, where I sleep, but a city of 75,000 in eastern Iowa that stole my heart. My love for Iowa City began with my University of Iowa alumni parents and only grew when I became a UI student in the 1990s, rediscovering a town that celebrates healthy living, diversity, and literature. A few times a year, I return to Iowa City to wander the bookstores and lose myself in the variety of interesting topics, great writing, and award-winning novels from authors who once roamed the streets of this UNESCO City of Literature.
In fall 2017, I subconsciously purchased books by UI-educated authors in a variety of places—The Bookworm in Omaha, Nebraska; Boulder Bookstore in Boulder, Colorado; and Prairie Lights Bookstore in downtown Iowa City. I am proud to have graduated from a school that educates authors of world-renown, and I smile every time I purchase a book with a UI connection.
By November, I owned enough books to begin a project—a year of reading exclusively works by UI-educated authors. This was not my first yearlong reading project. In 2015, I concentrated on the stacks of books sitting on my shelves unread. In 2017, I focused on books that won the Man Booker Prize. A yearlong project cozying up to books by Iowa authors was a way to stretch my brain and avoid being stuck in a reading rut.
Each evening I watched the nightly news and then retreated into literature. On Jan. 1, I boiled hot water, poured it into a black mug over a packet of cocoa mix, and picked up Michael Cunningham's A Home at the End of the World. This book about a gay man accepting himself and creating a nontraditional family gave me hope for the year ahead.
Later that month, amid the national debate over immigration, I started reading T.C. Boyle's The Tortilla Curtain, a novel about two illegal immigrants who desperately cling to their vision of the American dream as they fight off starvation in a makeshift camp. The government shut down over this issue as I read the last page of Boyle's politically-charged satire.
Hoping for a reprieve from politics, I opened Commonwealth by Ann Patchett. It did not disappoint. The book about how a fling between two adults affects themselves and their families features Iowa City, bringing me to my happy place in the midst of my winter doldrums. But these first three books neglected to expand my cultural horizons. They were all by authors whose works I previously read, and they came from a white, middle-class perspective.
I realized I hadn't read a book by a black writer since 2010, so, in February 2018, I picked up Yaa Gyasi's Homegoing. In 320 pages, Gyasi presents the history of two families, living on two different continents, from the 1700s to today. The author's ability to present an objective point of view on issues such as slavery and civil rights while providing lyrical writing impressed me.
While reading Gyasi, I traveled to Iowa City and gained more book recommendations at Prairie Lights. A bookseller named Kathleen introduced me to two UI authors whose works I never had read before: Jennifer Haigh and Nickolas Butler.
Temperatures on March 3 reached 68 degrees. I opened the windows and exchanged my slippers for sandals as I closed Haigh's Heat and Light, a fictional look at the energy business from the standpoints of a natural gas company thinking only of the bottom line and a town sitting on a natural gas deposit. On the East Coast that day, a bomb cyclone produced 1.9 million power outages.
Later that month I began craving another road trip to Iowa City or elsewhere. Work took precedence, so I poured green tea into a pink mug and settled for Mentor, a book about author Tom Grimes' relationship with Frank Conroy, former director of the Iowa Writers' Workshop.
I then read Mountains Beyond Mountains, Tracy Kidder's account of one doctor helping to cure infectious diseases in developing nations. I also read news articles about that doctor's favorite country, Haiti, learning that the suspected cases of cholera that year hit a record low of 3,000.
On June 6, I sat on the porch with cold coffee in a white mug and read Sandra Cisneros' The House on Mango Street, my first work of short stories that year, as well as my first book by a Latina author in two years. I returned to Iowa City for a weekend in mid-June and ate brunch with my friend Michelle, who told me about her friend Rachel McPherson, daughter of James Alan McPherson. Michelle's story sent me to the Haunted Bookshop, where I purchased James Alan McPherson's Pulitzer Prize-winning Elbow Room.
Race relations is a common theme in Elbow Room, which I read as I heard about the slaying of Omahan Frederick Green, an African American who had been released from prison only a month prior. One of the most fascinating stories from McPherson's book told of a shop owner who charges more for items in his store in a poorer, predominantly African American neighborhood than he does in a prosperous, predominantly white neighborhood. The store owner blames this on higher insurance rates in the poor area. I thought Elbow Room might be the highlight of the year, but the fall brought more mind-expanding tomes.
A Place for Us by Fatima Farheen Mirza proved a fall favorite. The story of an immigrant family's experiences in America as its members prepare for a wedding brought me heartache and a renewed sense of hope for this country. I also read Garth Greenwell's What Belongs to You, a novel about a gay man in a volatile relationship in Bulgaria. I read another short coming-of-age novel, We the Animals, from Latino-American author Justin Torres, surpassing my goal of finishing 24 books.
In November, I looked at my unread pile, closed my eyes, and chose the only book on my reading list to win the Man Booker Prize, a thick novel that sat on my shelves teasing me for five years. Three times in those years I picked up Eleanor Catton's The Luminaries, looked at the astrological charts in the front of the book, and set it down.
I poured black tea into a brown mug and settled onto the couch. I was glad I tackled this book. It fell into one of my favorite genres—the gothic novel—and daily I found my stomach growling and night descending before I emerged from the pages of this mystery set under a new moon on a stormy night in New Zealand.
My final book was Jamel Brinkley's A Lucky Man. Again, I was struck by the stark realities of African American life that a white middle-class woman knows nothing about. In one line, a black child of about 8 says, "when I go to prison." Reading the character's mindset that this is a part of life shocked and saddened me.
The year took my imagination to North and South America, Africa, Europe, and New Zealand. I read stories of courage and despair, of current events and murders from the 19th century. I am proud that the university, and Iowa City, supports and teaches diverse writers. People come from different backgrounds and have different experiences, but a great story can lead to better understanding.
---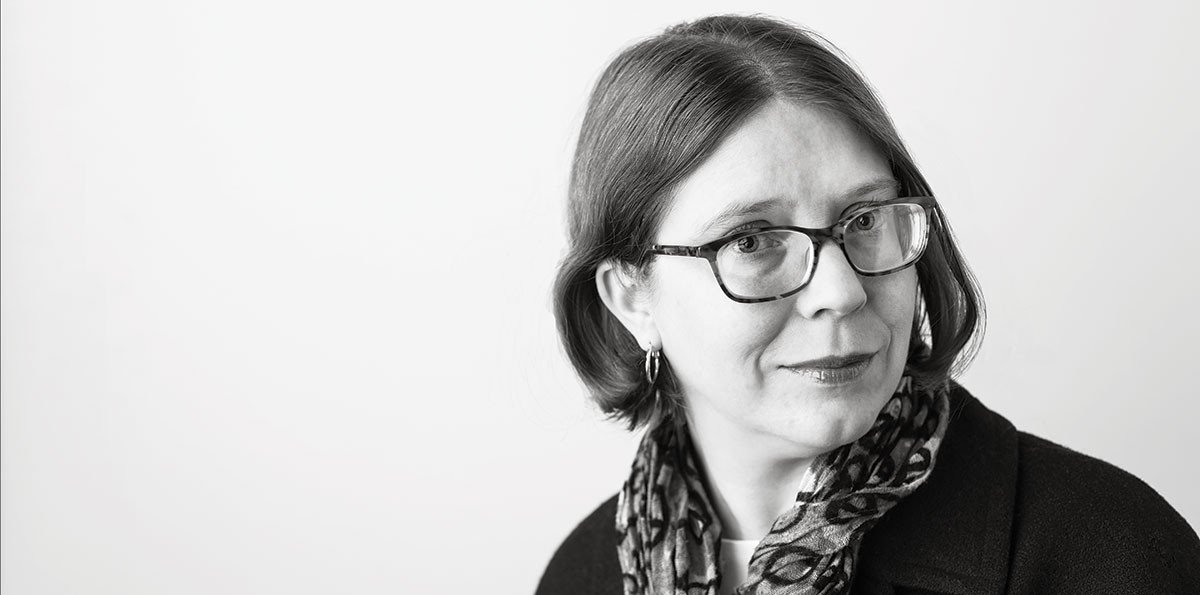 PHOTO: BILL SITZMANN/SITZMANN PHOTOGRAPHY
Daisy Hutzell-Rodman (98BA), a graduate of the UI School of Journalism and Mass Communication, is the managing editor of Omaha Magazine. She lives in Glenwood, Iowa, with her husband, Jeremy Wade Rodman (96BA), and three cats: Dorian Grey, Agnes Grey, and Onyx Ember. Hutzell- Rodman's book reviews can be found at goodreads.com/hutzellrodman, where she welcomes new friends and followers.