An accomplished rock climber and self-described gypsy takes cooking to new heights.
Professional rock climber Brittany Griffith was staying at a guest house in a tiny village in Jordan in 2016 when she received an unexpected request. The homeowner said his wife was eager to learn some new cooking techniques from Griffith, if she was willing to teach her.
So Griffith (95BA)—known in climbing circles as much for her culinary expertise as her cliff-scaling prowess—knocked on the woman's door, though she was unsure how she would bridge the chasm between cultures. While Griffith has traveled extensively in the Mideast, she's had few interactions with the region's often hidden women. But soon the American was working alongside the Jordanian woman in her kitchen, where they whipped up a pasta dish Griffith had learned a few years earlier in Sicily. Good food, it turns out, is a universal language.
"Even though I'd been to all these Muslim countries, I'd never talked with a Muslim woman inside her home," says Griffith, an Iowa native who currently lives in Salt Lake City. "I realized they're not always covered up, and they're just like you and me at home. Cooking was this basic thing we could share."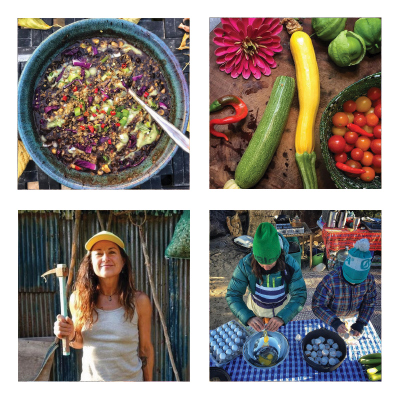 PHOTOS COURTESY BRITTANY GRIFFITH
Griffith has become a well-known figure in the climbing world since graduating from the UI in the mid-1990s and embarking on a road trip that's never quite ended. As a brand ambassador for Patagonia, Black Diamond, and other outdoor companies, Griffith has climbed in 63 countries. That includes first ascents in remote areas like Kenya and Yemen, as well as feats closer to home like free climbing Moonlight Buttress in Zion National Park and completing the vertical mile on Yosemite's famed El Capitan.
Climbing isn't the only way Griffith feeds her appetite for adventure. She's earned a black belt in taekwondo, raced on the professional mountain biking circuit, and has had close calls in some of the world's most dangerous regions—including once being shot at by a Yemeni man unhappy with having his photo taken by someone in her group.
Griffith's lifelong passion, however, has always been cooking. Much like the creativity and improvisation required in rock climbing, Griffith enjoys preparing meals for her traveling companions with her "gypsy kitchen" philosophy—using the available ingredients and bringing together dishes and people from different cultures. Whether it's throwing together black bean sweet potato tacos over a campfire or creating a stew with freshly picked vegetables from her home garden, Griffith is as free spirited with her cooking as she is in her travels.
Griffith puts on cooking programs for Patagonia Provisions, the company's food branch, and has catered for big crowds at outdoor events. She's currently writing a book for Patagonia that's part memoir, part travelogue, and part cookbook. Finding time to write, though, can be a challenge—last year she was on the road for nearly 250 days, including climbs in Kenya, South Korea, and Brazil.
Griffith first whetted her appetite for travel at the UI. As a sophomore, she took part in a semester-long study abroad trip to London, during which she saw much of Europe. She returned to Iowa City to earn her degree in communications and a certificate in international business with her sights set on seeing more of the world. After moving west following graduation and learning to rock climb, the communication skills Griffith honed at the UI served her well as a jack-of-all-trades in the outdoor industry. Over the years she's been everything from a blogger to design consultant to an event organizer for Patagonia and other sponsor companies.
In her two decades of bonding with people over climbing and food—like that memorable night of cooking in Jordan—Griffith has gained a holistic perspective of the world. "People are pretty much the same regardless of their religion and their governments," she says. "There are good seeds and there are bad seeds; there are people with open minds and people with closed minds. It's just the nature of people."
As for Griffith's favorite travel destination, it's hasn't changed since that college semester abroad. "Any place I haven't been," she says.
---
Follow Brittany's Adventures on Instagram