Filling sandbags for the university was more than just child's play for this young volunteer, featured in the latest compilation of flood stories and photos.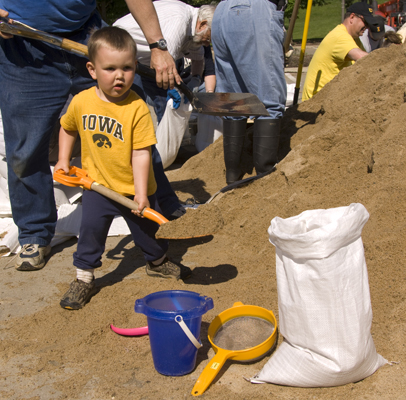 When UI President Sally Mason went to bed on the eve of Friday, June 13, 2008, she feared she'd wake up to one of the biggest challenges in university history. She was right.
Unable to sleep at 4:30 a.m., Mason walked onto her balcony to look out over the arts campus. Her nightmare had come to life: overnight, the Iowa River had crept into Hancher Auditorium. "I woke [my husband] up, because misery loves company," says Mason. "I needed to share."
Mason's account of last year's flood is just one of two dozen oral history interviews that the UI Libraries features in its Iowa City Flood Digital Collection. Each audio file runs about 40 minutes and tells a personal story from members of the university and surrounding community. The collection also includes more than 400 University News Service photos, ranging from the UI Museum of Art's Big Boy sculpture encased in waterproof plastic to a preschooler helping sandbag efforts with a toy bucket and shovel.
Members of the UI anthropology department and Story Corps (a non-profit organization that promotes oral history) conducted the interviews, which chronicle everything from the late-night evacuation of the Museum of Art to the massive sandbag effort that placed Amish farmers side-by-side with Johnson County Jail prisoners. Iowa art education professor Steve McGuire, 83MA, 90PhD, tells about paddling through his neighborhood on a canoe, while Hancher executive director Chuck Swanson, 75BBA, 76MBA, shares his reaction to carrying a portrait of the auditorium's namesake to safety.
One of the most poignant stories, however, comes from Mason, who encountered a young man frantically filling sandbags near the Iowa Memorial Union. When Mason asked his motivation, he replied, "My wedding is in this building in three weeks!"
Like that groom-to-be, volunteers didn't see the time and effort they put into flood relief as simply an act of charity—but rather as a personal investment in the community that has shaped their lives.