A UI art class celebrates the beauty of national parks.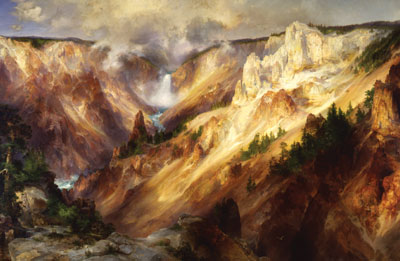 PHOTO: SMITHSONIAN AMERICAN ART MUSEUM, WASHINGTON, DC/ART RESOURCE, NY
Moran, Thomas (1837-1926). The Grand Canyon of the Yellowstone, 1872. Oil on canvas, 84 x 144.25 in.
R
ecalling her childhood, Joni Kinsey describes herself as nothing short of a hardcore Girl Scout. As a teenager, she explored Yellowstone and the San Juan Mountains with the organization. She backpacked for days through Wyoming's magnificent Sunlight Basin and learned how to cook with hot rocks.
Kinsey loved the wildness of places with all her heart–and she carried that throughout adulthood and into her career as an art professor at the University of Iowa.
This past semester, Kinsey channeled her expertise in 19th century landscape art into a first-ever UI course exploring the artistic history of American national parks. "Topics in Art History: Art and American National Parks" considers the crucial role art has played in the development, lure, and popularity of the National Park Service, which celebrates its 100th anniversary this summer.
From modest wood engravings in 1870s magazines to railroad guidebooks, monumental oil paintings, and photographs by Ansel Adams, the course offers a fascinating overview of art's influence on public perception and attitudes toward America's natural wonders. Early tourists in the mid-1850s started visiting Yosemite to take pictures well before it became a federal preserve in 1864 administered by the state of California. Although the class focuses on Yosemite, Yellowstone, Niagara, and the Grand Canyon, the syllabus also includes lesser-known sites such as Arcadia National Park in Maine and Michigan's Pictured Rocks National Lakeshore.
Kinsey developed her curriculum to appeal to a broad range of students–not only art history majors but also anyone interested in conservation, geography, geology, and ecology. At the core of her lectures, she reveals how art and photography influence how we see parks today. As Kinsey explains, "Early artists create our expectations, the postcard views of what we could intend to find when we go to these places."
During one class meeting in Art Building West, the professor passes around an old-time Viewfinder. Inside, students glimpse an 1893 photo of painter Thomas Moran, his feet dangling off a canyon cliff at Yellowstone–the country's first official national park.
Thomas Moran was the first painter in Yellowstone, a guest member of the Hayden Geological Survey of 1871 commissioned to explore a mythic area still quite unknown, a place of geysers and hot springs where "hell bubbled up." The majority of the population still lived in the East and words simply could not describe the rugged, unbridled beauty of the American West. Yellowstone was like a tall tale that no one could believe. It needed to be explored, validated, and seen.
Explorer Nathaniel Langford had recently returned with the first believable drawings of Yellowstone, inspiring geologist Ferdinand Hayden to lead an expedition for further study. Together, Moran and photographer William Henry Jackson brought back images and landscapes that proved beyond doubt that this magical land was, in fact, real. Their breathtaking work was used to lobby Congress with this new idea of preserving these areas as national parks.
Interestingly, Moran was not a government employee, but an expedition participant invited by the Northern Pacific Railroad. Northern Pacific encouraged the expedition and any enterprise that would promote tourism and get people to ride their trains. "We think of our park system as this altruistic, conservation effort–yet national parks were a commercial enterprise from the very beginning," Kinsey points out. "The Pennsylvania senator who introduced the park bill came out and said the land wasn't useful for anything else anyway. In truth, many agendas were at work."
"We think of our park system as this altruistic, conservation effort–yet national parks were a commercial enterprise from the very beginning."
Joni Kinsey
Victoria Erickson, a journalism and art history major, was most surprised by this consumer influence on park development. Her appreciation for art and nature drew her to the class; she wanted to learn more about the harmonious relationship between the two. While the parks may have formed with interest in monetary gain, Erickson says she's glad that conservation, preservation, and public enjoyment were the positive results.
After the Hayden expedition returned from Montana and Wyoming, Moran started on a painting he hoped would distinguish his career. His Grand Canyon of the Yellowstone in 1872 soon became the standard of what visitors expect to see when their station wagons pull over at the overlook called "Artist's Point." Kinsey's students study a picture of the giant painting. They spot the major framing elements, the lighting, the contrast, the sweeping foreground, the subtle depiction of a Native American relinquishing the place to white explorers. The professor explains how Moran clearly crossed the entire canyon and created a constructed view that synthesizes different points into a single scene.
Moran's Grand Canyon of the Yellowstone justified a national investment in the place, convincing U.S. Congress to recognize its significance and the importance of similar lands.
On March 1, 1872, the park bill sailed through without dispute and Congress founded Yellowstone National Park. Within a month, Moran's painting was mounted in the rotunda of the U.S. Capitol and would much later make its way to the Smithsonian. Congress authorized additional national parks and monuments in the years to come–and on Aug. 25, 1916, President Woodrow Wilson signed an act creating the National Park Service, a new federal bureau in the Department of the Interior charged with protecting them all.
Kinsey believes that examining national parks offers a different way of looking at America's cultural identity. "The United States had this cultural insecurity," she says. "We didn't have castles or centuries of history, but we did have nature."
In fact, the United States shared that gift with the world. The founding of Yellowstone National Park launched an international movement. Today, more than 100 countries manage 1,200 national parks or similar preserves.
"It's amazing to think how the beauty and sublimity of the wilderness contributed toward our national outlook on tourism, the railroad, conservation of the land," says Erickson. "Although it may be taken for granted from time to time, people travel from all over the world to catch a glimpse at America's awe-inspiring national parks."