Louis Virtel, 08BA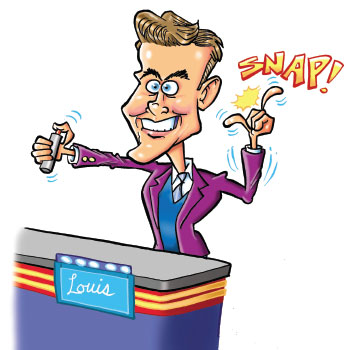 ILLUSTRATION: BUCK JONES
A
a contestant on Jeopardy this past spring, pop culture journalist and comic Louis Virtel, 08BA, delivered the snap heard 'round the world. Upon correctly identifying The Crucible as Arthur Miller's play about 1690s Salem, Virtel celebrated with a sassy victory snap that became an online meme. A few weeks later, fellow UI journalism alumnus-turned-Jeopardy contestant Choyon Manjrekar, 05BA, set the Internet ablaze with his tongue-in-cheek wrong answer to a question about a Broadway musical that shares its name with a hymn (he guessed Kinky Boots instead of Rock of Ages).

Future contestants, here are Virtel's top five tips for winning Jeopardy:
1. Study categories that appear on the 50-question tryout test.
2. Brush up on famous figures and their place in the timeline of history.
3. Dress for success.
4. Plan a game-play strategy in advance, such as bouncing around the board to throw off opponents.
5. Search for Daily Doubles (usually found somewhere between $800 and $1,600) to control the game.