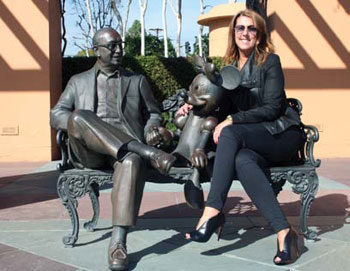 PHOTO: KAREN MILLER
Though Karen Miller works in Hollywood now, she often returns to Iowa to visit family and plans to speak to aspiring Hawkeye film students. "The UI has inherent moral values that are very similar to Disney's. It stands for good character and offers people a high quality of education," she says. "My time [at Iowa] was so instrumental in [shaping my life and career]. You can definitely tell in this business that the nicest people are from Iowa."
Karen Miller searches every corner of the world, looking for television shows that appeal to the kid next door.
As an entertainment executive for the Disney Channel, Disney XD, and Disney Junior, Miller* brings animated and live action shows steeped in magical storytelling and life lessons to around 400 million households worldwide. She says, "The Disney brand is reflective of today's family based on the fundamentals of follow your dreams, believe in yourself, and the celebration of family."
Recent programs like Doc McStuffins, Phineas and Ferb, and Jessie feature likable characters who face familiar challenges such as dealing with a school bully or adjusting to a blended family. Miller says, "It's great to be part of something that resonates with and entertains kids, but also helps them navigate their early years."
In her position as vice president of acquisitions, coproductions, and worldwide programming strategy for Disney Channels Worldwide, Miller primarily buys shows not produced by Disney and turns them into household names watched by children and their parents in 166 countries. She also provides input on the creative development of co-produced movies and series, while collaborating with European and Asian counterparts to determine what programming lineups work best in various countries. Certain countries even have their own adaptation of Disney programs, as in India, where Good Luck Charlie runs as Best of Luck Nikkiórecast with Hindi actors who appeal more to an Indian audience. Says Miller, "Audiences can connect better when the content reflects their own local culture."
A third-generation UI student, Miller attended Iowa as a broadcasting and film production major from 1977-79. She left the UI to follow her parents to Los Angeles and also chose the same career as her father, Frank, 56BA, a former TV program manager and executive producer. While finishing her degree at California State University-Northridge, Miller became a CBS page and worked her way up to a television producer at Warner Bros. and Lorimar Television. "By sheer luck, I did the pilot for Full House. The adults in the cast were all around the same age, so we literally grew up together," says Miller, who also served as a coordinating producer for Step by Step, Family Matters, and other TGIF shows. "It was an amazing time in all our lives, and we laughed every day."
Now that she's working for the Disney Channel, Miller is happy to report that the experience is as much fun as it appears. "I love it, because it's never the same every single day," she says. "It's fast-moving, because of the worldwide aspect of my job, and I've made friends around the globe."