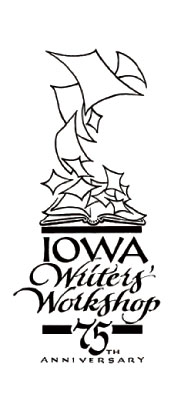 Pulitzer Prize-winning author Marilynne Robinson peered into the audience at the Englert Theatre one evening this past June to see a who's who of the contemporary literary world.
"Have there ever been so many poets in one place?" she asked hundreds of writers gathered to kick off a weeklong celebration of the Iowa Writers' Workshop's [IWW] 75th anniversary. "If it were happening anywhere else, I'm sure we'd be impressed."
Robinson, an IWW faculty member, gave the keynote address during a reunion that brought alumni and instructors to Iowa City to honor the oldest and most prestigious writing workshop in America. Founded in 1936 under Wilbur Schramm, 32PhD, and nurtured by International Writing Program co-founder Paul Engle, 32MA, the program became the first in the nation to offer an advanced degree for a creative literary thesis. Past participants include some of the most recognized names in literature, such as Flannery O'Connor, 47MFA, John Irving, 67MFA, and James Alan McPherson*, 71MFA. They also include 17 winners of the Pulitzer Prize, a few U.S. poets laureate, and countless recipients of the National Book Award, MacArthur Foundation Fellowships, and nearly every other major writing award.
The reunion schedule brimmed with readings, music, and a softball game between poets and fiction writers. An all-star panel on "The Writer as Public Figure" featured Ethan Canin, 84MFA, Abraham Verghese, 91MFA, Michael Cunningham, 80MFA, and Jane Smiley, 75MA, 76MFA, 78PhD, while other accomplished graduates and faculty led discussions on topics such as "What Makes Literature Immortal?" and "The Future of the Short Story." Alumni bloggers gave an insider's view of the festivities for websites including Poetry & Popular Culture and the Huffington Post.
The IWW continues to attract nearly 2,000 applications every year for 25 fiction and 25 poetry slots. The highly competitive program recently received a National Humanities Medal from the National Endowment of the Humanities and also helped achieve Iowa City's designation as a UNESCO City of Literature.
In her introduction to Robinson's lecture on "The Workshop as Phenomenon," IWW Director Lan Samantha Chang, 93MFA, marveled, "How is it that what began as an experiment, an upstart idea of a few writers and academics at a public university in a rural state, could flourish for 75 years?"
Whatever the secret, the IWW stands at the heart of American literature, inspiring hundreds of gifted writers and serving as the model for scores of creative writing programs around the world.