Success, in a word, is Oprah. Meet "Eric Ferguson"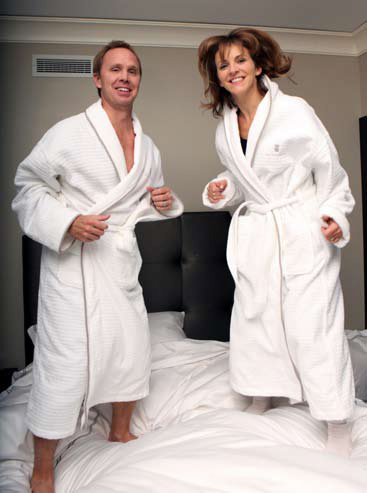 A few years into hosting his radio talk show-now the No. 1 morning program on Chicago's airwaves-Eric Ferguson took a call on the request line. He and his co-host Kathy Hart, together the famed duo Eric & Kathy of The Mix (WTMX FM 101.9), had been discussing the rock group U2's visit to the Windy City.
The caller was Oprah Winfrey. She had heard their conversation and phoned in to chat about her evening out with Bono the night before. She also mentioned that she liked to listen to Eric & Kathy during her morning jogs.
"When Oprah likes you enough to make you a part of her daily routine, you know you are doing pretty well," laughs Ferguson, 89BA, who launched Chicago's "Eric & Kathy" show in 1996 after several years at stations in Colorado, Florida, and Pennsylvania.
Returning to Chicago was a homecoming of sorts for the Elburn, Illinois, native. Ferguson grew up listening to Chicago radio, an experience that proved influential to a career path that started in Iowa City on KRUI and KKRQ. His current top rated program takes a lighthearted and humorous approach to pop culture, lifestyle, and entertainment-a sort of radio equivalent to People magazine.
"If you'd asked me at 14 years old what I wanted to be when I grew up, this would've been it. I am one of those rare, fortunate people. -Eric Ferguson"
Ferguson considers his listeners to be friends, chatting away as if they're enjoying a conversation at a coffee house. "Our main goal is to get our listeners involved in robust discussions," he says. "We keep it pretty unstructured, or what I like to call 'controlled chaos.'" Ferguson spends the first hour of the show taking questions on topics such as: Why do beautiful and talented women like Renee Zellweger and Jennifer Aniston seem to have unsuccessful love lives? Or, why do studies show that people in second or third marriages keep secret bank accounts? He also spotlights familiar personalities in the community, like Chicago Blackhawk heartthrob Patrick Sharpe, recently invited to the station to pick Oscar winners. Ferguson has also conducted on-air interviews with just about every celebrity imaginable, including Tom Cruise, Will Ferrell, and Reese Witherspoon. Another career highlight came this past January when he was tapped as one of five national Men of Radio to appear alongside Kelly Ripa on the Regis & Kelly television show during Regis Philbin's weeklong vacation.