Birds of a Feather
Herky rarely goes anywhere without an entourage thanks to Gregg Niemiec, who took over as head cheerleading coach and coordinator of the UI spirit squad in 1998.
Niemiec plays a major role in deciding who joins Herky's innermost circle. Iowa students audition to earn the privilege of being his coworkers, and Niemiec looks for student-athletes who are creative, sharp, and team-oriented. They must demonstrate a deep affinity for the university and protect the integrity of Iowa.
It's not an easy task, keeping up with Iowa's mascot. Herky's teammates must keep an eye on his surroundings to protect him from accidentally being hurt by exuberant fans and trickster opponents.
As an anthropomorphic hawk, Herky isn't immune to the woes of the human body. In 1999, he took an ambulance to the hospital after members of the opposing team's marching band snuck behind him during an away game and hit him with a 3-foot foam banana.
Beyond protecting the safety of the mascot, Herky's flock must tap into their own child-like imagination. During tryouts, hopefuls are asked to grab an object in the room and create multiple skits with the prop. Take a wheelbarrow, for example.
"You hop in, and immediately it's a canoe," says former Herky security guard Tommy Wisniewski (14BA, 17JD). "Then you get others to join, and it's a pirate ship. Or the front wheel becomes a loom, and you're sewing a masterpiece."
This boundless imagination is the cornerstone of Herky's interactions. "Herky doesn't just open a door," says Wisniewski. "Suddenly, the door is outrageously heavy—it's so heavy—and he's pulling with both hands to open this now immovable door." This usually happens after bounding ahead of a group to open the door, like a true gentleman.
"Herky makes people happy," says Angie Anderson (01BA), a friend of Herky's who felt fated for the role. "There's something magical about his interactions with fans."
Anderson and Carrie Norwood (02BA) were the first women to join Herky's squad, and they used that honor to take Herky's shenanigans to the next level. "We wanted Herky to have a toilet paper gun at an event, but we had no budget," Anderson recalls. "So, we rented a leaf blower from Home Depot and rigged it so you could essentially TP the crowd."
"They loved it," says Norwood, who persuaded Herky a few weeks later to jump in the pool at a swim meet. "That one was a terrible idea. His head is too heavy to float."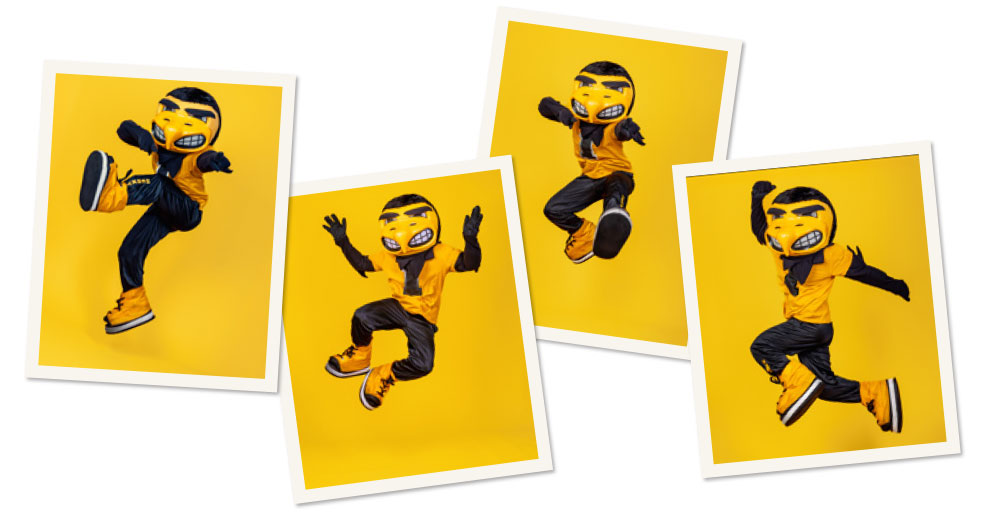 Soaring Spirits
To Herky, every interaction requires joy. And sometimes that joy can be life changing.
On one visit to UI Stead Family Children's Hospital, Wisniewski made the rounds with Herky, who colored outside the lines with patients and grabbed the hands of nearby nursing staff, inviting them into the silliness.
Afterward, they visited patients who weren't able to leave their beds. A young boy had been in the hospital for months, his condition worsening in the weeks prior. As soon as Herky poked his head in the room, the boy popped up in bed, lit with delight.
"His parents came up to us afterwards," Wisniewski says. "They told us their son hadn't sat up in weeks."
This is the power of Herky. And if he could talk, he'd share how much it means to represent the university with the best fans. How nothing compares to game day at Kinnick Stadium or seeing the overwhelming excitement on a kid's face when they see their hero.
After 75 years, Herky would be the first to say that there's nothing better than being a Hawkeye.
So happy birthday to our beloved, rambunctious, over-the-top mascot. You don't look a day over 22.
What are your favorite Herky memories? Email uimagazine@foriowa.org.