Beat Cancer Today has raised more than $500K this past decade and helps support UI Dance Marathon.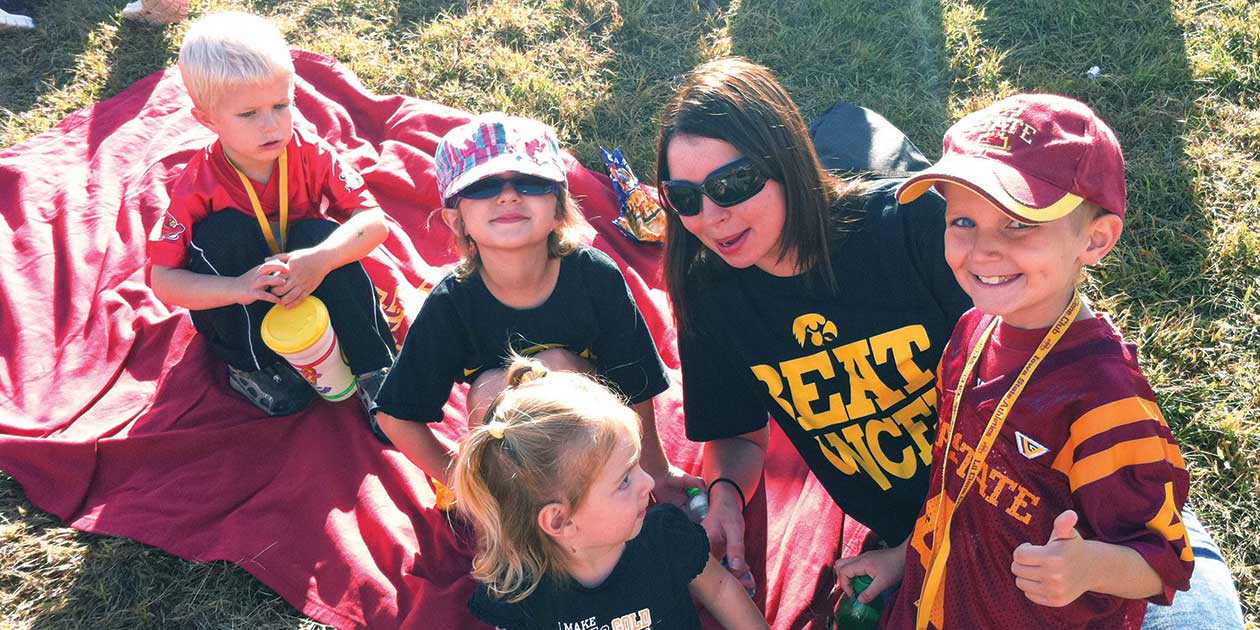 PHOTO COURTESY AARON HORN
Isaiah Horn, Dakota Neblock, Brylee Neblock, Stephanie Cotton, and Eli Horn attend the Iowa vs. Iowa State football game in 2011 at Jack Trice Stadium in Ames.
Aaron Horn helped turn a rivalry into a rally cry. In 2009, the Iowa State graduate joined several other families whose children were diagnosed with pediatric cancer in selling Beat Cancer T-shirts to raise awareness and fund childhood cancer research and support programs. Inspired by the Beat State and Beat Iowa apparel, the shirts unified Hawkeyes and Cyclones against a common opponent and led to the launch of Beat Cancer Today in 2012. Throughout the past decade, the nonprofit organization has raised more than $505,000—including $155,000 for University of Iowa Dance Marathon—to give back for all the support Horn and other families facing pediatric cancer have received.
Friends to Family
In 2007, Horn's son Eli was experiencing stomach pain and having trouble walking. A biopsy at UI Stead Family Children's Hospital revealed he had neuroblastoma, a cancer often found in the adrenal glands. Aaron and Eli made frequent trips from Ames to Iowa City, as well as to New York's Memorial Sloan Kettering Cancer Center, where Eli underwent multiple surgeries, antibody treatments, chemotherapy, and radiation. They stayed at a nearby Ronald McDonald House in New York where they met fellow Iowan Stephanie Cotton Horn (07BSN) and her daughter Dakota, who was also diagnosed with neuroblastoma.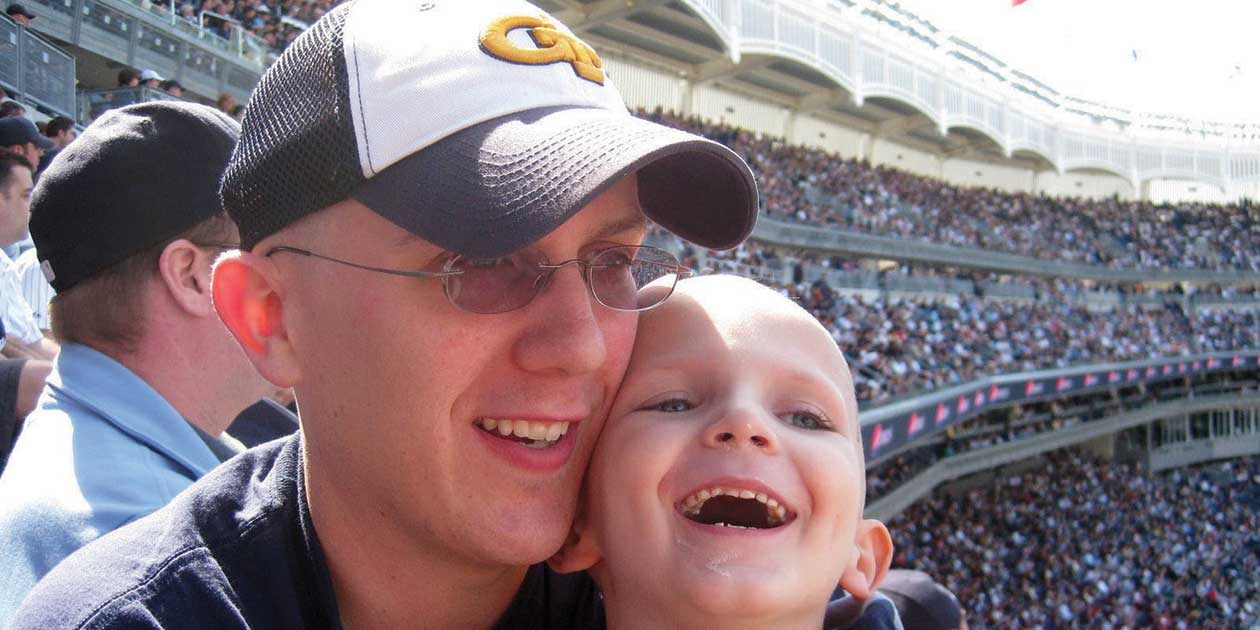 PHOTO COURTESY AARON HORN
In 2009, Aaron Horn and his son Eli make memories at a New York Yankees game, thanks to the Ronald McDonald House.
The four quickly bonded. Along the way, they received ongoing support from UI Dance Marathon, including hospital visits, gifts, and events to connect them with other families going through the same challenges. "Because Dakota was diagnosed at such a young age, she didn't really understand until she was much older that cancer was a bad thing," says Stephanie. "The Dance Marathon kids were a huge part of that. She felt their love and support at every step along her journey."
Never Forgotten
A few weeks short of his eighth birthday in 2012, Eli died of leukemia. Dance Marathon helps keep his memory alive by reading his name and lighting a candle in his honor every year at the Big Event. Dakota, now 17, completed her treatment in 2014—the same year Aaron and Stephanie wed—and is an active volunteer for Beat Cancer Today.
Thirteen years after the Beat Cancer shirts were created, they continue to raise awareness of an opponent that thousands of children battle each year. "Before Eli was diagnosed, it didn't really hit home for me that kids get cancer," says Aaron. "Awareness is such a big thing for us, and these shirts are a great way to open a conversation."
---
Learn more about Beat Cancer Today.