From national titles to the Final Four, Iowa celebrates 50 years of sports equity and excellence.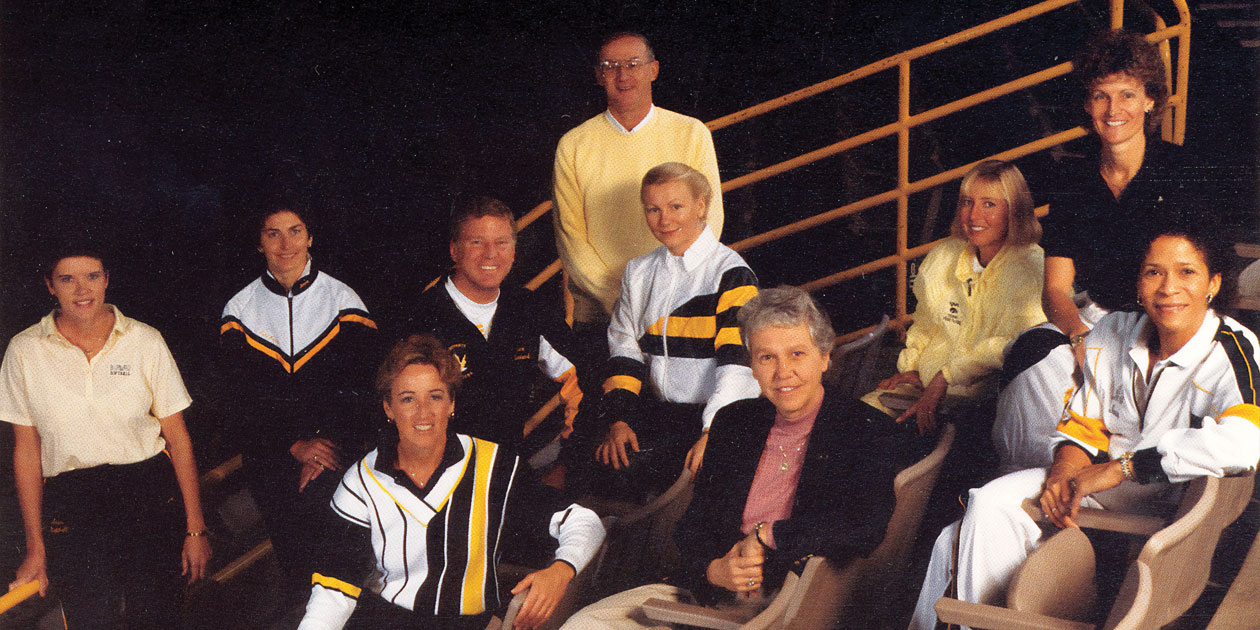 PHOTO: HAWKEYESPORTS.COM
Former UI women's athletics director Christine Grant (front, center) is pictured with her coaching staff in the 1980s.
Christine Grant (70BA, 74PhD) never passed up a chance to sing the praises of her former players and coaches.
"I love celebrating the history of women's achievements because in my lifetime, there have been too few occasions when these types of opportunities were available," the late University of Iowa's women's athletic director once said.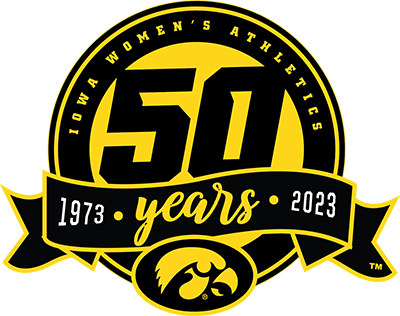 Beginning this fall, Iowa Athletics will spend a year doing just that. The UI is commemorating 50 years of excellence in women's sports by honoring its former student-athletes, coaches, and teams during the 2022-23 seasons.
In June 1972, Congress enacted Title IX, which in part mandated equal opportunity for collegiate women's athletes. It marked a new era for sports at the UI, which turned to Grant in 1973 to establish and guide its new women's varsity programs. She became a leading figure nationally in the fight for Title IX's implementation and a champion for equity in women's sports.
This past May, current and former Hawkeyes gathered inside Carver-Hawkeye Arena to honor Grant, who died in December 2021 at age 85. At the memorial service, the university announced plans for an upcoming exhibit at the UI Athletics Hall of Fame to commemorate Title IX's impact at Iowa. Attendees were also treated to the first trailer for the new documentary titled Unshakeable Belief: The Dr. Christine Grant Story, which was released in August. That retrospection will continue Sept. 2 at FryFest in Coralville, when a special panel of Hawkeye luminaries will look back at a half-century of women's achievements.
So, as we tip off this milestone year, here are 10 unforgettable moments in Iowa women's athletics from the past 50 years:
PHOTO: HAWKEYESPORTS.COM
1973:
UI President Willard "Sandy" Boyd (81LHD) elevates 12 women's sports club teams to varsity status and names Christine Grant (70BA, 74PhD) director of women's athletics.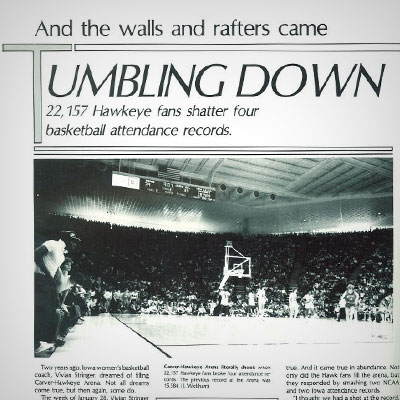 PHOTO: 1985 HAWKEYE YEARBOOK
1985:
Iowa breaks the national attendance record for a women's basketball game when 22,157 fans pack Carver-Hawkeye Arena to watch the Hawkeyes host Ohio State.
---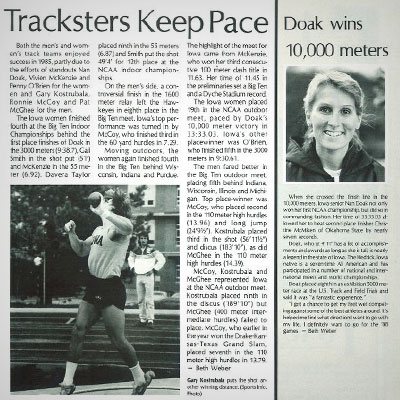 PHOTO: 1985 HAWKEYE YEARBOOK
1985:
Nan Doak-Davis (85BS) becomes the first Iowa women's track and field athlete to win an NCAA championship, capturing gold in the outdoor 10,000 meters in her final race as a senior.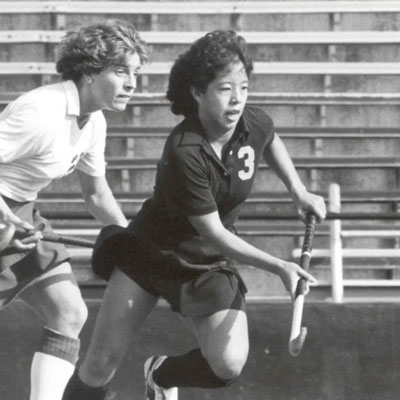 PHOTO: HAWKEYESPORTS.COM
1986:
 The Hawkeye field hockey team wins the national championship under coach Judith Davidson, edging New Hampshire 2-1 in the NCAA title game.
---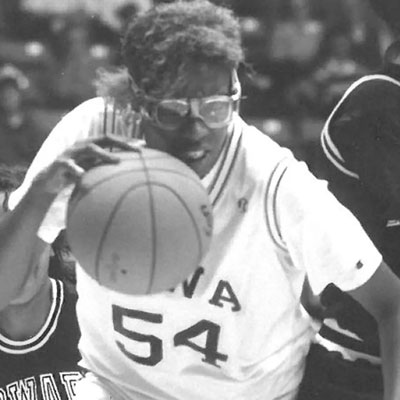 PHOTO: HAWKEYESPORTS.COM
1993:
 Led by coach C. Vivian Stringer and Big Ten Player of the Year Toni Foster (00BA), the Iowa women's basketball team reaches the Final Four.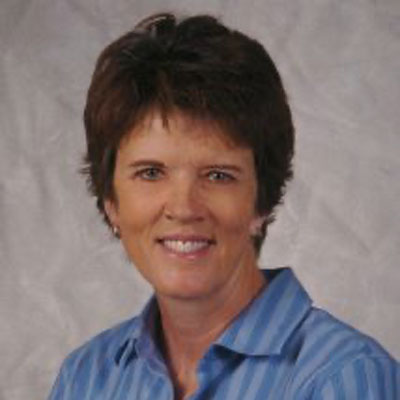 PHOTO: HAWKEYESPORTS.COM
1995:
 Iowa's softball team earns a berth to the Women's College World Series, marking the first of four appearances at the event in seven seasons under coach  Gayle Blevins.
---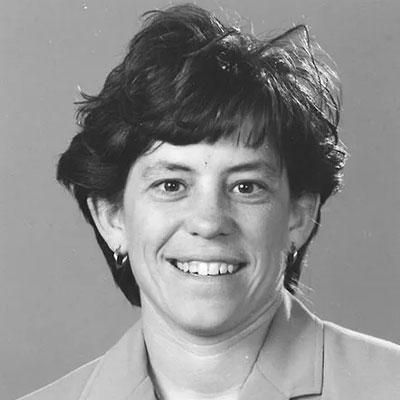 PHOTO: HAWKEYESPORTS.COM
1997:
Women's soccer is added to the roster of varsity sports; three seasons later, coach Stephanie Gabbert leads the Hawkeyes to a berth in the Big Ten Tournament and is named the conference's coach of the year.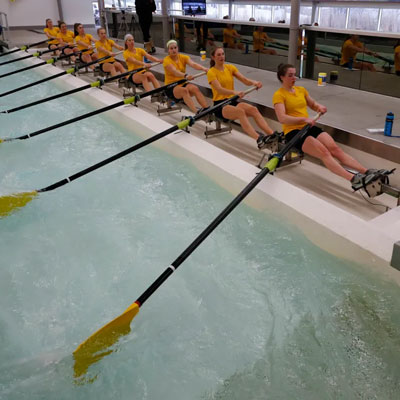 PHOTO: HAWKEYESPORTS.COM
2009:
The P. Sue Beckwith Boathouse opens as the new home for the Iowa rowing team and the university's first dedicated women's athletic facility.
---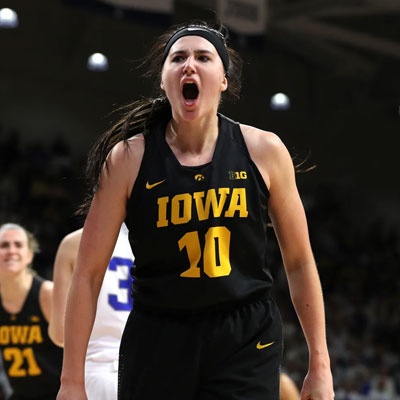 PHOTO: HAWKEYESPORTS.COM
2019:
Basketball center Megan Gustafson (19BBA) is awarded the Naismith Player of the Year among a host of other national honors while leading Iowa to the Elite Eight.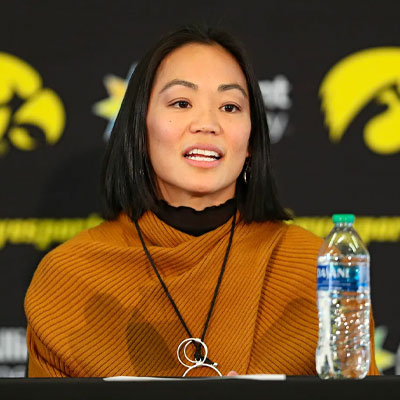 PHOTO: HAWKEYESPORTS.COM
2021:
Iowa announces it will become the first Power Five school with a women's wrestling program; the Hawkeye women's grapplers are set to debut in the 2023-24 season with Clarissa Chun as coach.
---