The senior Iowa football player uses his platform to highlight Black history makers and takes a summer pilgrimage to the South's civil rights landmarks.
Kaevon Merriweather (22BS) helped make history last season when he recorded his first career interception at Maryland, contributing to the Iowa football team's school-record and nation's-best 25 picks.
Off the field, Merriweather's time at Iowa also has been defined by history makers.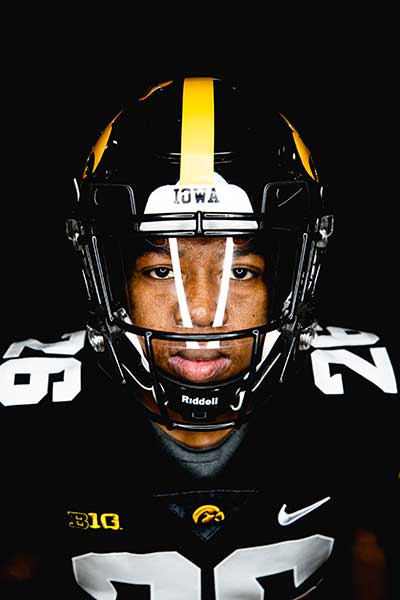 PHOTO: BRIAN RAY/HAWKEYESPORTS.COM
Iowa senior Kaevon Merriweather received the inaugural Duke Slater Golden Gavel Award following last season for his professionalism working with the media.
This past February, the Iowa football defensive back led a video project with teammates to highlight unsung African American innovators during Black History Month. Inventors such as Lyda Newman and Lewis Howard Latimer were among the subjects of the series, which was a collaboration by Merriweather and the athletic department's video team.
More recently, Merriweather was one of five Iowa student-athletes who traveled to Selma and Montgomery, Alabama, in July to tour civil rights movement landmarks as part of the Big Ten Equality Coalition. The group marched across the Edmund Pettus Bridge, site of the 1965 Bloody Sunday attack, and visited museums, learning centers, and historic sites.
For Merriweather, who emerged as an outspoken leader for the Hawkeyes during local and national conversations over police violence and racial inequity in 2020, understanding the struggles of the past has helped him better address the challenges of today. "I'm more than an athlete," says the fifth-year senior from Belleville, Michigan. "When that jersey comes off and I walk out these doors, I could potentially be part of those statistics as a Black man in America. I have to live those realities, and those things could happen to me that you see on social media or on the news."
Merriweather's big-picture perspectives and outgoing nature have made him a magnetic personality in the locker room and with the media. Following the 2021 season, local beat reporters voted Merriweather as the recipient of the inaugural Duke Slater Golden Gavel Award, named after Iowa's first Black All-American, for his professionalism in working with the media. Then, after graduating this past spring with a degree in sport and recreation management with a business concentration, Merriweather was one of three players who represented the Hawkeyes at Big Ten Media Days in Indianapolis.
If you would have asked Merriweather what his future plans were in high school, they wouldn't have included football—or Iowa. A star prep basketball player, Merriweather had a Division I offer from Western Michigan to continue his hoops career in his home state. But when he transferred to Belleville High School for his senior year, the football coach coaxed him into joining the team. Merriweather's defensive instincts and athleticism helped him carve out a role in a secondary stacked with future college players, and Iowa coaches took note of the under-the-radar talent.
"I was a zero-star recruit; I didn't have a recruiting profile," says Merriweather, who committed to Iowa just a few days before National Signing Day. "But looking at Coach [Phil] Parker's defense and seeing the one-star DBs, two-star DBs, and three-star DBs who nobody in the country wanted, he's able to turn them into future NFL draft picks who are living out their dreams of playing professional sports. You look and see that if he can do that for them, he can help me develop."
At Iowa, Merriweather saw action in nine games as freshman and broke into the starting lineup in early 2019 before a foot injury derailed his season and forced him to redshirt. After spending his early career learning from future NFL players like Amani Hooker and Jake Gervase (18BBA, 19MA), he's now ready to step into a bigger role as a senior.
"I want to be the No. 1 defense in the country, and I think we have the tools to make it happen," Merriweather says. "That's not just my goal, that's all of our goals—to be the best of the best."
If history is any indication, he and the Hawkeye defense will be up to the task.