Sam's Scramble for Sight, an annual golf tournament in Michigan, has raised $4.5 million to fight inherited eye diseases.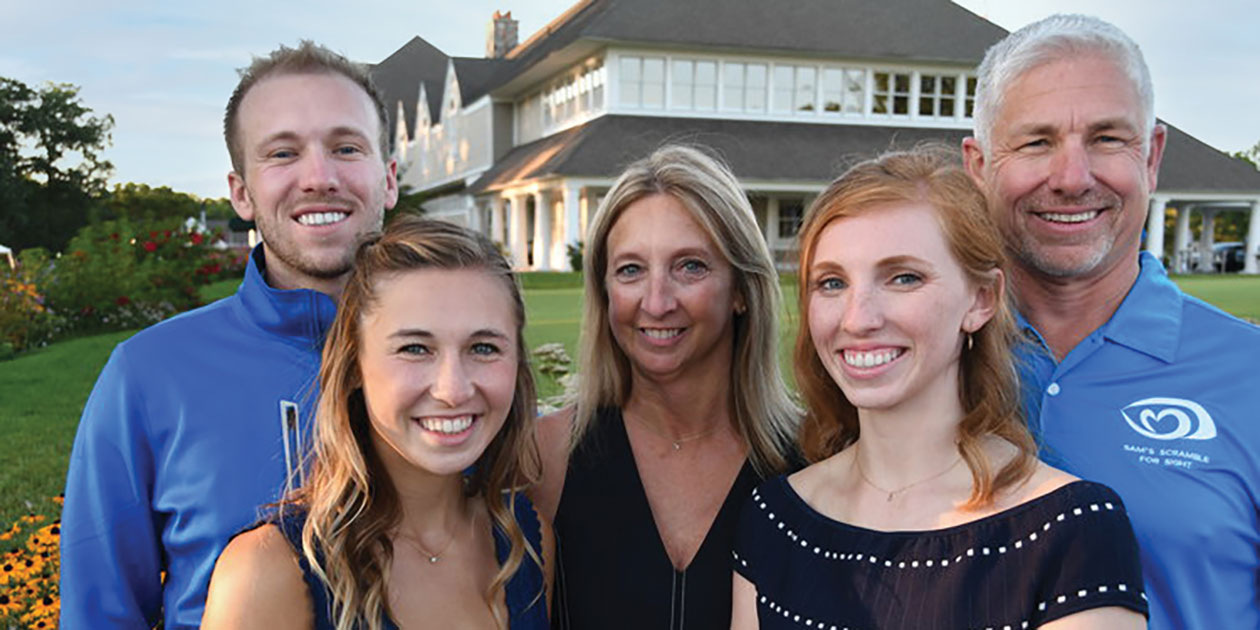 PHOTO COURTESY SAM'S SCRAMBLE FOR SIGHT
Sam Walker (at left) is pictured with his family.
At age 19, Sam Walker was diagnosed with retinitis pigmentosa, a rare genetic eye disorder that causes vision loss over time.
"[The doctor] pretty much told him to go home and to go blind," Sam's mother, Colleen, says about the prognosis he received in Michigan. "There was nothing to do."
The Walkers refused to give up. Their determination led them to the University of Iowa Institute for Vision Research, a world-renowned center that focuses on finding affordable treatments for even the rarest of inherited eye diseases. The next day, the family traveled to Iowa City to meet with Director Ed Stone (89R, 90F, 92F).
On that first visit, Sam asked if he was going to go blind. "Ed never said, 'You're not going to.' He said, 'Over my dead body,'" says Sam's father, Brian. "That sense of somebody in your corner was the fuel for the turnaround for us."
Inspired by hope, the Walker family began organizing Sam's Scramble for Sight, an annual golf outing and dinner in Grand Rapids, Michigan, to benefit the UI Institute for Vision Research. Now in its 10th year, the event has rallied the community to raise $4.5 million for the cause.
Sam is now newly married and working in Milan, Italy, as an auditor for Ernst & Young. The Walkers say they're grateful his vision hasn't declined dramatically since his initial diagnosis—and that vision researchers at Iowa are working tirelessly for a cure.
"I'm not even sure how many alumni know what a big deal [the institute] is," says Brian. "Whenever I run into a Hawkeye somewhere, I tell them, 'You went to a university that's going to change the world.'"