The Hawkeye Marching Band was one of two areas to exceed 180 gifts during the University of Iowa's 24-hour online giving day in 2021. Its members are ready to inspire more participation during this spring's event.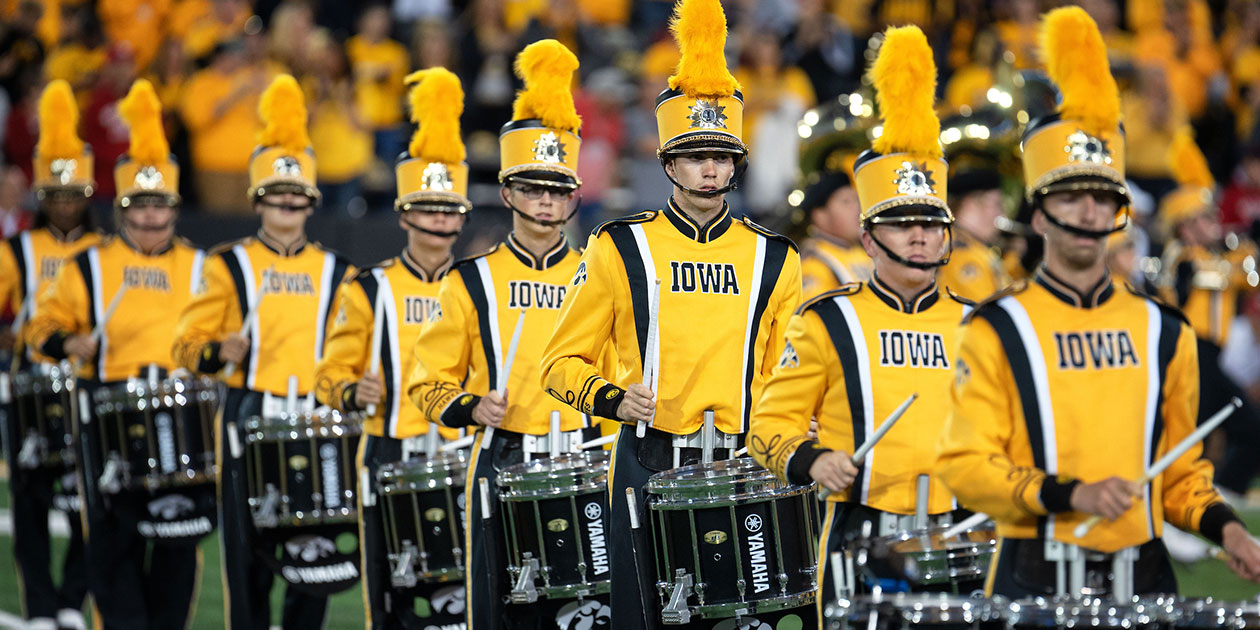 PHOTO: JUSTIN TORNER/UI OFFICE OF STRATEGIC COMMUNICATION
Past donations to the Hawkeye Marching Band on One Day for Iowa have helped fund improved travel, equipment replacements, and new instruments.
For many, the Hawkeye Marching Band is like family.
The family includes Arlene Houk (84BBA), who marched with her piccolo in the early 1980s. Houk says she made some of her closest friends and favorite memories—including a Rose Bowl appearance—while marching in black and gold. As an Ottumwa, Iowa, native living in the Netherlands, Houk makes it a weekly ritual to chat with her HMB friends over Zoom, even with a dramatic time difference.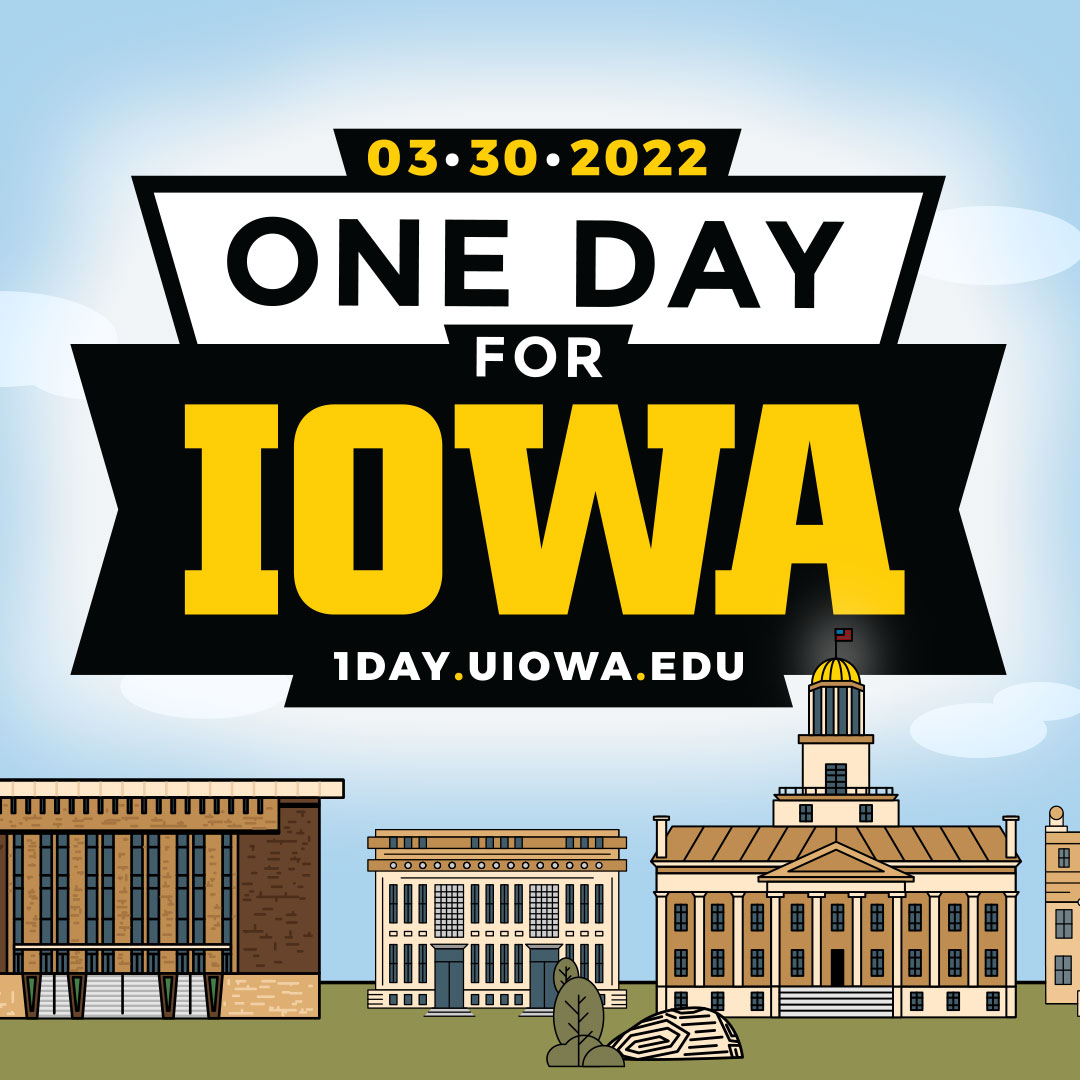 "To this day my nearest and dearest friends, including my husband, were in HMB," she says. "It's really a family thing."
As a loyal Hawkeye, Houk feels it is important to give back. She serves as vice president of the Alumni Band Leadership Board and contributes annually, including during One Day for Iowa, the University of Iowa's 24-hour online giving day. "To me, it's kind of like what you do with your own kids. You want to make the band better for the next generation," she says.
Other marching Hawkeyes agree. Last year, the band received more than 180 gifts and raised more than $91,000 on One Day for Iowa. Generous alumni and donors allowed HMB to offer several matching and unlocking opportunities, which inspired more generosity and lifted gifts by double or more.
"When it comes to the [giving day] challenges, the band is pretty competitive," says Houk. "It's a lot of fun to keep checking in and see how we compare to the other areas."
Hawkeye Marking Band Director Eric Bush (15DMA) says One Day for Iowa is important because it supports the continued enhancement of the program. Giving day donations have helped fund improved travel experiences, needed equipment replacements, and new instruments. "For 140 years, trumpet players would play whatever equipment they brought personally—of varying quality," he says, "but because of generous donors, including One Day for Iowa donors, we were able to have a line of trumpets for the very first time."
Hawkeye Marching Band has an army of students and alumni who inspire participation through word-of-mouth and on the internet. That includes on social media, where the band is loud. Last year, those efforts helped HMB earn an extra $2,000 because students and alumni participated heavily in social media challenges, including posting photos and responding to Hawkeye-themed questions.
Kylene Spanbauer, a fifth-year student and senior Golden Girl, as well as Amanda Thomas, a fifth-year student and drum major, say participating in the giving day as members now is preparing them to understand the impact they can make as alumni later.
"The HMB will always connect us to each other, and I think this is why we are so inspired to give back to this organization that has given us so much," says Spanbauer.
"Being a part of a 141-year-old shared history is not incredibly common, and it's something that we don't take for granted," says Thomas. "The Hawkeye Marching Band truly is a family."
And just like families do, they support each other.
---