The submarine becomes the fourth Navy vessel named after the state.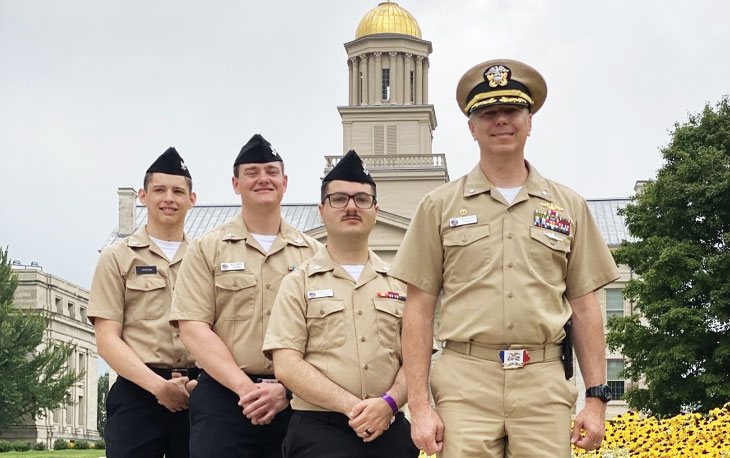 PHOTO: SETH FRIEDMAN
USS Iowa commanding officer Quintin James (pictured far right) and members of his crew visited campus this past summer to strengthen connections with the state.
Sailors who soon will be gliding above coral reefs recently journeyed through Iowa cornfields to get to know the state that lent their new ship its name.
Crew members from the USS Iowa, a 377-foot nuclear submarine currently under construction in Connecticut, made a stop in Iowa City this past August as part of a goodwill mission to raise awareness about the boat and celebrate its Iowa connections. It was one of several trips that different crew members have made to the state, including visits that introduced them to RAGBRAI and the Iowa State Fair.
The submarine's commanding officer, Quintin James, who oversees 134 sailors, joined the Iowa City tour group. They explored the University of Iowa campus, received Hawkeye care packages, and met with students, faculty, and representatives from the Iowa Veterans Association. They also experienced the Iowa Wave at Kinnick Stadium and dined at the Airliner, an Iowa City institution.
When the U.S. Navy officially christens its new submarine this spring, it will become the fourth Navy vessel named after the state of Iowa. The most recent is a famous battleship bearing the USS Iowa moniker that launched in 1942, during World War II, and now is a floating museum in the Los Angeles harbor.
Sailors from the new USS Iowa hope to one day bring Iowans to visit their namesake submarine—and they plan to remain connected to the state for as long as their boat plumbs the watery depths.