Fritz and Mary Lee Nagle Duda dedicated the new state-of-the-art clubhouse at the University of Iowa Finkbine Golf Course, which was made possible by their $10 million gift.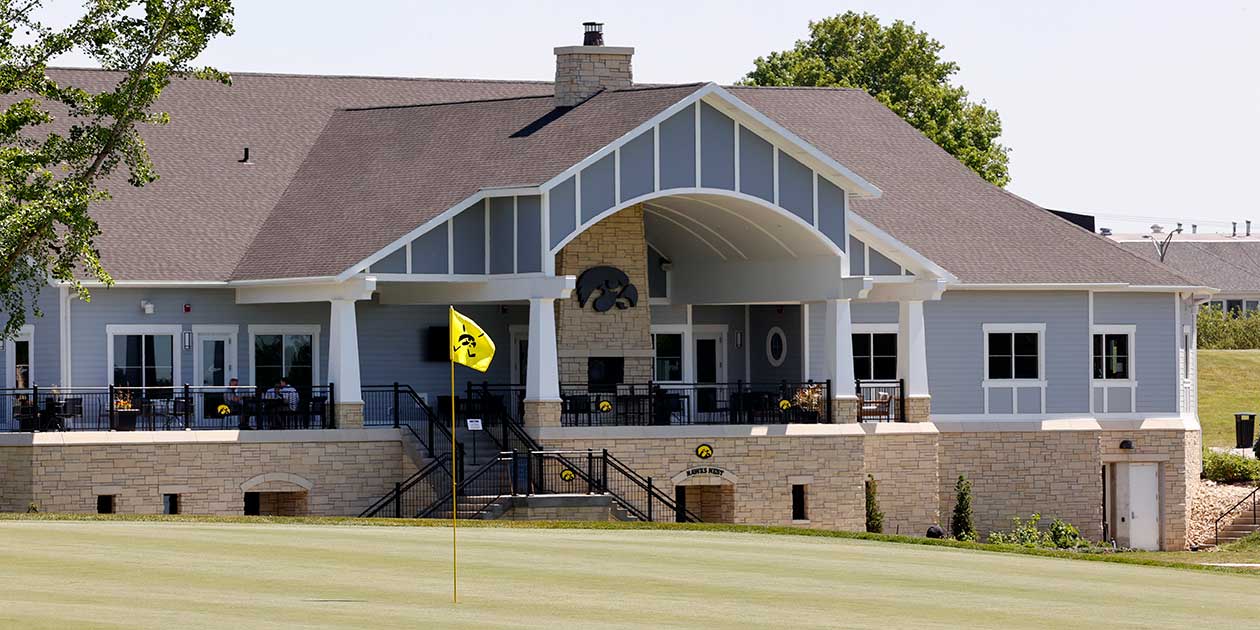 PHOTO: BRIAN RAY/hawkeyesports.com
The Nagle Family Clubhouse at Finkbine Golf Course provides a top-notch facility for the community and Hawkeye golf teams to enjoy.
Mary Lee Nagle Duda (61BA) has fond childhood memories of Finkbine Golf Course, but they're unrelated to golfing.
"I used to sled at Finkbine," she says. "We used boxes to go down all the hills."
While her love for golf came later in life, Mary Lee is loyal to the Hawkeyes and her hometown of Iowa City. That's why she and her husband, Fritz Duda, of Dallas, Texas, support Iowa athletics and made a $10 million gift to build the new clubhouse at Finkbine Golf Course, which is named in honor of Mary Lee's family.
"Golf has long been a sport that Fritz and I enjoy," says Mary Lee. "And this was an ideal way for us to give back to a community that gave me so much."
The 19,000 square-foot Nagle Family Clubhouse opened in 2020 and features a much improved, spacious facility that includes a larger pro shop, restaurant and bar, banquet facility, outdoor patio, locker rooms, underground cart storage, and the Nagle Room—a conference room and private dining space. Because of the COVID-19 pandemic, the Dudas were unable to visit the new clubhouse upon its completion. In June, a private dedication with family and friends was held.
"I've been to a lot of university facilities as a real estate developer, and this rivals anything I've ever seen," says Fritz. "It really is better than either one of us could have imagined."
Gary Barta, the Henry B. and Patricia B. Tippie Director of Athletics Chair, says that the new Nagle Family Clubhouse has brought an Iowa City icon, Finkbine Golf Course, renewed life.
"Finkbine has so much history in Iowa City and at the University of Iowa," says Barta. "It is the front door in many ways, and when we shared this vision for a new clubhouse with Fritz and Mary Lee, they made it happen because they love golf and they love the University of Iowa. The Nagle Family Clubhouse has been a real boost to Finkbine."
Meet Mary Lee & Fritz Duda, whose generosity led the way in the completion of Iowa's new Nagle Family Clubhouse.
A Century-Long Relationship with Iowa City
The Nagle name has been part of the Iowa City community since Mary Lee's grandfather, Lee Nagle, began ownership and operation of Nagle Lumber Company in 1922. He was also founder of First Capital National Bank, the predecessor to First National Bank.
Born and raised in Iowa City, Mary Lee excelled in sports at St. Mary's Elementary School and City High School. She was also a cheerleader in both junior high and high school.
Following her three sisters to the University of Colorado, she eventually transferred back home and earned a home economics degree from the University of Iowa. While at Iowa, Mary Lee—who was City High homecoming queen—put her passion for the Hawkeyes to work as a member of the Iowa cheerleading squad.
"We didn't practice as much as they do now," recalled Mary Lee in a 2011 interview with Iowa Magazine. "These kids spend so much time and effort on cheerleading."
She joined Continental Airlines after graduation and met Fritz, a law student at the University of California. The Dudas started their family in California while Fritz—who was born in Waterloo, Iowa—started his career as a lawyer. The couple soon moved to Dallas, Texas, where Fritz spent most of his career as a real estate developer. While raising their six kids, the Dudas developed a strong passion for golf. It's a sport they still enjoy today.
"Fritz wanted me to learn, so we made a pact—he would learn how to play bridge if I learned how to play golf," says Mary Lee. "But he never learned to play bridge."
Although she hasn't lived in Iowa City since graduation, Mary Lee has continued to cheer on and support the University of Iowa. The Dudas have long enjoyed yearly trips back to Iowa City for Thanksgiving on McLean Street or more recently, annual trips to cheer on the Iowa football team and to see family.
Advancing Iowa Athletics Through Philanthropy
Over the past decade, the Dudas have been some of the most influential donors to Iowa athletics.
In 2010, Fritz surprised Mary Lee during an Iowa football game at Kinnick Stadium by announcing a gift to establish the Mary Lee Hawkeye Spirit Fund. Their support provides private student aid, uniforms, and training to Iowa's cheerleaders, dancers, and mascots. The gift, at the time, was the largest of its kind for a university spirit program.
But their love for golf has driven their most recent giving to Iowa. In 2012, the Dudas contributed to help build the James M. Hoak Family Golf Complex, and their recent contribution to build the Nagle Family Clubhouse at Finkbine Golf Course is opening new doors for the Hawkeye golf programs.
"The Nagle Family Clubhouse begins a new chapter for our historic Finkbine Golf Course," says Tyler Stith (02BBA), Iowa men's head golf coach. "I'm excited to build new traditions as a team, to host our alumni and fans in a top-notch facility, and to explore new opportunities that we couldn't have otherwise. One of those opportunities is to host larger golf tournaments than we have in the past."
Both Stith and Megan Menzel, Iowa women's head golf coach, are grateful for the donors who are supporting their teams.
"Iowa really prides itself on its facilities and how we present ourselves," says Menzel. "We have a great community of alums and donors that have given back, and obviously Fritz and Mary Lee are at the forefront for us. We're very proud to walk recruits through here, have families eat here, and enjoy this atmosphere."