More than a decade after his death, the former Iowa student and Green Beret's story of selfless valor still inspires.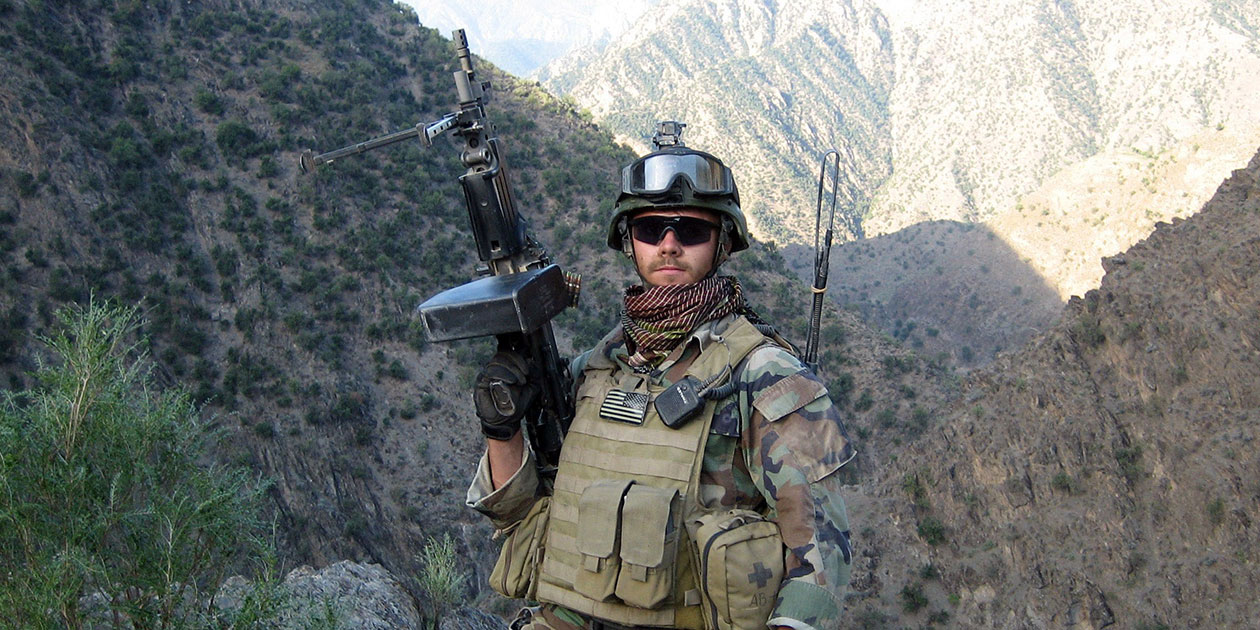 PHOTO: THE U.S. DEPARTMENT OF DEFENSE
Army Staff Sgt. Robert J. Miller poses in the mountains of Afghanistan. Miller was killed Jan. 25, 2008, while saving the lives of other coalition forces during battle.
D
ating back to the Civil War, when at least three soldiers from the University of Iowa lost their lives, thousands of Hawkeyes have answered the call of duty during times of national and global crisis. Iowa's fallen heroes include former football stars Fred Becker, who was killed in combat in World War I, and Nile Kinnick (40BA), whose fighter plane crashed in a training mission during World War II.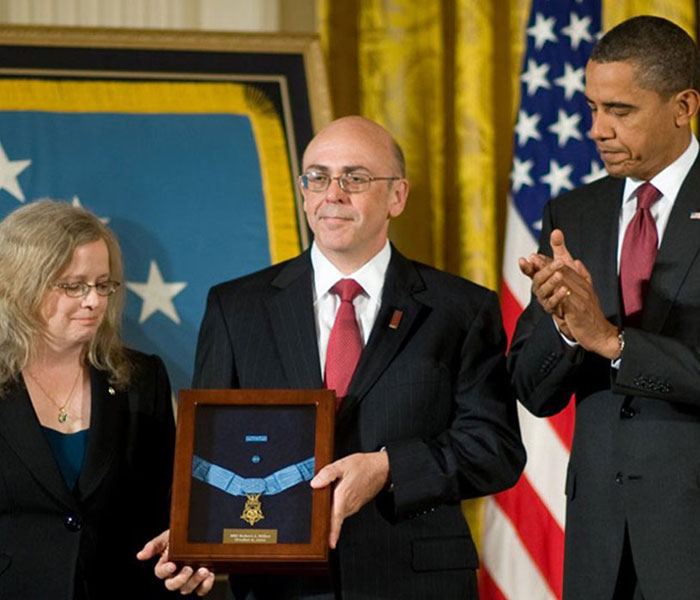 PHOTO: THE U.S. DEPARTMENT OF DEFENSE
President Barack Obama presented the Medal of Honor to Miller's parents, Philip and Maureen, during a White House ceremony in 2010. More than 100 of the soldier's friends, family, and fellow soldiers attended.
Not to be forgotten among those service members who made the ultimate sacrifice during the UI's 175-year history is former student Robert J. Miller, a Medal of Honor recipient whose selfless heroism still resonates on the campus he once called home.
A Pennsylvania native who grew up in Wheaton, Illinois, Miller dreamed of attending the U.S. Naval Academy as a teenager. But when his colorblindness dashed those ambitions, Miller enrolled at the UI in 2002. After his freshman year in Iowa City, he enlisted in the Army as a Special Forces trainee, and two years later, he became a member of the Green Berets and was assigned to Company A, 3rd Battalion of the 3rd Special Forces Group at Fort Bragg, North Carolina.
Miller first deployed to Afghanistan in 2006 and earned two Army Commendation Medals for Valor. A Special Forces weapons sergeant, Miller returned to Afghanistan for a second tour in October 2007. He often served as a point person on missions because of his natural leadership skills and ability to speak to locals in their native language of Pashto.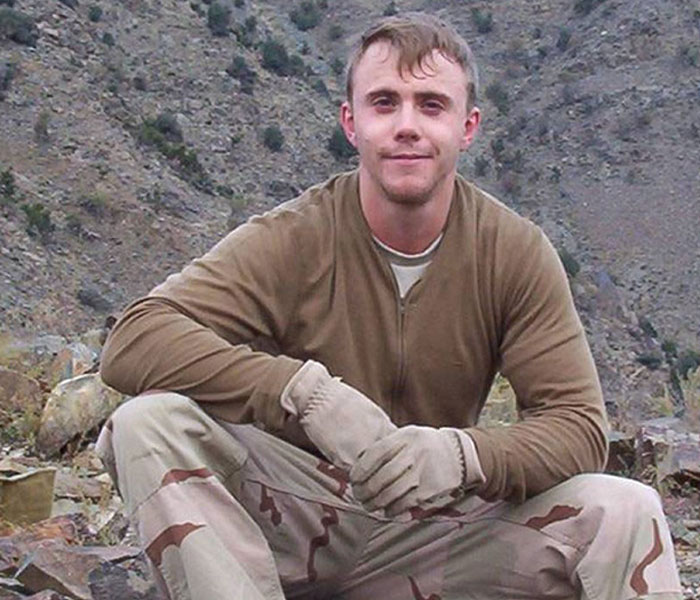 PHOTO: THE U.S. DEPARTMENT OF DEFENSE
Miller is pictured in Afghanistan.
On Jan. 25, 2008, Miller's detachment embarked on a frigid pre-dawn mission in northwest Afghanistan, where insurgents had reportedly attacked Afghan forces and terrorized local villagers. According to a Department of Defense account of that fateful day, Miller, 24, led his team of two-dozen coalition members in an attack on a compound in a remote valley where a group of 15 to 20 insurgents had taken up fighting positions. Miller spearheaded the assault with his vehicle's turret-mounted grenade launcher, then called in air strikes before he and his team proceeded on foot through the dark valley to assess the battle damage.
Miller was leading the patrol through the narrow, snow-covered trail when a single insurgent jumped out from behind a boulder, according to the DOD account. Suddenly, the valley erupted with gunfire and rocket-propelled grenade explosions. An estimated 150 insurgents emerged from the rocky terrain above the patrol and launched their ambush. Miller yelled for his team to fall back and charged forward to draw enemy fire, buying time for his men to take cover.
Miller disappeared in a cloud of dust and debris, but he continued to call out orders over his radio and advance against the enemy. Even after he was struck by a bullet in his upper torso and under his body armor, he persisted in providing protective fire and lobbing grenades.
Soon, however, Miller's radio fell silent. He was mortally wounded.
In addition to Miller's death, five members of the coalition team were injured in the battle. But Miller's actions helped 15 Afghan soldiers and seven members of his own team escape with their lives, according to the Department of Defense. He was also credited with killing 16 insurgents in the fight and injuring more than 30 others.
In a 2010 ceremony at the White House, former President Barack Obama presented the Medal of Honor—the nation's highest honor for valor—to Miller's family. "It has been said that courage is not simply one of the virtues, but the form of every virtue at the testing point," Obama said. "For Rob Miller, the testing point came nearly three years ago, deep in a snowy Afghan valley. But the courage he displayed that day reflects every virtue that defined his life."
PHOTO: THE U.S. DEPARTMENT OF DEFENSE
Miller, who attended the University of Iowa for a year before enlisting in the U.S. Army, is among the veterans whose names are memorialized inside the Iowa Memorial Union in Iowa City.
The UI in 2016 presented Miller posthumously with the Hawkeye Distinguished Veterans Award, and Miller's name was enshrined on the Memorial Honor Roll at the Iowa Memorial Union, which commemorates Iowa students and alumni who died in war. For Larry Hershberger (66BBA), a decorated Marine veteran and 2019 Hawkeye Distinguished Veteran Award recipient, Miller will be foremost among the fallen Hawkeye service members he remembered this Veterans Day.
"Staff Sgt. Robert Miller's time at the University of Iowa was brief, and so was his life," says Hershberger, who has created an endowed scholarship for veterans at the UI. "While America recently withdrew from Afghanistan, it is nonetheless important that the university remember and honor his extraordinary courage and heroism in service to our country. That Robert Miller was awarded the Congressional Medal of Honor should be a source of tremendous pride for the university and all of Hawkeye Nation. He is, after all, an adopted son."