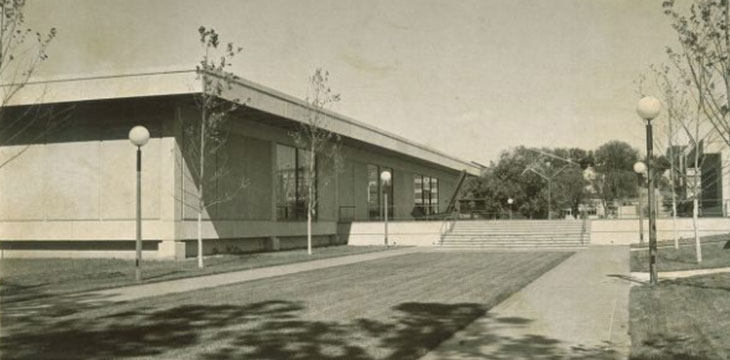 PHOTO: FREDERICK W. KENT COLLECTION OF PHOTOGRAPHS, UNIVERSITY ARCHIVES
Readers reminisce about the UI Museum of Art's home from 1969 to 2008 along the Iowa River. The Iowa Memorial Union continues to house the museum until the new UI Stanley Museum of Art building is open next to the Main Library in 2022.
Museum Memories
Editor's note: As we look ahead to the opening of the new University of Iowa Stanley Museum of Art in 2022, we asked readers to share their memories of the original UI Museum of Art. Here's what you had to say:
My late wife, JoAnn Castagna (83MA, 89PhD), and I spent many happy hours in the original UI Museum of Art. JoAnn had spent a lot of time at the Wadsworth Atheneum while growing up in Connecticut, as I had done at the Art Institute of Chicago. When we moved to Iowa City in 1978, one of our first stops was the UI Museum of Art.
Over the years we admired the permanent collection of course, and also such works on loan as the Picasso stage curtain titled Le 14 Juillet, the MFA shows, and such highlight traveling exhibits as a selection of Henry Darger's work, a wonderful exhibit of American landscape painting, and the fully unscrolled manuscript of Jack Kerouac's On the Road. It was a special pleasure to sit in the thoughtfully provided Eames chairs and get lost in contemplation of Jackson Pollock's Mural.
I have followed construction of the new Stanley Museum of Art with deep interest in and admiration for the planning, design, and hard work invested in it, and I am eager for its opening and the return of the collection, and a major exhibition space, to Iowa City.
Dan Campion (89PhD)
Iowa City
Back in 1968 I was a senior at Washington High School in Cedar Rapids. My art teacher, Julia Crew, arranged a bus trip for her art students to attend the opening ceremony of the new UI Museum of Art. I will never forget how inspiring and awesome the collection was, and still is. Of course, Jackson Pollock's Mural was one of my favorites. The moving sculptures outside were also something new to me. It was a most memorable field trip. 
It makes me very happy that a new museum will be opening soon. I brought my daughters to the original Art Building back in 2007 before the big flood of 2008 and was very impressed with the beauty of the location. It made me sad when that had to be abandoned.
Debra Eggers
Marion, Iowa
I was a graduate assistant at the museum from 1970 to 1974 while getting a master's degree in photography next door at the School of Art. I did most of the museum's photography at that time but also hung exhibitions. I had the great opportunity to assist Louis Pomerantz, the great art restorer, in his complete restoration of Pollock's Mural in 1971. Ulfert Wilke (74MA), the director of the museum at that time, was in many ways larger than life, and he conveyed to me the love of art and museums. Eventually I would also become an art museum director: Columbia College in Chicago, Tweed Museum at the University of Minnesota-Duluth, and Queens Museum of Art in New York. Wilke also showed me that an artist could be an accomplished museum director. I am now retired and happily making photographs in Florida.
Steve Klindt (71BA, 74MA)
Sarasota, Florida
My fondest memory of the old art museum was walking over during my lunch hour from my office and spending my time viewing the art collection or the latest show.
P.S. Do you still have the Big Boy statue? Always brought a smile to my face.
Richard Huber, retired UI staff member
Iowa City
Editor's note: We reached out to Stanley Museum of Art of Director Lauren Lessing to ask about the Big Boy sculpture. Says Lessing: "We do still have Big Boy in our collection; however, our new location in the heart of campus doesn't leave us sufficient room to exhibit that sculpture near the museum. So he will remain in storage for the near term."
I always enjoyed the ancient Mesoamerican statuary. It brought life to New World archaeology lectures.
Mike Klaus (78BA)
Carroll, Iowa
---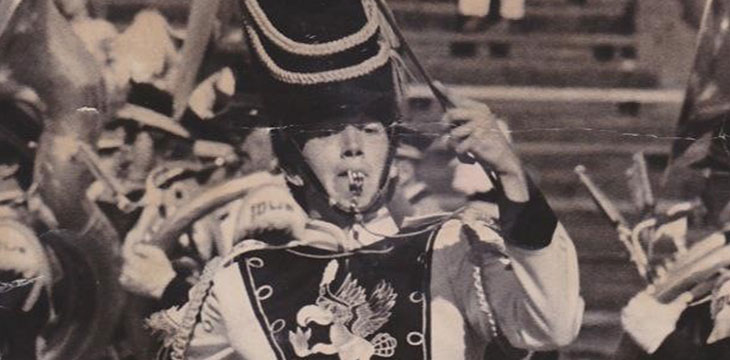 PHOTO COURTESY THOMAS G. LESLIE
Thomas Leslie leads the Hawkeye Marching Band, circa 1971.
Major Support for the Band
Editor's note: In July's Iowa Newsletter, we posed the question: What did you miss most about game days at Kinnick last year, and what are you most looking forward to this season?
I am looking forward most of all to the Hawkeye Marching Band performances! Having been the drum major of the HMB from 1970 to 1973, I wanted to support the new drum major, Amanda Thomas, so recently, my wife and I donated the necessary funding to the HMB to purchase multiple new uniforms for Thomas' first season as drum major.
The HMB is an amazing and integral student organization of the UI. Truly, it was my honor to donate this funding to assist Thomas and the Iowa band. 
Thomas G. Leslie (73BM)
President of the American Bandmasters Association and professor of conducting at the University of Nevada-Las Vegas
Henderson, Nevada
---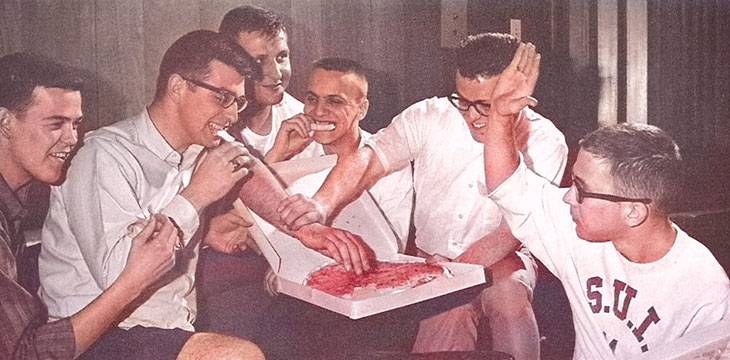 PHOTO: UNIVERSITY OF IOWA HAWKEYE YEARBOOK, 1962
Phi Kappa Theta members devour a pizza in this photo from the 1962 Hawkeye yearbook.
Mamma Mia! Hawkeyes Love Their Pizza
Editor's note: In the summer issue of Iowa Magazine, we reflected on Iowa City's pizza history and asked readers to share their favorite pizza joint in Iowa City with us. Here's what you served up:
We loved your story about favorite pizzas in Iowa City. You missed a great one: Happy Joe's. My husband, Peter (90BS), and I met while working there in 1985 to 1987. The taco pizza is our favorite. Oh, the stories we could tell you delivering pizzas in snowstorms. Our wedding rehearsal dinner was even held at Happy Joe's because so many of our college friends and family members loved it. Unfortunately, the Iowa City location was taken out in a tornado. Every trip back to Iowa must include Happy Joe's pizza.  
Go, Hawkeyes and Happy Joe's Pizza and Ice Cream!
Joan Hantelmann Timmerman (89BA) 
Flower Mound, Texas
I remember Kessler's, a local favorite when I was a grad student in Iowa City a very long time ago (1957-61). Loved their pizza. Sounds like it's gone and forgotten, but not by those of us above a certain age.
Jack Cohen (59MS, 61PhD)
Belmont, California
What about Kessler's? I was at Iowa from 1955 to 1959. I remember eating pizza there and also at The Airliner. Both were good!
Susann Wyatt Shinkle (59BSN)
Fairway, Kansas
My parents attended the UI in the 1950s. When we would go back to visit Grandma in Iowa City, they would still go to this same pizza place that they loved called Kessler's. It is long gone but, boy, did they always rave about it.
Meribeth Haynes (85MSW)
Urbandale, Iowa
You left out the best ever: the "Wedgie" from Paul Revere's Pizza. Twelve inches of folded-over and sealed crust filled with pepperoni, sauce, and cheese as hot as lava. I have had many a calzone since then but never anything as good as a Wedgie.
John Higgins (85BBA, 87MA, 87MBA)
Eagle, Colorado
During the mid-1980s, there was also a great pizza from Paul Revere's Pizza called the Wedgie. It was literally a pizza folded in half and sealed around the edges. It locked all the ingredients inside—you could take a bite on one corner and gorge like drinking from a bota bag on game day! Not for today's healthier lifestyle, but after coming home from the bars late at night—perfection!
Jeff Ogren (10BA)
Plymouth, Minnesota
Paul Revere's. Always tons of empty boxes stacked in the halls of the dorms. The Wedgies were great!
Andrew Hughes (88BBA)
La Grange Park, Illinois
The Mill, under the hand of the founder, Keith Dempster, had my favorite pizza. It first opened on Iowa Avenue, then down Dubuque Street, and finally, at the top o' the hill on Dubuque.
Floyd Herdrich (67BA, 70MA, 72MFA)
Richmond, Virginia
What ever happened to Pizza Villa and their fleet of gray delivery cars? Also, I thought Pagliai's opened in 1967-ish, or did they just move to that location then?
Bob Morgan (71BM)
Clifton, New Jersey
Editor's note: According to the Pagliai's website, Sam Pagliai served his first pizza at his bar in Ames in 1953, and the family opened its first restaurant in Ames in 1957. Pagliai's debuted in Iowa City in 1962, according to the Des Moines Register. The Daily Iowan reports that the restaurant initially was located for seven years at 127 S. Clinton St. before moving to its current home at 302 E. Bloomington St.
I always enjoyed The Brown Bottle back in the late 1970s. Apparently, they closed their Iowa City location after being in business there for 40 years. I thought that it was divine!
Carol Tufte (78BFA)
Carlsbad, California
The Sanctuary. Heavenly pizza with soothing entertainment!
Peter Agnew (78BBA)
Bettendorf, Iowa
Nobody mentions George's Gourmet. It was the most popular place in the '60s. Toward the end of the '60s, Shakey's pizza became popular.
Larry Simmon (71BBA)
Springfield, Missouri
No votes for Felix & Oscar's?
Kris Wieben Johnson (85BA)
Benbrook, Texas
Sanctuary had a great pizza back in 1990.
Steven Kisner (93BA)
Minneapolis, Minnesota
Back in the late '70s, Sanctuary had really delicious pizza with great live jazz music. The Green Pepper was yummy, too. Those were my favorites back then.
Bethany Cartisano Shifflett (79MA, 83PhD)
San Jose, California
Pizza on Dubuque Street, which then moved to Washington Street. Great late-night grub, and the owner was awesome!
Kimberly Streeby
Iowa City