The Hawkeye Big Ten Tournament championship team celebrates the program's 25th year this fall with a new home.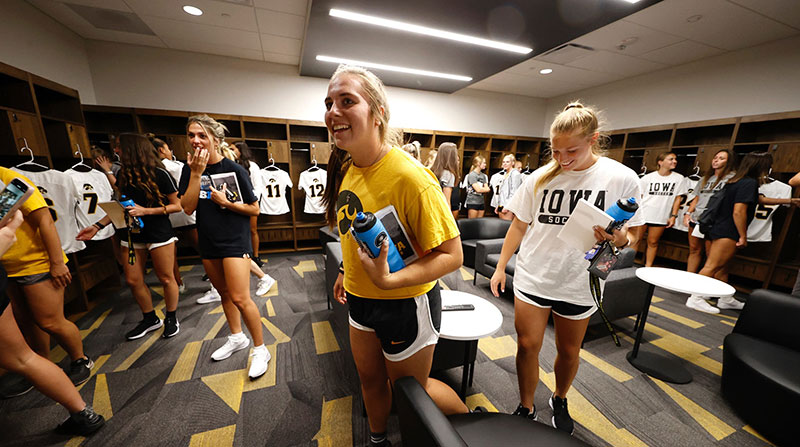 Photo: HAWKEYESPORTS.COM
The Hawkeyes tour the Iowa Soccer Operations Facility for the first time.
When Dave DiIanni took the reins of the Iowa soccer program in 2014, he had a vision for the future.
"It was my dream to have a facility next to our beautiful field," says DiIanni. "I wanted a home for our student-athletes' one location for everything they need."
In August 2021, DiIanni's dream came true with the recently completed $4 million operations facility located on the west side of the Iowa Soccer Complex, which includes locker rooms, a game-day suite, athletic training room, and coaches' suite. The facility has been funded by a $3 million anonymous gift, donations from fans and friends, and an ongoing $150,000 crowdfunding campaign to name the home locker room in honor of Kim Olsen White (10BA)—a former soccer student-athlete who died last year after a long battle with cancer.
As Iowa soccer enters its 25th season this fall, DiIanni believes there's never been a better time for the program. The Hawkeyes are coming off back-to-back NCAA Tournament appearances and are currently the reigning Big Ten Tournament champions. The Hawkeyes return all but one starter from last year, and DiIanni will look to five student-athletes—Samantha Cary, Josie Durr, Rielee Fetty, Hailey Rydberg, and Sara Wheaton—to lead the Hawkeyes on the pitch.
After winning the program's first NCAA Tournament game last season, DiIanni hopes to build on the team's recent success.
"Our student-athletes continue to raise the bar in terms of what we strive for each year," says DiIanni, "but our goals are always to produce better students, people, and athletes."
Support the Kim Olsen White Locker Room crowdfunding campaign.