When piccolo player Kelly Enstrom died this past fall, college friends rallied to raise funds in her honor.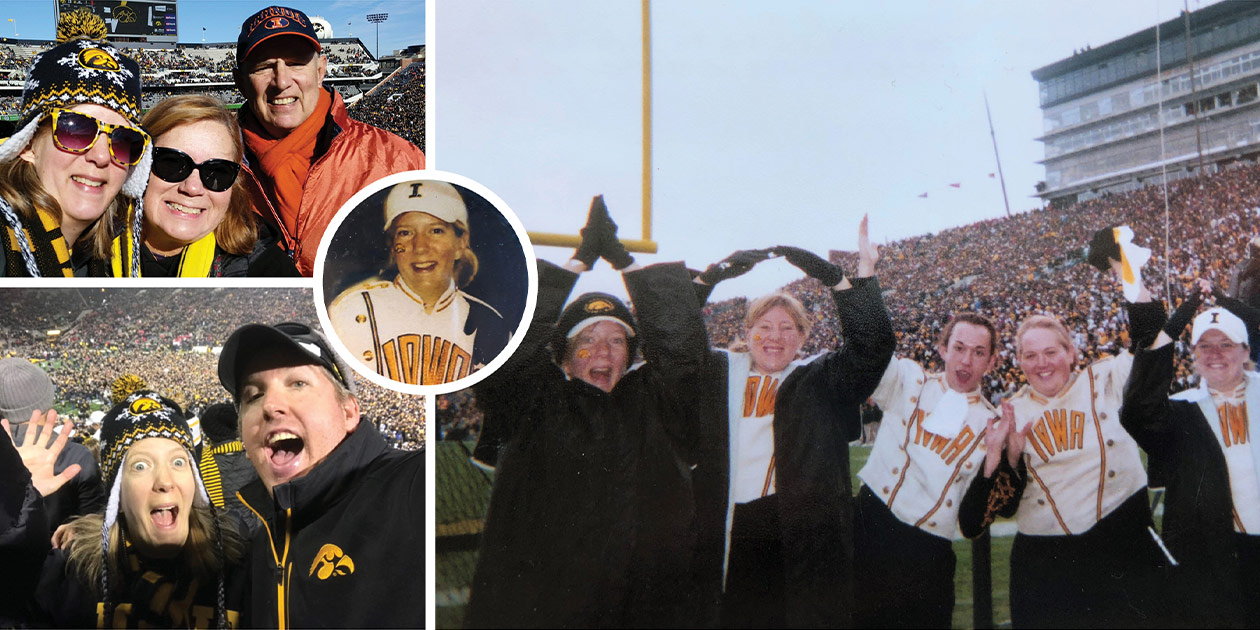 PHOTOS COURTESY GOLDRUSH
Former piccolo player Kelly Enstrom cherished moments with friends and family at Kinnick Stadium.
Kelly Enstrom (08BSE) knew how to bring people together.
"She was that friend who was always there—the glue—and in the Hawkeye Marching Band, every single member knew her and loved her," says Jessica Bickford Dietz (06BA), who knew Enstrom since high school and played piccolo alongside her at the University of Iowa.
When Enstrom passed away unexpectedly on September 20, 2020, Dietz and several other former Hawkeye Marching Band piccolo players—Erin Collins (05BS), Erin Feo (07BA), Laura Gray (11BA), Sarah Klugiewicz Mumm (05BA), and Katie Murphy (05BS)—wanted to do something to honor their longtime friend.
Eric Bush (15DMA), director of the Hawkeye Marching Band, knew of an immediate way Enstrom's friends could make an impact. Since 2018, Bush has led efforts to ensure that all 250 band members have a quality, school-owned, game-day instrument. In the past, only low brass and drumline musicians received school-owned instruments.
"Kids have been turned away from the experience we had because they may not be able to afford an instrument," says Collins. "That's heartbreaking. The fact that Kelly could give this experience was the perfect way to honor her."
In February, the group of former piccolo players used GOLDrush, the UI's crowdfunding platform, to try and raise $17,000 for new piccolos. Once again, Enstrom brought the band together. Within 10 days, the Kelly Piccolo Project exceeded its fundraising goal.
"It was originally a five-week campaign," says Bush. "And the group came back and asked, 'What's next?' I said clarinets, and they went to work."
By the end of the five weeks, 222 donors had raised $35,500—enough to purchase 26 piccolos and 32 clarinets, along with travel cases that don a Tigerhawk and the inscription "in memory of Kelly."
"All of the people who donated know what it would be like if they lost someone in the band, and they understand that grief," says Feo. "They also wanted to better the band."
In fact, a group of former Hawkeye Marching Band members from the 1980s donated in honor of another bandmate, Kim Stack Basler (83BM), who passed away in 2010. Donations came from as far away as Guam and from former band members at two other Big Ten institutions—Michigan State and Ohio State.
"The huge amount of support just shows that band really is a big family," says Gray. "It doesn't matter what year you were or what instrument you played. We're all here for each other."
For Enstrom's parents, Ken and Cathy, of Bettendorf, Iowa, they have been amazed and appreciative of the support from Hawkeye Marching Band alumni.
"We deeply miss our funny, smart, musical daughter every day," says Cathy Enstrom. "Knowing how much others cared about Kelly means a lot to us, and the generous donations the Kelly Piccolo Project received will keep the music playing in many students' lives."