During an Iowa Law panel, experts discuss the challenges of retaining privacy in the digital age.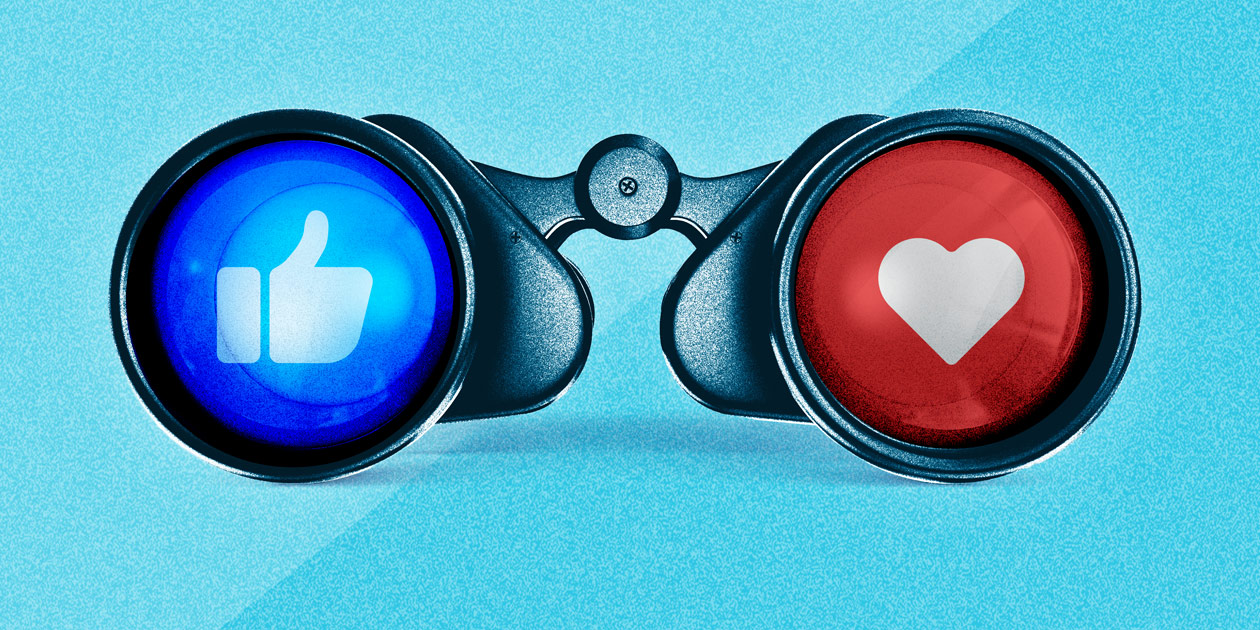 Social media makes it easy for us to forget we're being watched, warns University of Iowa associate professor of law Mihailis Diamantis. And not just by our family, classmates, and coworkers.
"We're focused on our friends and our likes and the funny stories and the cool pictures," says Diamantis, who taught a new College of Law seminar this past semester on privacy law and technology alongside assistant professor of computer science Rishab Nithyanand. "We're not seeing what's going on behind the screen."
Social media companies amass vast amounts of personal data, track our every click to keep us scrolling, and sell our eyeballs to advertisers. Because it's a faceless algorithm and not a human doing the surveilling, however, Diamantis says people often shrug off the inherent privacy issues. "The point where we become apathetic is the point where we lose this conversation," he says.
Diamantis was one of several panelists who discussed social media privacy and how to protect users' rights during an online program this past semester hosted by the American Constitution Society at Iowa Law. Experts highlighted the thorny civil liberty questions that arise when tech companies collect private health data and government and law enforcement use social media to snoop on citizens.
University of Missouri professor Sam Halabi, a health law scholar who was a visiting professor at the UI last fall, says there's a critical need to reassess the regulatory framework of health privacy in social media. Currently, there are virtually no regulations in place for social media companies that harvest health data, he says. "Think people who form Facebook groups around addiction or cancer diagnoses," says Halabi, who argues that the biggest aggregators of health data today are not health care providers or insurance companies but social media platforms and search engines.
Just as concerning to privacy experts is the unrestricted use of social media surveillance by government and law enforcement agencies. Saira Hussain, a staff attorney for the nonprofit Electronic Frontier Foundation's civil liberties team, says the federal government has increasingly used social media to vet foreign visitors, culminating with the State Department in 2019 updating its U.S. visa forms to request applicants' social media account names.
"If individuals know the government is going to be watching them and taking note of what they say online, or possibly using that against them in making determinations of who's going to get a visa and who's not, that really restricts the speech of individuals coming into the U.S.," Hussain says. "But also [it restricts the speech] of U.S. citizens and legal, permanent resident family members who may be connected to them."
Also worrisome for Hussain is street-level surveillance by police, who may view public social media profiles or even create sock puppet accounts to find private information to help prosecute crimes. She likens it to issues that arose with the infiltration of law enforcement into the political movements of the 1960s and worries about the disproportionate use of the tactic against people of color.
At the UI, Diamantis is currently conducting a research project focused on how criminal law can be used to hold corporations accountable for compromising privacy by collecting or selling data against a user's consent or failing to protect data. Says Diamantis: "We're still struggling to decide what privacy means and articulate why it matters and to know how to balance it against these other things we really care about, like security. How do we think about that trade-off between two really important values?"