Jody and Kitty Buckwalter's family of Hawkeye health care professionals spans four generations at Iowa.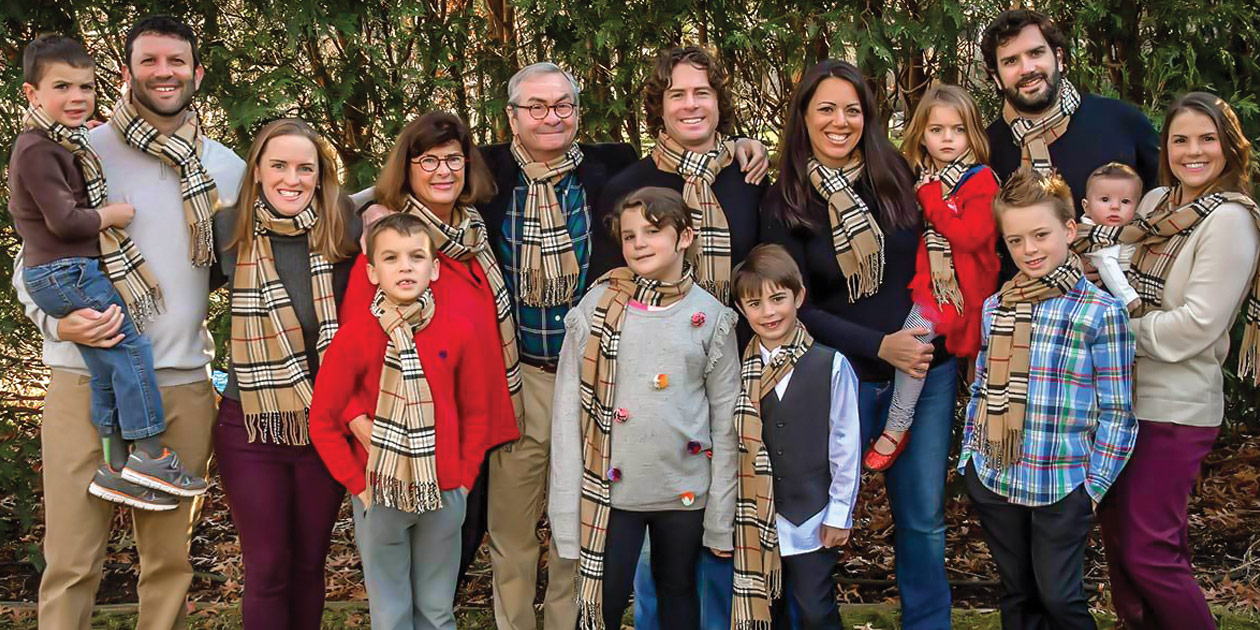 PHOTO COURTESY BUCKWALTER FAMILY
The Buckwalter Family
Throughout the past century, four generations and 30 members of the Buckwalter family have graduated from the University of Iowa and used their educational experiences to improve the lives of others. In October, the family of Joseph "Jody" Buckwalter IV (69BA, 72MS, 74MD, 79R) and Kathleen "Kitty" Coen Buckwalter (71BSN, 76MA) is scheduled to be recognized as the recipient of Iowa's Family Spirit Award. The award honors a Hawkeye family that supports the UI and contributes toward bettering the state of Iowa.
"For my parents, winning a Nobel Prize would be cool, but winning the Family Spirit Award is right up there", says Abigail Buckwalter, Jody and Kitty's youngest daughter. "They've been medical professionals their entire lives, but long before any of us were born, they were Hawkeyes. To have that acknowledged is a great honor."
Jody's UI ties begin with his grandfather, John Kelly (1918DDS), a Sigourney, Iowa, dentist who cared for him while his parents, Joseph Buckwalter III (52R) and Carole Ann Kelly Buckwalter (43BA, 46MD), were completing their medical educations at Iowa.
"I remember hearing a noise and then sneaking downstairs in the middle of the night, and my grandfather would be draining a patient's tooth abscess in the dining room," says Jody, who has been a UI orthopedic surgeon for 40 years, including two decades as the Hawkeye football team doctor. "He was doing something people needed, and I remember thinking I wanted to do something that also made a difference."
Much like her husband, Kitty comes from a strong health care background. Her late great-aunt, Geneva Mungoven (25GN, 38BA), was the first of seven women in her family to earn a degree from the UI College of Nursing. In nearly 40 years at Iowa, Kitty has forever changed the college, helping to establish the PhD program and building a top-three public university gerontology program.
"Nursing is kind of the family business," says Kitty, whose father, William Coen (35BSC), was also an Iowa graduate. "It's a time-honored tradition, and because of that long family connection, we've been able to see, firsthand, many changes in the profession."
Both Jody and Kitty have affected the lives of countless students and patients, spearheading life-changing research initiatives that have secured nearly $40 million in grant support for Iowa. They've also been tireless supporters, donating financially to the UI for 45 consecutive years.
While the Buckwalters have dedicated their entire careers to Iowa, their three children are blazing their own paths—advancing health care in their respective fields.
Their son, Joseph "Jody" Buckwalter V (05PhD, 16R), a UI assistant professor of orthopedics and rehabilitation, joined the faculty in 2016 as a hand and microvascular surgery specialist. Andrea Buckwalter Potash (07MD, 07F, 12R), Jody and Kitty's eldest daughter, works as an ear, nose, and throat specialist and met her husband, Marty Potash (00BS, 07MD, 07F, 11R, 12F), in a UI gross anatomy dissection course. Abigail works as a marketing vice president for a health care company and has fond memories of her Iowa City upbringing—including former Iowa linebacker Bob Diaco (95BA) teaching her how to drive.
The Family Spirit Award recognizes the generations of engagement and support the Buckwalters have given to Iowa. "We take so much pride in the University of Iowa," says the elder Jody. "To be even more a part of the university with this award—after all of the experiences we've had here and how it's shaped our lives—we're just thrilled."
Learn more about the Family Spirit Award.