Here's what you had to say about "Peace, War, and Basketball," the spring 2020 cover story for Iowa Magazine.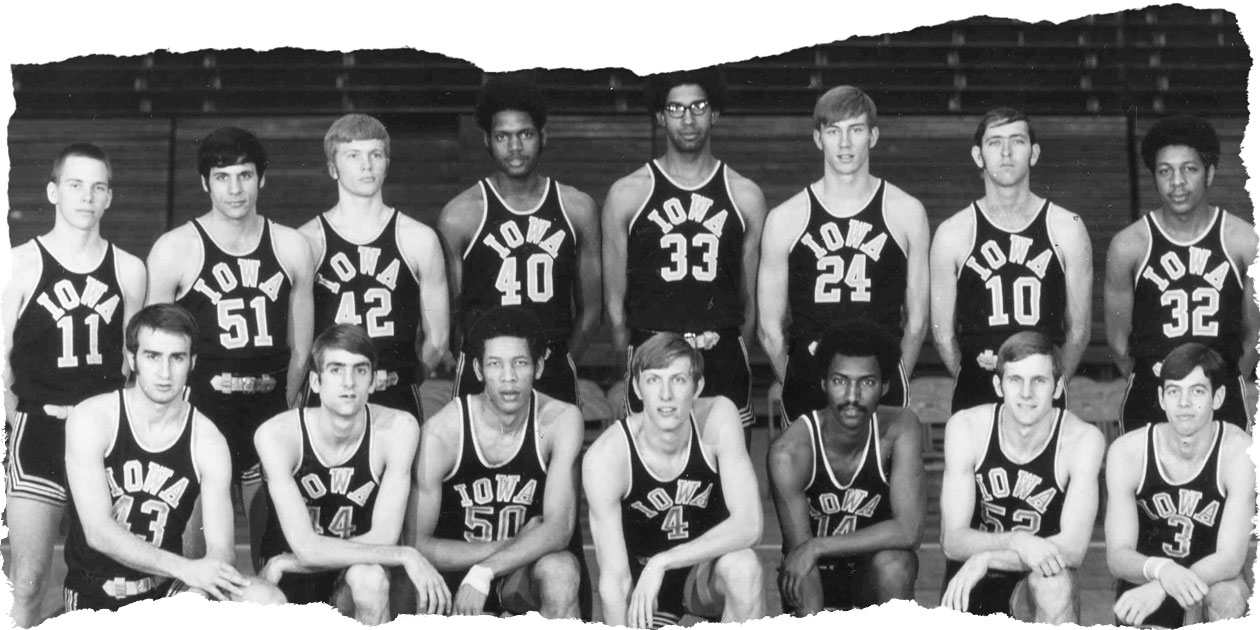 PHOTO: UI ATHLETICS
J.J. and the Dealers pose during the 1969-70 season. Bottom row (from left): Chad Calabria, Glenn Vidnovic, John Johnson, Dick Jensen, Ben McGilmer, Tom Schulze, Jim Hodge. Top row (from left): Gary Lusk, Joe Miranda, Lynn Rowat, Omar Hazley, Tom Miller, Ken Grabinski, George Conway, Fred Brown.
---
I was a sophomore at Iowa during the 1969-70 season covered in your article. Following the Hawkeyes' prodigious hard-court accomplishments that season was unforgettable. I remember a friend remarking in amazement that Iowa could walk the ball up the court all night and still score 100 points.
The most painful memory of the season was unquestionably the heartbreaking last-second loss to Jacksonville. Fifty years later, I'm almost over that.
The high point of the season for me, though, was one evening at Pagliai's Pizza when some fraternity brothers and I looked up and saw Fred Brown and John Johnson walk through the door. We could hardly believe our eyes, as we suddenly found ourselves breathing the rarefied air of our Hawkeye basketball heroes.
Having moved to Seattle in summer 1979, I was fortunate enough to watch Brown and Johnson play with the SuperSonics. It was a glorious time to be a fan.
Randy Hilfman (72BA, 75JD)
Woodinville, Washington
---
"Peace, War, and Basketball" brought back more than a few fond memories. When I moved into my Hillcrest dorm room in fall 1967 as a freshman, my roommate was a sophomore who knew many Hawkeye football and basketball athletes. His good friend was Chad Calabria (70BBA).
My roommate and I attended basketball practices in the old Iowa Field House. The practice court was in the middle of a dirt floor and surrounded by a canvas wall that would keep the balls on the court. My memory of Coach Ralph Miller was his gruff, raspy voice grouching constantly at the players and his chain smoking. He dropped his cigarette butts outside the floor onto the dirt, leaving the entire area covered. We all know his coaching style was successful, which brings me to another favorite memory: the team's arrival at the Iowa City airport following its win over Purdue that clinched the Big Ten title.
Our entire Fiji fraternity was among the wild crowd waiting to meet the team plane when the Hawkeyes returned from West Lafayette. The plane was a World War II-era DC-3 twin engine taildragger. As it was taxiing up, students began to swarm it. The pilot spun the plane around to prevent students from running into the turning propellers.  Miller and the team deplaned and worked their way through the cheering crowd. I was able to get close enough to attempt to pat Coach on the back. Just as I reached out, someone hit my arm from behind, and I poked Miller in the cheek. I will never forget the look he gave me. If it could have killed, I would have been dead on the spot. Miller was not warm and fuzzy.
On another note, I have always credited not having to take finals at the end of the 1970 spring semester to Iowa Governor Bob Ray (12LLD). I believe he shut down all three state universities at the same time immediately after the Kent State tragedy. It was difficult being an ROTC cadet on campus during this era. My fraternity brother/roommate and I started out as best friends in fall 1969, and by spring 1970, he was a black armband-wearing, anti-war protestor who left the fraternity at the end of the year and has not been seen or heard from since.  
Larry Reed (71BBA)
Waxhaw, North Carolina
---
I read with interest the story of the 1969-70 Hawkeye basketball team, which, as a resident and fellow at UI Hospitals & Clinics, I was privileged to watch. They were exciting. However, my vote for the greatest team in Iowa history goes to the 1954-56 teams that won the Big Ten twice in two years, played in the Final Four, and went to the national championship game in 1956 before losing to Bill Russell and the undefeated University of San Francisco Dons. The 1955-56 squad had almost an identical record with the 1969-70 team, going 13-1 versus 10-0 in the Big Ten and 20-6 versus 20-5 in the regular season. The earlier team players were as close off the court as on. I found more excitement watching them.
By the way, I confess to almost dreading receiving the Iowa Magazine. I find that when it comes, I can't put the damned thing down!
John W. McBride (59BA, 62MD, 70R)
St. Paul, Minnesota
---
I very much enjoyed your article on the 1969-70 basketball team and the anti-war demonstrations that were occurring that school year. I was on campus as a junior journalism major and assistant sports editor of The Daily Iowan and also covered the demonstrations as a stringer for The Waterloo Courier.
I was in Columbus, Ohio, for the game against Jacksonville. My recollection is that Iowa fans, while loud, were not the predominant group at the game. The arena was loaded with fans from Kentucky waving their blue and white pom-poms. In the first game between Kentucky and Notre Dame, Iowa fans supported the underdog Irish, who lost the game. Despite the fact Jacksonville had perhaps 200 fans at the game (the school only recently had converted from a two-year junior college to a four-year school), my recollection is that the Kentucky crowd, in retribution for Iowa fans' support of the Irish, loudly adopted Jacksonville as the team to support. The following day, the Iowa fans as a tit-for-tat loudly supported Jacksonville in its win over Kentucky, so much so that the Jacksonville cheerleaders for a time actually led cheers before the Iowa fans, located across the arena from the Jacksonville supporters.
Duane Swinton (71BA, 77JD)
Spokane, Washington
---
I was a freshman at Iowa during that season and for some reason decided to spend some of my precious discretionary funds for a season ticket to the basketball games. (The football teams of that time were disappointing, and the Hawkeyes were rumored to have a promising basketball team, so I took the plunge and bought the ticket. I think it was around $20 for students back then. One of my best entertainment purchases ever.)
The games were played at the Field House, which was just across the street from the new Rienow men's dorms where I resided, so it was an easy walk, regardless of the Iowa winter weather. I remember the Field House had numerous supporting columns located within the bleachers that partially blocked the view from certain seats and was thankful I was not near one. The team played to a packed house, and we watched some games more from a standing than sitting position because of the cheering and constant excitement. The games were a great diversion from all the tumultuous events of the time.
That team was electrifying to watch, and it could pass the ball and work for the open shot like no other team of the time. Beating Purdue and its hot shooter Rick Mount was a season highlight, and I remember how nervous the Iowa fans were over that away game and its consequences. I also remember how the crowds cheered when Coach Ralph Miller would insert Glenn "The Stick" Vidnovic into a critical situation. He always seemed to ignite the team with his defensive efforts. John Johnson was the star, though, and he could hit a running jump shot from more than 30 feet away. It was almost automatic, and there seemed to be little to no arch in his shots.
The Vietnam War was always on one's mind in those days, especially for draft-eligible males, and those games were a welcome diversion from the reality of a turbulent world. Thanks for bringing back the pleasant memories.
Ted McKim (73BBA, 75BSCE, 77MS)
Clermont, Florida
---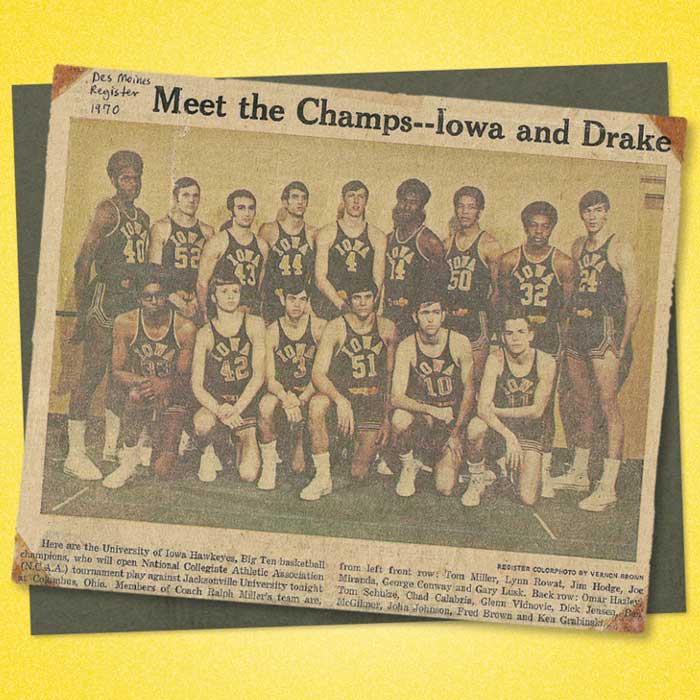 CLIPPING COURTESY MARY WINDER
A clipping of a 1970 article about the Hawkeyes in the Des Moines Register
---
There was a lot of discord on campus at that time. The basketball team was something that gave us some relief from what was going on. As the season went on, the excitement kept building. It was fun going to the practices and games in the Field House and watching Coach Ralph Miller work his magic.
The Jacksonville game was a battle. My seat was in the eighth row behind the Jacksonville bench, and I was devastated when they put the rebound in to beat us. The Hawks were in my opinion the best passing team I have ever seen in college basketball. I will never forget that game and was happy that I was one of a select group of people who got to witness it.
Dave Griesbach, 73BSPh
Eldridge, Iowa
---
I was one of those fans who packed the Field House for every game. I remember when Iowa won despite Purdue's Rick Mount scoring 61 points, and I was at the airport when the team returned to Iowa City. I have seen many games since then, but none compare to that season when the Hawks scored more than 100 points per game with no 3-point line or shot clock. Incredible!
Mark Leiserowitz (72BBA)
Houston
---
Your article stirred a lot of memories. After graduating from Iowa in June 1965 and from Northwestern Law School in 1968, I was drafted into the Army. During Iowa's great 1969-70 season, I was stationed at Fort Huachuca, Arizona. Jim Zabel's game broadcasts could usually be heard in southern Arizona, but the sound quality varied. Taking no chances for the Jacksonville game, I drove into the mountains near the fort to maximize reception. Fortunately, there was no other traffic since any passersby would probably be frightened by the yelling, steering wheel-pounding and fist-pumping accompanying the game. I was convinced Iowa was going to win until Pembrook Burrows' last-second put-back.
Two months later, the Army discharged me, and I resumed my legal career in Cleveland, where I had a chance to watch the Cleveland Cavaliers' first-ever draft pick, John Johnson, play on a regular basis.
My legal education in Chicago ended during a tumultuous period in that city's history, and my legal career began when the Kent State shootings occurred. The Hawkeyes' 1969-70 season provided a helpful respite from the divisions and turmoil of the mid-1960s. It was and is great to be a Hawkeye!
M. Neal Rains (65BA)
Westlake, Ohio
---
I was 9 years old during the 1969-70 basketball season. Listening to my two-way radio from the front porch of my house on Bowery Street in Iowa City, I knew unusual things were happening not only here, but all over the nation. I heard police calls of smashed windows to downtown buildings and sit-ins blocking Iowa Avenue.
Amid all the chaos, there was this constant: an incredible group of Hawkeye basketball players and the towering figure of Ralph Miller orchestrating them. They are still the best true team I have ever seen in my life. Downtown Freddie Brown could hit a shot from literally anywhere in the arena and could dribble the ball like a magician. J.J. (John Johnson) was the toughest, refuse-to-lose competitor on any court. Glenn "the Stick" Vidnovic never seemed to miss a free throw, Ben McGilmer was a super sub, and Chad Calabria was one smooth guard.
I remember the noise during games in the old Field House rattling my eardrums. My dad knew a security guard outside the Hawkeyes' locker room who let us go inside to meet my Iowa basketball heroes. They were all so nice to a kid they didn't know. They all talked with me and gave me autographs. That's when I figured out how great sports were, and I have been hooked ever since.
The experience made me realize the color of a person's skin shouldn't matter. It helped me decide to major in journalism at the UI, become a Phi Beta Kappa Scholar, and achieve my dream of becoming a sportswriter (when I realized as a teen that my other dream of pitching for the Chicago Cubs wasn't going to happen!).
I will never forget this team or the special bond it created between me and my parents watching them. This team and my parents instilled in me a love of sports and the lessons it can teach both on and off the court. These Hawkeyes shaped not only my love of playing sports, but also my life and occupational choice. Their kindness to me in that locker room after they had just got done playing their hearts out shaped me to become an empathetic, kind person and to desire a job that could help others. That's why I found work as a special education para-educator when my sportswriter job ended.
Jim Lynch (83BA)
Coralville
---
I was a student in engineering during that 1969-70 season, and the men's basketball team was great to watch. I can concur that the noise in the old Field House was deafening. But here is the item I wanted to share with you:
Many years after that season, as I was working here in Iowa, the company I worked for hired Johnny Orr to be a spokesman. One time I was able to have a conversation with him. I remembered that Orr was coach at Michigan while Ralph Miller was coach at Iowa. It seems they were pretty good friends and talked a lot about basketball.
During that 1970 season, Purdue had Rick Mount, who was among the nation's top scorers. Michigan played them and lost, allowing Mount to score 63 points. Miller, who was big on defense, called Orr the next morning and said, "What the hell kind of defense did you play?" (according to Orr). So, a week later, Iowa played Purdue. Mount scored 65 points, so Orr had to let Miller know what he thought. Calling him up the next day, he also asked, "What kind of defense was that?" to which Miller responded, "Yeah, but we won."
Leon D. Hofer (72BSEE)
West Des Moines, Iowa
---
I was a sophomore during the 1969-70 Hawkeye men's basketball season and attended all the games. At that time, seats were assigned based on years of enrollment at the UI, so my seat was on the top deck in the corner near the band. My seat was behind the bass drum and next to the cymbal player. The games were rocking and the noise was unbelievable, but so much fun. We watched the NCAA tournament in the dorm and could not believe when Pembrook Burrows III tipped the missed shot to beat us. I'll never forget his name.
I also was a member of the Air Force ROTC, so I remember well all the war protests and the fact we could not wear our uniform to campus. I took pass/fail on all my courses and later had to explain why my transcript was unique with all Ps for grades. I served in the Air Force for 28 years, retiring in September 2000. Thanks for the trip down memory lane!
Doug Hammerstrom (72BBA)
Schertz, Texas
---
What an outstanding team to watch! I remember the great teamwork they had, Coach Ralph Miller's chain-smoking, and how he always gave straight answers to reporters' questions after a game. If they played terribly, he didn't sugarcoat it.
Daniel Schleisman (72BS)
Iowa City
---
Thank you for the article chronicling the 1969-70 Hawkeye basketball season. It brought back lots of memories. I was a first-year law student at Iowa in 1969-70 and remember that season well. I was an Iowa State University graduate and a member of its men's varsity basketball team from 1965 to 1969, so I was not an Iowa fan when the '69-70 basketball season got underway. However, since Iowa's Tom Schulze (70BA) and I played together on Des Moines Roosevelt High School's 1965 state championship team, I went to every Hawkeye home game that championship season. By midseason, I was an enthusiastic fan. I had never witnessed a more high-powered offensive machine at the collegiate level.
Three things stand out to me about that 1969-70 team: First, the Hawkeyes scored baskets so quickly that, when I tried to keep score in my program during the games, invariably Iowa would score before I could credit an opponent's basket, and I would have to ask a friend, "Who just scored for Iowa?" Second, I remember that Adolph Rupp made his Kentucky players go to the locker room at halftime of the Iowa-Notre Dame Mideast Regional consolation game because his players were shell-shocked by the Hawkeyes' huge halftime lead over the Irish. After all, Rupp's team had barely survived Notre Dame two days before, and now the team that lost to Jacksonville (Rupp's next opponent) by a point was trouncing the Irish. Rupp didn't want his players to get too psyched out by watching any more of the Iowa-Notre Dame game. Third, I agree that if Iowa had beaten Jacksonville, the Hawks could have gone on to beat UCLA and win the national title—and this admission is coming from a former Cyclone player and current Cyclone fan.
The 1969-70 season was truly a great year for Iowa Hawkeye basketball and its fans. Thanks again for the memories!
Tom Kreamer (72JD)
Leawood, Kansas
---
Jim Snyder's excellent article completely captured the 1970 Hawkeye team.
We would go to the Field House, and if you sat high enough in the stands, huge steel beams might block your view. You had to almost sit in the lap of the person next to you to see the other end of the court. Crowds were so loud that the old building shook. Fans would stomp their feet and the decibels were deafening. We occasionally felt particles from the ceiling fall during the game.
How many points would that team have scored with a 3-point line? Our fans got to the point we knew the Hawks could outscore anybody. Defense be damned.
Five friends and I made the trip to Columbus, Ohio, to see Iowa's heroic effort against those two Jacksonville 7-footers. The Hawks had no fear and came oh, so close! In the consolation game, the Six Pack showed the spirit of champions when it shot the lights out with a 75-point half against Austin Carr and Notre Dame. Toward the end of the game, the legendary Adolph Rupp walked into the arena with his Kentucky team. He did a visible double-take when he looked up at the scoreboard. You could sense Rupp must have been saying to himself, "Glad we're not playing those guys."
One final note: As a TV journalist, I shot film of John Wooden's final game in 1975 in San Diego. Wooden was a great coach, but I have no doubt Ralph Miller would have given UCLA a much better 1970 championship game than Jacksonville. A lot of us who flocked to Iowa games in that 1969-70 season honestly believe the Six Pack would have taken one of Wooden's national championship trophies and brought it back to Iowa City.
Jon Janes (70BA)
Topeka, Kansas
---
I was a sophomore in 1969-70 and dreamed of being a college basketball player. Our house in Quadrangle Residence Hall played in the finals for an intramural championship against a team that mainly included football players such as Dennis Green (71BS) and Kenny Price. I played and coached the Quad team. Fred Brown watched for a couple minutes, then left. Herschel Epps (73BGS) flatly swung his right elbow rebounding. It landed against my front teeth, and I was out of the game until the second half. We lost.
My greatest experience in college was the second half of the Big Ten basketball season. I remember the Field House stands were full by 7 p.m. when the games started at 7:30 p.m. The Hawkeyes were a great shooting and passing team, and the crowd loved every minute.
Kirk Carter (72BS)
Monroe, Iowa
---
I will always remember the deafening noise inside the Field House. I was only 11 years old at the time, and my oldest brother was attending the UI. We enjoyed attending a couple games, as that was a huge treat at that time. It is hard to imagine how many points this team would have scored per game with a 3-point line! The Hawks were amazing moving the basketball and making shots. The Miller Six Pack was the best Iowa TEAM ever!
Gary Zittergruen (86MA)
Waverly, Iowa
---
I created a handmade poster in 1970 when I was in junior high school. It read "We Love Hawks the Best," and there is a heart for the "o" in the word "Love." My mother took a few of my friends and me to meet the bus at the old Field House where the Iowa Hawkeye basketball team was dropped off after an away game. They flew in that evening. I remember it was dark and very cold.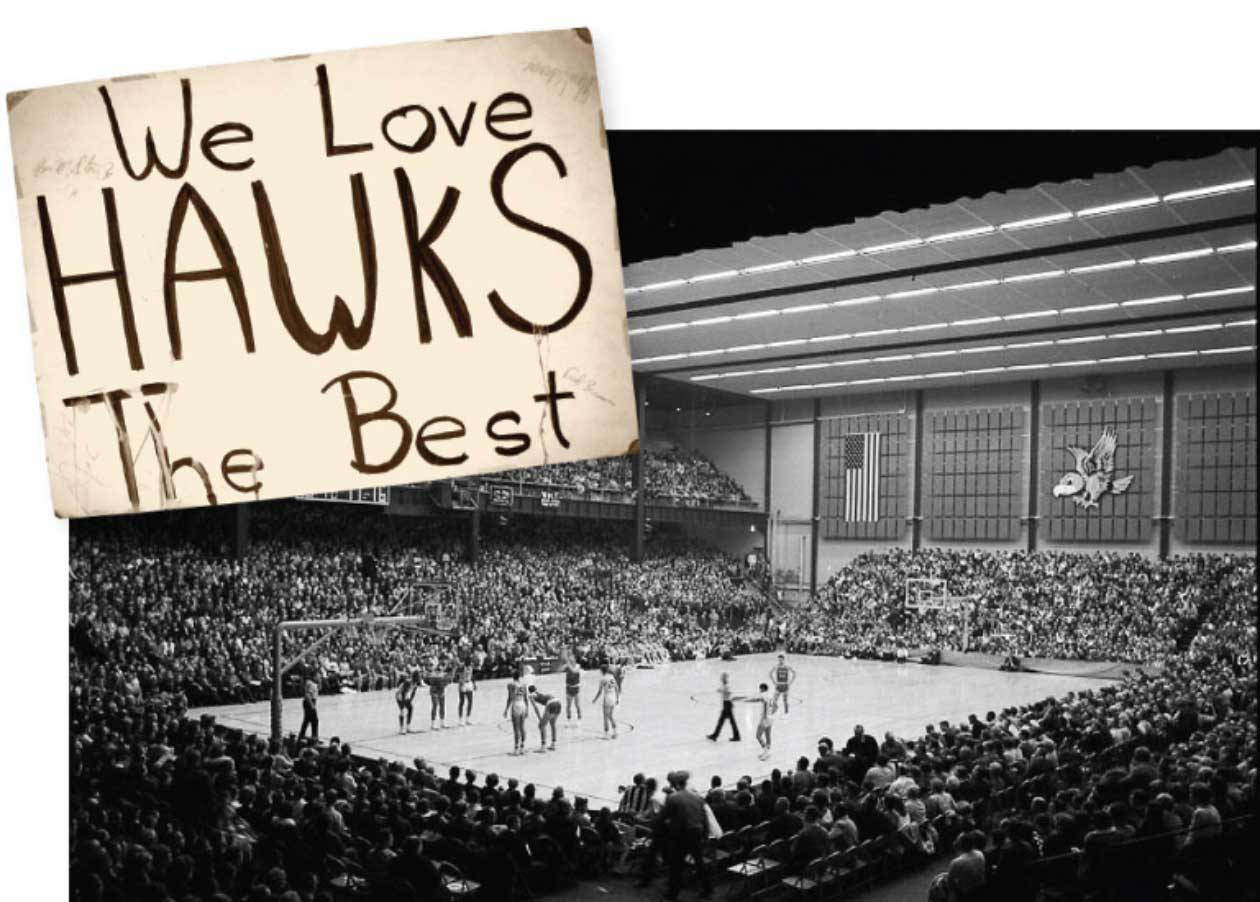 FIELD HOUSE PHOTO: UI LIBRARIES UNIVERSITY ARCHIVES; POSTER PHOTO COURTESY MARY WINDER
Several of my friends also made posters. We waited and waited in the cold. My mother wanted to take us home, but we begged to stay. The bus finally arrived, and our little group cheered and waved our posters. I'm sure the players were tired, but they were quite gracious to us. Several of the players signed my poster: John Johnson, Glenn Vidnovic, Chad Calabria, Ben McGilmer, and Fred Brown. I still remember how excited I was! I kept that poster on display in my bedroom for many years.
Mary Hyman Winder (77BS)
Troy, Kansas
---