Hawkeyes share how they've navigated the uncertainties of this sports season.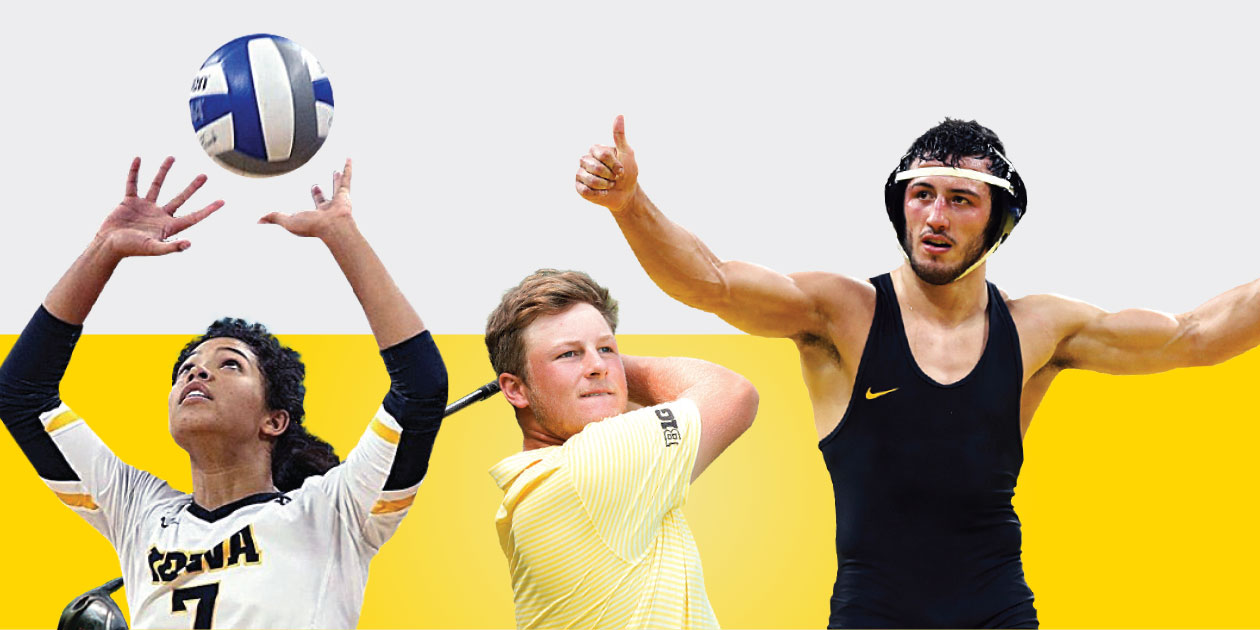 PHOTOS: BRIAN RAY/ UI ATHLETICS
Brie Orr, Alex Schaake, and Michael Kemerer
Iowa volleyball senior Brie Orr was supposed to spend her summer on a competition trip to Peru and Brazil, which was canceled due to COVID-19. Instead, she stayed in Iowa City to work at a local golf course, only to learn she had been in close contact with someone who tested positive for COVID-19. She quarantined for two weeks.
For Orr, it was just the start of the bad news. In August, just weeks before the start of the volleyball season, the Big Ten announced it was postponing all fall athletics competitions due to health and safety concerns amid the pandemic. Iowa also discontinued four sports programs due to the budget shortfall.
"With everything going on, I just want my team to be safe," says Orr, who's from Eagan, Minnesota. "I know that this might be my last year, but our health is our top priority."
While fall student-athletes held out hope that their seasons could be played later and continued to practice as the semester began, the reality is that their year is at the mercy of COVID-19. Student-athletes using on-campus facilities are required to have their temperatures taken daily and fill out short health questionnaires. They also maintain consistent social groups—immediate family, teammates, and close friends—and if they leave that social group, they are required to self-quarantine for seven days and retest.
Highly ranked Iowa wrestler Michael Kemerer (19BBA) is among the many student-athletes following these precautions with hopes of competing this winter. Kemerer, who trained this summer in Iowa City, received an additional year of eligibility from the NCAA when his previous season was cut short after winning the Big Ten Championship. "It's unfortunate that we could not finish last year, but my teammates and I have been excited to pick up where we left off," says Kemerer, a three-time All-American. "We are focused on being even better than last season, training at a high level, and continuing to improve."
Like Kemerer, Iowa men's golfer Alex Schaake (20BS) is one of more than 35 Hawkeye student-athletes taking advantage of the extra year of NCAA eligibility. Schaake's golf season was called off after three spring tournaments, but unlike other sports, he was able to compete throughout the summer. He qualified to play alongside his brother, former Iowa golfer Carson Schaake (17BA), in a July tournament on the Korn Ferry Tour—the PGA Tour's developmental league—and finished tied for 58th. "I've been working really hard toward the goal of being one of the best seniors in the nation," says Alex Schaake, the reigning Big Ten Men's Golfer of the Year. "As a team, we'd love to win a few events and get to regionals and nationals. I never thought I would have this opportunity again—to have a mulligan on last season—so I want to make the most of it."
In the wake of the fall postponements, Henry B. and Patricia B. Tippie Director of Athletics Chair Gary Barta said the care and support of student-athletes was his top priority. "They have overcome a number of obstacles associated with this virus and handled the uncertainties with undeniable resolve," says Barta. "We will continue to work together and move forward."