Baseball standout, 1976–78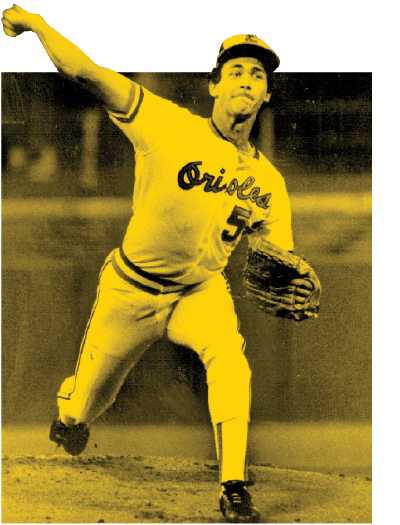 PHOTO: UI ATHLETICS
Mike Boddicker chose the University of Iowa twice. The second time may have saved his life.
Boddicker first became a Hawkeye in 1976. Drafted by the Montreal Expos out of high school, he instead decided to develop his pitching and play college baseball at the UI, where he twice earned All-Big Ten honors and still holds records. He started his major league career in 1983 with the Baltimore Orioles, becoming the American League Championship Series MVP and winning a World Series ring in his rookie year. Boddicker retired in 1993—the same year he established the UI's Mike Boddicker Scholarship, awarded annually to a Hawkeye baseball student-athlete in good academic standing who needs financial assistance. (Canadian Austin Guzzo [18BS] received the scholarship last season.)
In November 2011, Boddicker chose the UI again after discovering a lump in his neck while shaving at his home in Overland Park, Kansas. A biopsy revealed a type of cancer in his right tonsil called squamous cell carcinoma.
Boddicker's doctor in Kansas City recommended UI Hospitals and Clinics, ranked among the top hospitals nationally for otolaryngology-head and neck surgery, but thought he'd never get in. Boddicker persisted. He made a few phone calls, and within three days he was seen by a UI doctor. In November 2011, otolaryngologist Gerry Funk (92F) operated on Boddicker, who later underwent nearly two months of radiation treatments and lost more than 60 pounds. "They lock you into this mask and burn everything up inside," says Boddicker. "I still don't grow any hair on the right side of my face, but I've been lucky. All my doctors did a great job."
Boddicker's throat burned for nearly a month and most foods tasted terrible, as he lived off bread pudding for two weeks. His strength gradually returned with the help of a bucket of baseballs and a soft toss mitt. The Norway, Iowa, native started throwing 20 balls a day and slowly increased to 250, reviving a skill he honed at the UI.
This past spring, Boddicker passed his most recent annual oncology checkup in Iowa City and only experiences occasional dry mouth as he nears seven years since his treatment. "I got lucky," Boddicker says. "Caught it early and suffered through some radiation but everything turned out well. I can't say enough about doctors and nurses—they're great, special people."
Mike Boddicker strikes out Mike Schmidt to record the final out of a complete game victory in game two of the 1983 World Series.