Kimberly Teehee (95JD) is at the forefront of a movement for the U.S. to fulfill a 200-year-old treaty to the Cherokee Nation.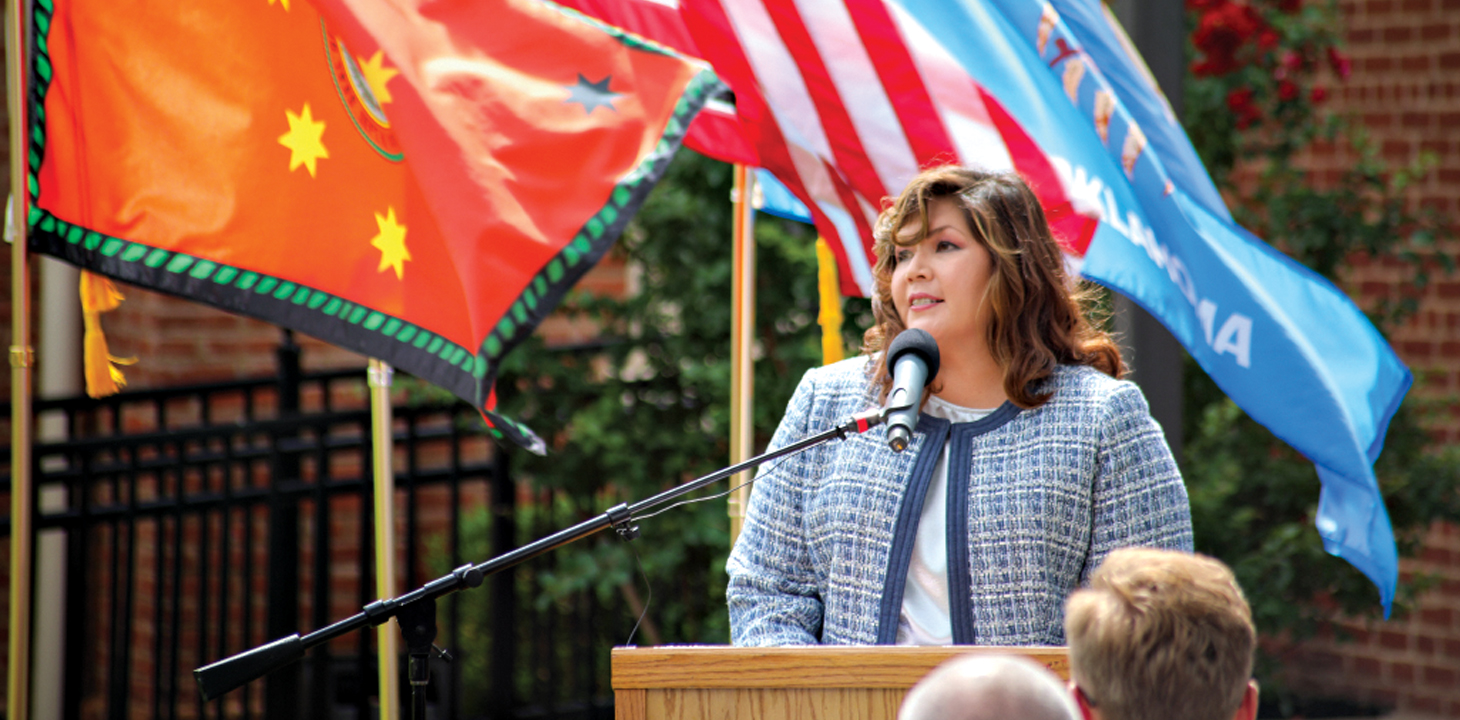 PHOTO COURTESY CHEROKEE NATION
Kimberly Teehee, President Barack Obama's senior policy advisor for Native American affairs, plans to return to Washington to represent the Cherokee Nation in Congress.
When she was in high school, Kimberly Teehee (95JD) had no interest in government or politics. That's because her family's history, and that of the Cherokee Nation, was largely absent from all the textbooks.
Now Teehee, the tribe's senior vice president of government relations and a former senior policy adviser to President Barack Obama, is making her own history as the Cherokee Nation's first delegate to the United States House of Representatives. Principal Chief Chuck Hoskin Jr. nominated Teehee in an effort to have the U.S. honor official promises made more than 200 years ago.
Negotiated treaties in 1785 and 1835 ensured the Cherokee Nation the right to have a delegate in the House. However, the U.S. government's ensuing actions—including genocidal, forced relocations and the splintering of reservations into individual homesteads—meant the tribe couldn't claim a seat at the table for centuries.
"It wasn't until the 1970s that Congress restored our authority to elect chiefs," says Teehee, who grew up in Claremore, Oklahoma, a community within the Cherokee Nation's jurisdiction. "Then it took decades to rebuild our tribe and focus on treaty rights. This is the right time to do so."
Teehee's path from uninterested high schooler to informed activist began with a life-changing summer internship for Wilma Mankiller, the first woman to serve as principal chief of the Cherokee Nation. "I didn't realize you could be passionate about an issue until I met Wilma," says Teehee. "She helped me see connections between the past and present—and understand where I fit in our tribe's history."
Mankiller also encouraged her protégé to attend law school, so that Teehee could be a knowledgeable advocate for the Cherokee Nation. That's how the young intern ended up at the University of Iowa College of Law. There, she co-taught a class about federal Indian law, attended conferences about Indian law, and recruited other Native American students. "I will always have an affinity for Iowa," says Teehee. "It's a school that rooted for me and helped me bring my interests to campus."
In Washington, D.C., Teehee used these UI experiences to inform her work as President Obama's senior policy adviser for Native American affairs. She helped pass the groundbreaking Tribal Law and Order Act, which expands the punitive abilities of tribal courts across the nation, and added language to the Violence Against Women Act that allows tribal jurisdiction over non-Indian perpetrators guilty of domestic-violence crimes against Native women.
Today, Teehee hopes that her new role—which still is awaiting congressional action—will allow her to focus on priorities such as establishing mandatory funding for Native American tribes. She also plans to continue mentoring other young men and women from the Cherokee Nation, just as Mankiller did for her.
"I want to know that I did all I could for Indian Country as a public servant," says Teehee. "I want to honor my ancestors and my family through this work."
---
Meet Kimberly Teehee in this video from NowThis News.