A Hawkeye student-athlete juggles business classes with double the practices.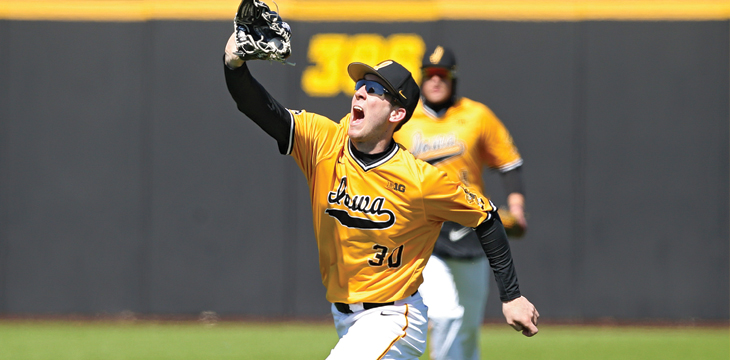 PHOTO: STEPHEN MALLY/UI ATHLETICS
Iowa baseball player Connor McCaffery makes a running catch against Illinois at the University of Iowa's Duane Banks Field this past spring.
When the Iowa men's basketball team gathered at Carver-Hawkeye Arena to learn its NCAA Tournament fate this past March, Connor McCaffery was nowhere to be seen.
The Iowa basketball guard, who's also a Hawkeye outfielder, was busy helping the baseball team to a win over Cal-State Northridge. He eventually learned about the basketball squad's selection from his baseball teammates in the clubhouse.
For McCaffery, that's part of the sacrifice of juggling two sports.
"I love both sports," says McCaffery, who is believed to be one of three 2018-19 Division I men's basketball players who are dual-sport athletes. "Basketball has always been close to my family, but baseball has always been my thing. Being able to do both is fun for me."
"Basketball has always been close to my family, but baseball has always been my thing. Being able to do both is fun for me." - Hawkeye Basketball and Baseball player Connor McCaffery
Balancing two sports requires McCaffery to squeeze in practices on his own time—whether it's working on his jump shot during baseball season or hitting the batting cage during basketball season. Time management and weight room sessions have helped, too.
"It's important to have my body where it needs to be for each sport," says the 6-foot-5 sophomore-to-be. "I need to be slimmed down for basketball, which helps me be faster and more agile. During baseball season, I need to bulk up so that I can hit more home runs."
While McCaffery misses most offseason practices, competing for two Hawkeye teams has its benefits. "I've been in a lot of big, high-pressure moments for baseball and basketball," says McCaffery, ranked by D1Baseball as one of the Big Ten's top prospects for this month's draft. "You really grow from those experiences."
While every day is different for McCaffery, here is an example of his schedule from last semester.
---
A Day in the Life of Hawkeye Connor McCaffery
---
9:45 a.m.
McCaffery, a business major, heads to the Pappajohn Business Building for a managerial accounting class.
Noon
Unable to attend the basketball team's organized spring practices due to baseball, he hits the Carver-Hawkeye Arena gym on his own to improve his jump shot.
2 p.m.
McCaffery heads across the street to Duane Banks Field for baseball practice.
6 p.m.
After cleaning up from both workouts, he grabs dinner and dives into homework for his Introduction to Law, Introductory Financial Management, and Arts of Africa classes.
8:30 p.m.
McCaffery catches his favorite baseball team, the Philadelphia Phillies, in action.
10:30 p.m.
With homework done, he relaxes by playing his favorite video games—Fortnite, Call of Duty, and FIFA—with friends.
12:30 a.m.
Lights out.