Carson King turns a viral plea for beer money into an extraordinary fundraiser for UI Stead Family Children's Hospital.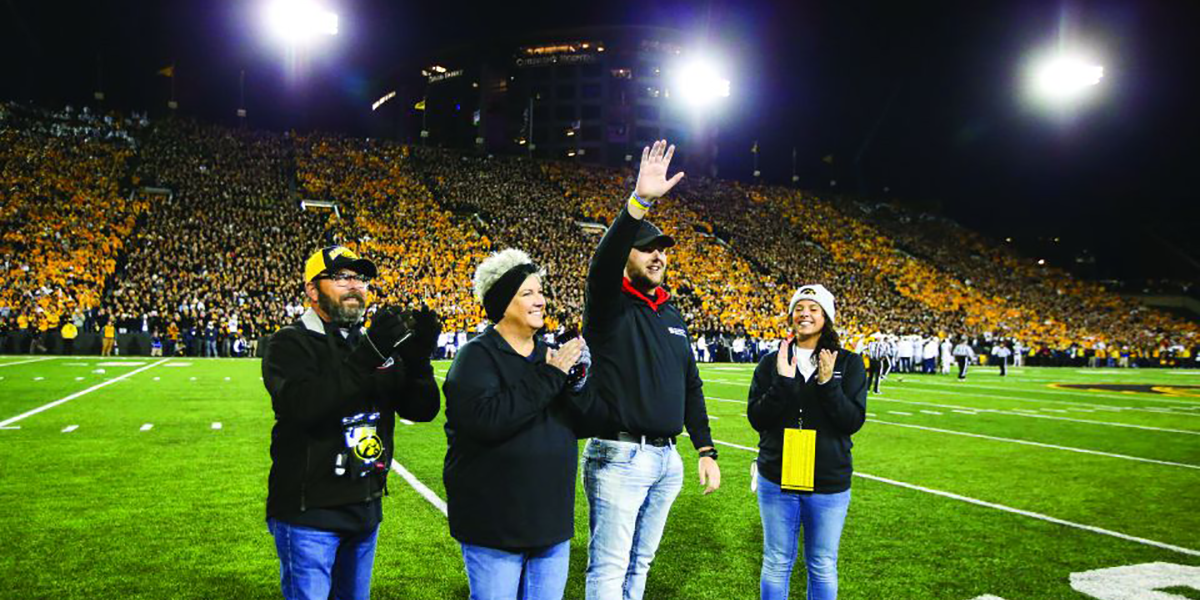 PHOTO: LILY SMITH/UI Athletics
Carson King is recognized on the field in October during the Iowa-Penn State game at Kinnick Stadium.
One of the loudest cheers of the night during Iowa's football game against Penn State in October wasn't for a big play or Hawkeye hero. The standing ovation was for an Iowa State fan—as far-fetched as that may have seemed just a few weeks earlier.
Carson King, a Cyclone supporter-turned-unlikely philanthropist, led a grassroots $3 million fundraiser for UI Stead Family Children's Hospital this past fall that united Iowans from Iowa City to Ames and warmed the hearts of thousands of donors across the nation.
"I never thought it would get near this big," King says. "I didn't think we'd get anything to start with, so $3 million is pretty cool. I think so many people joined on board with donating because they see it's such a great cause and they wanted to support it."
And to think it all started with a beer sign. A few weeks earlier, the 24-year-old Altoona resident had brought a homemade placard to the annual Cy-Hawk game between Iowa and Iowa State in Ames. On it, he'd written a lighthearted message in Sharpie: "Busch Light Supply Needs Replenished" and his Venmo account handle. ESPN's College GameDay was in town, and when cameras panned the crowd that morning, King and his sign were front and center.
King's plea for beer money took off on social media, and within hours he'd collected more than $1,600 via Venmo, a mobile payment app. When it became clear he had more than enough money to restock his fridge, King tweeted that he instead planned to donate the proceeds to UI's Stead Family Children's Hospital. Busch and Venmo in turn announced that they would match King's donation, and so began a whirlwind couple of weeks.
King was featured on ESPN and the NBC Nightly News, he flew to New York for a Good Morning America appearance, and he was profiled by publications like People and The Washington Post. The governor declared it "Carson King Day" when he paid a visit to the statehouse, and Iowa celebrities like former Hawkeye Dallas Clark (07BA) turned out for a fundraising concert in Clive, Iowa.
All the while, donations poured in. By October, more than 35,000 Venmo users from all 50 states contributed, including more than $600,000 from Iowans.
Suresh Gunasekaran, CEO of UI Hospitals & Clinics, marveled that "one funny sign, one man with a great heart" could spark generosity from so many. "Carson King inspired a whole nation to think about more than fun, more than a football game, more than a rivalry," Gunasekaran says. "He inspired a nation to think about our kids, and how we want nothing but the best for them and their future."
King requested that the funds be directed to clinical areas at UI Stead Family Children's Hospital. Patrick McNamara, director of neonatology, says that could include easing the financial pressures for families by covering the costs of hotels, meals, gas, and pharmacy co-pays. The gift could also support child life services, new technology, enhanced transportation services, professional development for staff, and equipment needs from bed warmers to advanced imaging units.
At a press conference in the children's hospital lobby that marked the end of the campaign, King hugged patients and accepted heartfelt thank-yous from hospital leaders. "It just shows that all these kids and their families are fighters, and that people are there for them," King says.
---
One spark of kindness by Carson King ignited a fundraising effort by thousands of individuals across the United States. Everyone at University of Iowa Stead Family Children's Hospital would like to extend our sincere thanks to all who have supported our pediatric patients and their families.
---
Learn more about King's fundraising efforts and UI Stead Family Children's Hospital.