A 40-hour Mario Kart session brings University of Iowa pediatric patients and community members together.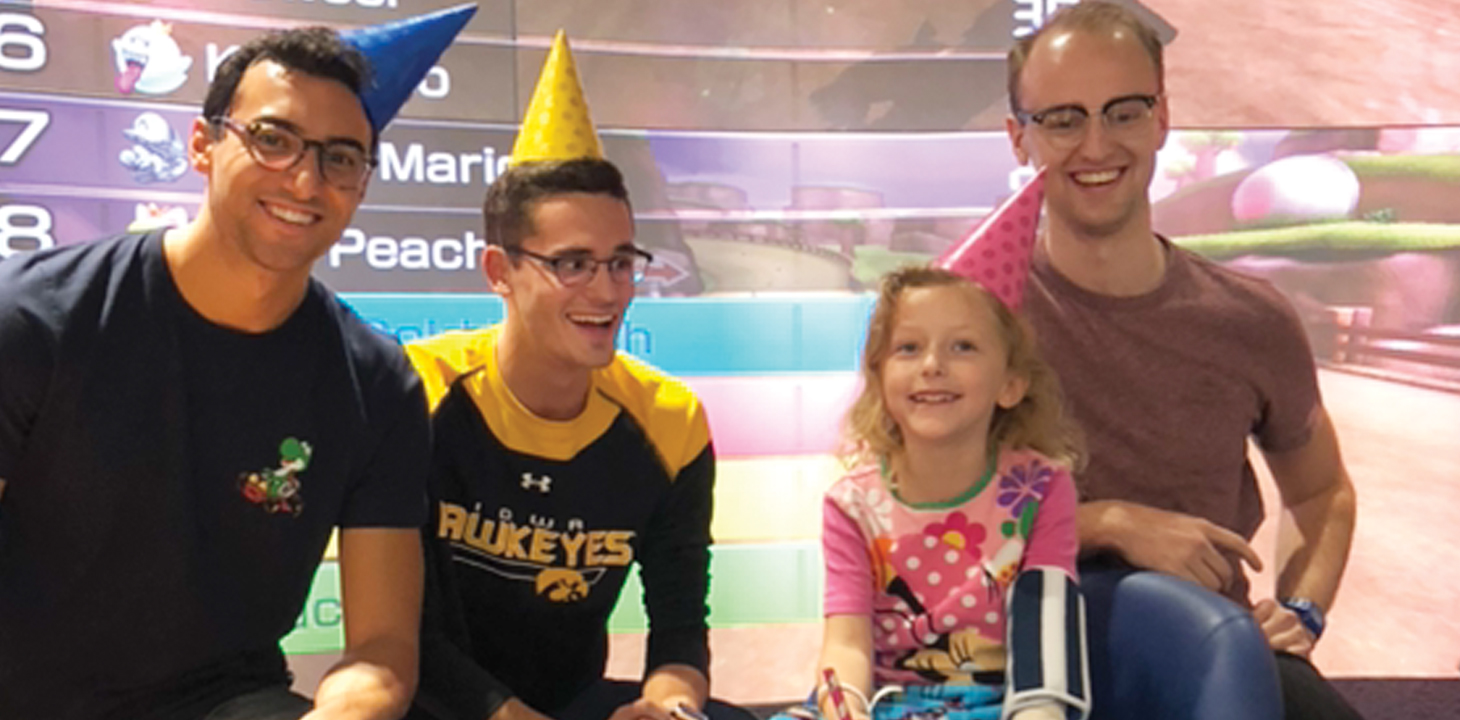 PHOTO COURTESY ANTHONY LEHNERTZ
FROM LEFT: Anthony Lehnertz, Ben Fick, Charlotte Keller, and Hunter Nierman celebrate their Guinness World Record for the longest Mario Kart marathon.
Is there a larger purpose to playing a video game for 40 straight hours? Anthony Lehnertz (16BBA) grappled with this question as he and two Iowa City friends, Ben Fick and Hunter Nierman, applied to break the Guinness World Record for the longest Mario Kart marathon (35 hours, 45 minutes).
The friends saw chasing a world record by playing the Nintendo go-kart racing game as an opportunity to bring joy to patients at UI Stead Family Children's Hospital—a place where all three shared a connection. Lehnertz underwent heart surgery there in 2011, Fick is a third-year medical student at Iowa, and Nierman volunteers at Iowa City's Ronald McDonald House. With help from hospital staff who coordinated the event and witnesses who meticulously documented it, the three friends started their first Mario Kart race at 7 a.m. on a Friday in November 2018. Throughout the two-day marathon, numerous patients, doctors, nurses, and police officers grabbed a controller to join in the fun. "It drew out the little kid in everyone who was around," says Lehnertz.
Playing the game on a 32-foot screen inside the hospital lobby gained the attention of passersby, while a live feed of the races aired on all patient TVs. The trio completed the first 12 hours without a rest and took only four breaks throughout the event.
Charlotte Keller and Terry Barnes were among the patients who contributed to the record attempt. Charlotte, a 2019 Kid Captain who battles persistent pain and bone lesions from chronic disorders, returns to the hospital every three months for treatment. The 7-year-old was a frequent participant and helped complete the marathon at 11 p.m. Saturday. "I wanted to be there with them to celebrate at the end," she says.
Terry, a 10-year old with a rare blood cancer called Burkitt leukemia, enjoyed the opportunity to get out of his room and make new friends. "The guys were very nice and didn't make me feel like I was different than anybody else," he says.
Following the marathon, the organizing trio edited a 40-hour video of the gaming session and completed a large stack of paperwork for Guinness World Records. The three friends requested an additional record plaque to be displayed at the children's hospital, although the greatest takeaways were the memories and relationships they created. "Playing the game with the patients made it so much more lighthearted and enjoyable," says Lehnertz. "We were excited that we made an impact on some of these kids' lives and made some personal connections."
---
Like video games? Help patients at UI Stead Family Children's Hospital by participating in Extra Life, a Children's Miracle Network program, at extra-life.org.