Spend a day in the WNBA with the Dallas Wings forward and former Hawkeye basketball star.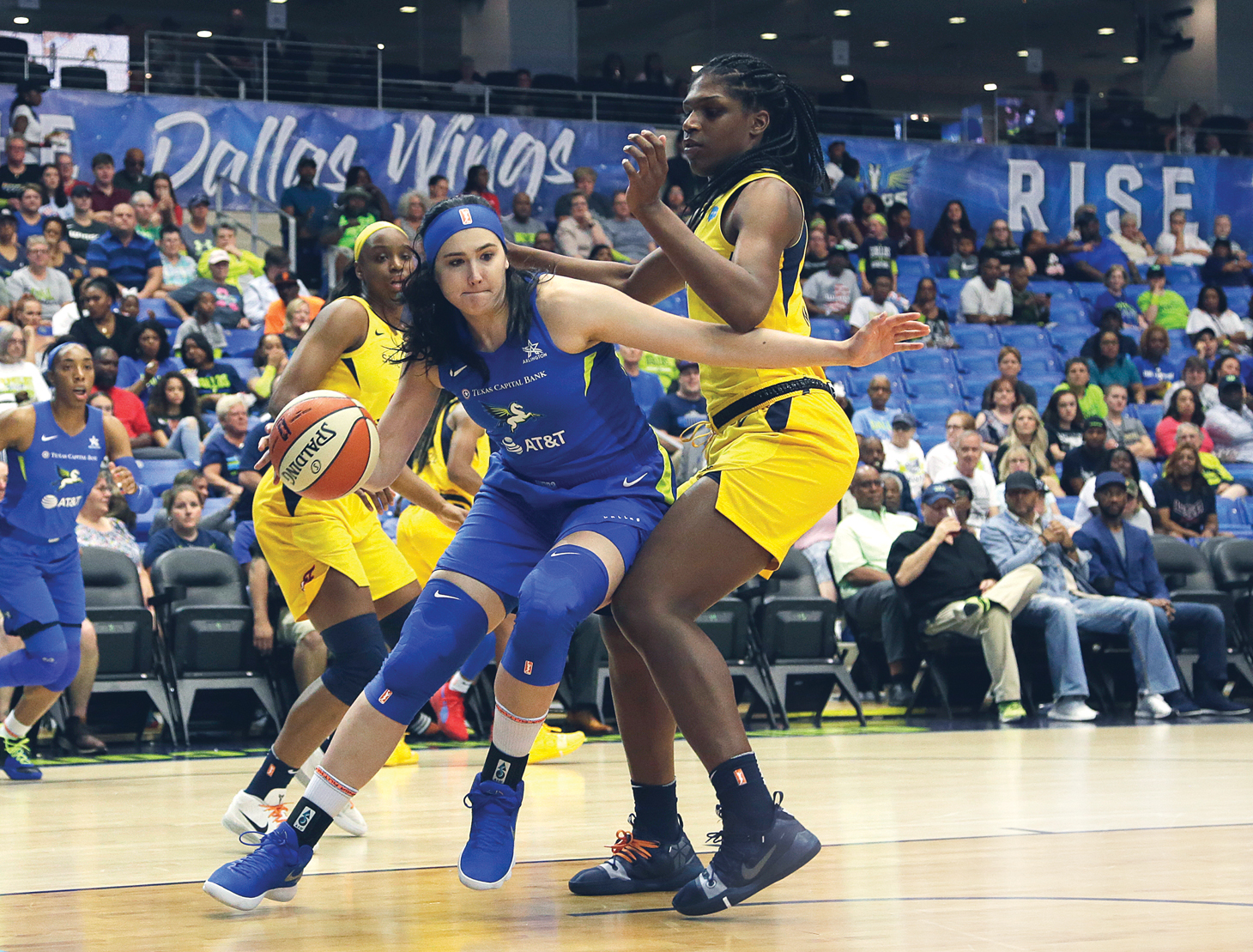 PHOTO COURTESY DALLAS WINGS BY TIM HEITMAN/NBAE VIA GETTY IMAGES
WNBA rookie Megan Gustafson drives to the hoop against the Indiana Fever this past summer in Arlington, Texas.
It's been a whirlwind few months for Megan Gustafson (18BBA). After being selected by the Dallas Wings as the 17th pick in April's WNBA draft, Gustafson—who played just 33 minutes in three preseason games—was cut from the roster. Five games into the WNBA regular season and maligned with injuries, though, Dallas re-signed Gustafson on June 13.
Gustafson, a 6-foot-3 forward, has made the most of her second chance. In her WNBA debut on June 20, she scored four points and collected three rebounds in a win over the Phoenix Mercury. Two nights later, in front of Lisa Bluder—her head coach at the University of Iowa—Gustafson collected seven points and eight rebounds in a game against the Las Vegas Aces. She posted her first double-digit performance, with back-to-back 11-point, eight-rebound games midway through the season.
Iowa's first Big Ten Female Athlete of the Year in more than two decades and the Big Ten's first-ever consensus national player of the year now says she's determined to take advantage of every opportunity that comes her way. "As a professional athlete, there are a lot of things you can't control," she says. "But I can control my effort and how hard I work every day. That's my focus right now."
Following her season in Dallas, Gustafson heads to Budapest, Hungary, later this month to compete with NKECsata, a Hungarian national team. The experience will provide more time on the court against some of the best competition in Europe.
"I've definitely learned a lot about my game during the past few months," says Gustafson, who was the NCAA Division I scoring leader during her final two seasons at Iowa. "I'm an undersized post player, so I'm trying to become more mobile and versatile."
Here's how a game day might go for Iowa's most decorated women's basketball star.
A day in the Life of Megan Gustafson
9 a.m.
After watching some game film, Gustafson and the team take part in a brief shootaround and walk through some key plays at the arena.
11:30 a.m.
Back at her apartment, Gustafson eats a light snack of oatmeal. She reads her Bible and listens to Miley Cyrus or Demi Lovato for inspiration.
3 p.m.
Gustafson enjoys an early dinner of pasta before heading back to the arena for warm-ups, which can last upwards of 90 minutes.
7 p.m.
Before tipoff, Gustafson sees some Hawkeye fans from the Dallas-Fort Worth Iowa Club in the stands and signs a few autographs.
11 p.m.
Gustafson hits the locker room to clean up after the game. She grabs dinner on her way back to her apartment before turning off the lights.