Ranch Girl Hanna Kinney, a Hawkeye-turned-internet sensation, was "just trying to get some ranch" amid the hoopla of Iowa caucus season.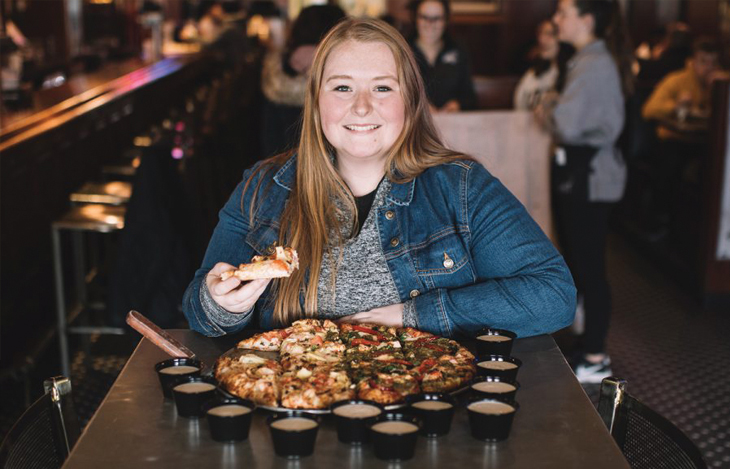 PHOTO: ELENA ALVAREZ/DAILY IOWAN
Hanna Kinney (19BA), who gained fame as Ranch Girl this past spring, is pictured at the Airliner restaurant in Iowa City.
Hanna Kinney was eating pizza with friends at the Airliner restaurant in Iowa City earlier this year when she noticed something crucial was missing from the table. The UI senior tried to make her way toward the kitchen window, only to find the bar area packed. As it happened, New York senator and Democratic presidential hopeful Kirsten Gillibrand was hosting a campaign stop ahead of the 2020 Iowa caucuses. "Sorry, I'm just trying to get some ranch," Kinney announced with perfect comedic timing as she squeezed through the crowd and past Gillibrand to big laughs.
A CNN video producer caught the moment on camera and posted a video to Twitter, where it was viewed more than a million times. Overnight, "Ranch Girl," as Kinney was soon nicknamed, became a media darling. The moment at once captured the folksiness of the caucuses, Iowans' occasional indifference to the political limelight, and Midwesterners' unbridled love of ranch dressing.
"I'm literally giving ranch away now." - Ranch Girl Hanna Kinney
The Tonight Show aired the clip, and The Washington Post and other national outlets interviewed the gregarious Kinney, who embraced her newfound celebrity. Hidden Valley flew her to Las Vegas for National Ranch Day, and she received a mini-fridge stocked with ranch from Litehouse Foods and dozens more bottles of her favorite condiment from Wish-Bone. "I'm literally giving ranch away now," she says.
After working as a resident hall assistant and social media manager for UI Student Government this past year, Kinney graduated in May with degrees in sociology and communications. She's interning this summer at Disney World and exploring options for graduate school and a career in higher education. As for the 2020 election, she's still undecided.
Gillibrand, meanwhile, responded by posting a video of herself wearing a "Just Trying to Get Some Ranch" T-shirt, designed by Iowa apparel company Raygun. "Two important things I know about Iowa: The caucus-goers are engaged and wonderful, and never get between a Midwesterner and their ranch," the senator tweeted.
---
Watch Ranch Girl Hanna Kinney Try to Get Some Ranch