Former UI golfer Kelley Brooke shares what it's like to be head professional at the site of the upcoming PGA Championship.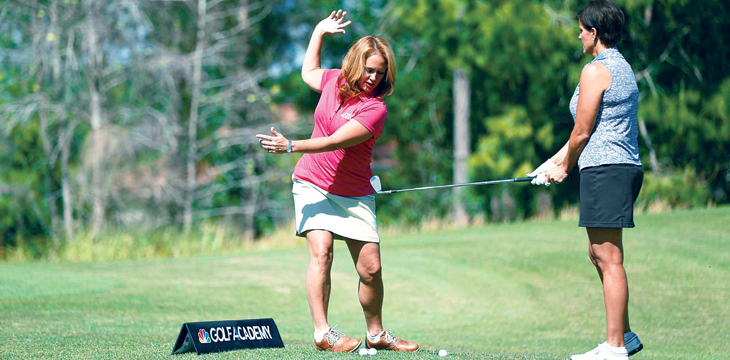 PHOTO COURTESY BERK COMMUNICATIONS
Kelley Brooke providing a lesson.
Kelley Brooke's time as a UI student-athlete prepared her to lead one of the top public golf courses in the nation.
At Iowa, Brooke became a four-year MVP from 1986 to 1990 and an All-Big Ten Conference selection for the Hawkeyes golf team during her senior season. "Iowa's program was cutting edge," says Brooke, who grew up in Bettendorf, Iowa. "We were working with a trainer before it was fashionable to do so. Because of that, my physical fitness—and my golf game—improved."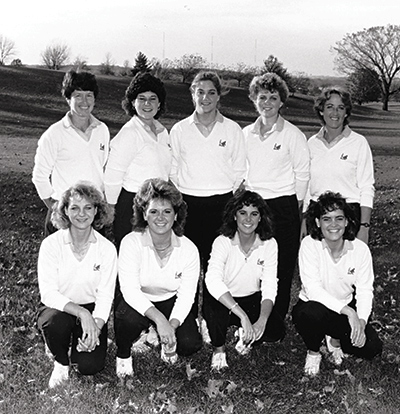 PHOTO COURTESY DIANE THOMASON

Kelley Brooke as part of the UI golf team in the late 1980s ( second from left in first row).
Now one of the top women in a male-dominated profession, she credits her coach, Diane Thomason—who led the Hawkeyes for 27 years—for instilling in her a love for coaching and teaching.
"Diane was an extraordinary mentor, and she changed my life," says Brooke, who learned to golf from both her parents and grandparents. "Iowa gave me the foundation to be the coach and teacher that I am today."
After one year on the mini tours, Brooke began a golf instruction career—first in New Jersey and later in New York—in which she has given more than 40,000 lessons. On Jan. 1, 2018, she began management of Long Island's Bethpage State Park Golf Courses, known in the area as "the people's country club."
Brooke is head golf professional at Bethpage, overseeing five challenging 18-hole layouts, a 285-cart operation, and a 7,000-square-foot pro shop that accumulates more than $2 million in yearly merchandise sales. A frequent content contributor for the Golf and Travel channels, she also leads a team of six Bethpage golf professionals who provide lessons and instruction to golfers of all ages and abilities.
The crown jewel at Bethpage is the Black Course, the No. 8 ranked public course in the U.S. by Golf Digest and site of the 101st PGA Championship, which will be held May 16–19. While the entire Bethpage facility will close for three weeks prior to one of golf 's four majors, Brooke will remain engrossed in running a top-notch facility and growing the game of golf.
"Hosting the PGA Championship is incredibly exciting for us," says Brooke. "I just hope the weather cooperates."
In this Golf Channel Academy video, golf instructor Kelley Brooke offers tips to stop topping the ball.
---
Follow Brooke on Instagram @gcakelleybrooke or on YouTube at youtube.com/user/ kelleybrooke1 to see more of her instruction in action.