The top 10 moments from the past two decades of Hawkeye football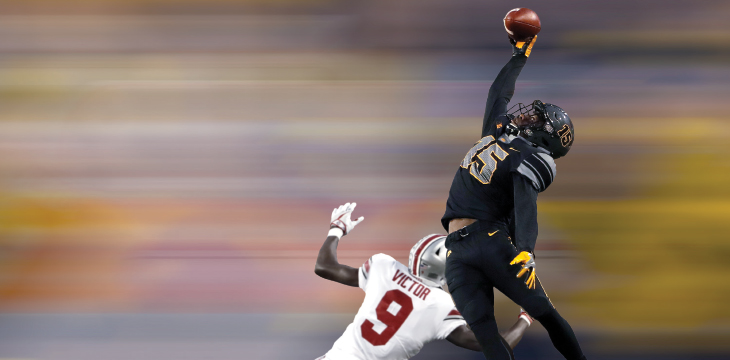 Photo: Brian Ray/ui athletics
Cornerback Josh Jackson's astounding one-handed interception remains an enduring image from Iowa's 2017 shellacking of the Buckeyes. Fans rank the upset victory as the fifth-best Hawkeye moment of the past 20 years.
Warren Holloway's Capital Catch. Marvin McNutt's slant for six. Marshall Koehn's kick for the ages. The Kirk Ferentz era has produced countless leap-from-your-seats moments that will forever be part of Hawkeye lore.
This past season, Iowa fans tackled a task almost as daunting as the 2003 Hawkeyes' two-touchdown deficit against Michigan: selecting their favorite games from Ferentz's 20 seasons as head coach. In a partnership with Coca-Cola, UI athletics unveiled the voting results each week.
Here are the top 10 Fight for Iowa Football Moments, Presented by Coca-Cola. There's no augmented reality, but if you close your eyes, you might just hear the roar of Kinnick Stadium.
---