Iowa's greatest coaching staff reunites to honor the man who launched their careers.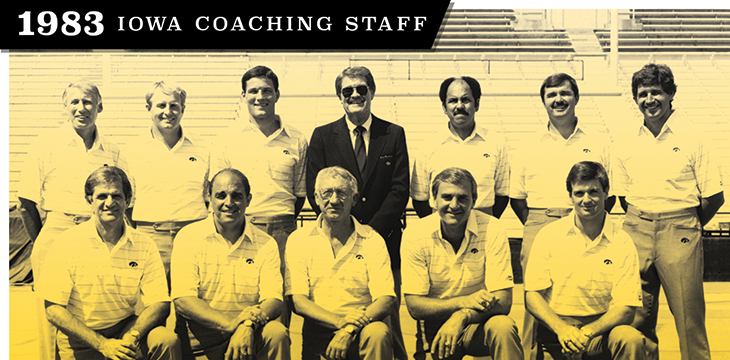 PHOTO: UI ATHLETICS
FRONT ROW (left to right): Defensive ends coach Bernie Wyatt (62BS), linebackers coach Barry Alvarez, defensive coordinator Bill Brashier, defensive line coach Dan McCarney (75BS), graduate assistant Bob Stoops (83BBA). BACK ROW (left to right): offensive coordinator Bill Snyder, receivers coach Del Miller, offensive line coach Kirk Ferentz, head coach Hayden Fry, running backs coach Carl Jackson, tight ends coach Don Patterson, strength coach Bill Dervich.
Hayden Fry's famous coaching tree flourished for two memorable decades in Iowa City. But in no season was it in fuller bloom than the fall of 1983, when Fry assembled a staff that included seven future head coaches.
Thirty-five years later, members of that remarkable group reunited to reminisce about their days together on the Kinnick Stadium sidelines and pay tribute to Fry, the charismatic Texan who revitalized Hawkeye football and had a knack for developing promising young coaches. Coralville's annual FRYfest celebration last month on the Iowa River Landing featured panelists from what's still considered one of the greatest coaching staffs in college football history.
The 1983 Hawkeye team marked Fry's fifth season as Iowa's coach and included future coaching giants Bill Snyder, Barry Alvarez, and Bob Stoops (83BBA). There was also a fresh-faced offensive line coach named Kirk Ferentz, who had joined the staff two years earlier.
"Coach Fry would say, 'If I had one particular skill, it was probably my ability to judge who to hire,'" says Don Patterson, who was on Fry's staff at North Texas before following him to Iowa. "He always famously said, 'I won't hire coaches who don't have an interest in becoming head coaches.'"
That coaching talent translated into firepower on the field in 1983. The Hawkeyes enjoyed a 9-3 season, with wins over Penn State and Ohio State and a trip to the Gator Bowl. Of that staff, only Snyder, in his 27th season at Kansas State, and Ferentz, in his 20th season at Iowa, are still coaching this fall.
---
Read more on Hayden Fry's legendary coaching tree from Iowa Magazine.