Crash Course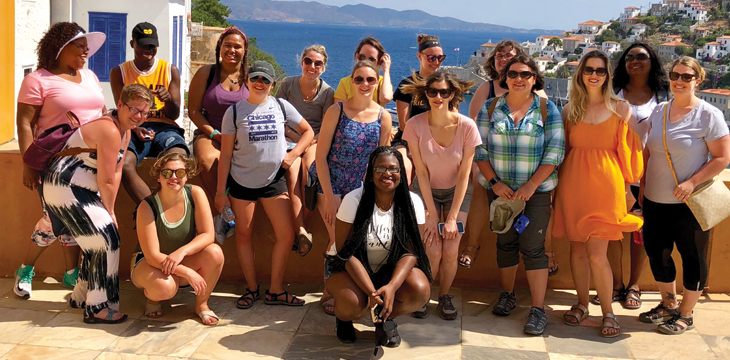 PHOTO: GERTA BARDHOSHI
The class takes in the view outside the Lazaros Kountouriotis Historical Mansion in Hydra.
INSTRUCTOR: Gerta Bardhoshi, a Greece native who serves as assistant professor of counselor education and supervision in the UI Department of Rehabilitation and Counselor Education
As the first few notes of "Amazing Grace" rang out across an ancient theater in Greece, tourists' jaws dropped and archaeologists stopped to listen. The moving vocal performance by a UI student this past summer became a highlight of a study abroad opportunity for aspiring therapists and counselors to explore the history of humanistic counseling in the place its values first emerged.
WHAT THEY LEARN
Through lectures, readings, and explorations of ancient sites, UI students on this annual 11-day journey through Greece gain a better understanding of the culture in which humanism originated. The group discovers how a long history of philosophy and political thought contributed to a current leading theory in counseling and psychotherapy that focuses on self-actualization. Known as humanistic counseling, this approach explores what it means to thrive as a human being. "For the students, facing the fact that these questions have been asked for thousands of years can be a game-changer, because it puts them in a much larger context and has applications beyond working with clients," says Bardhoshi. "It applies to their personal lives, too."
Students visit Epidaurus where the concept of holistic healing emerged, Olympia where the ancient Olympics began, the agora in Athens where free speech flourished, and Delphi where the timeless adage, "know thyself," is carved into a temple wall. After a time of reflection on the Greek island of Hydra, they return to campus to write a paper and present on the experience. "Students really take this idea of growth to heart. I've seen them utilize more empathy and entertain alternative perspectives," says Bardhoshi. "And most importantly, I've seen students advocate for understanding other people's experiences and setting their own experience aside to connect with someone."
WHY IT'S UNIQUE
Study abroad programs typically focus on undergraduates, but this course gives graduate students—including many who have never traveled abroad before—the opportunity to learn in a different cultural context. UI College of Education Dean Daniel Clay awarded scholarships for eligible students of good standing to participate in the transformative adventure.
STUDENTS SAY
"Being able to visit Greece at this point in my career has been a lifechanging experience," says rehabilitation and mental health counseling master's student Samantha Mostafa. "I not only learned about myself but was able to expand my counseling orientation to ultimately benefit future clients."