JESSICA FASELT (14BM)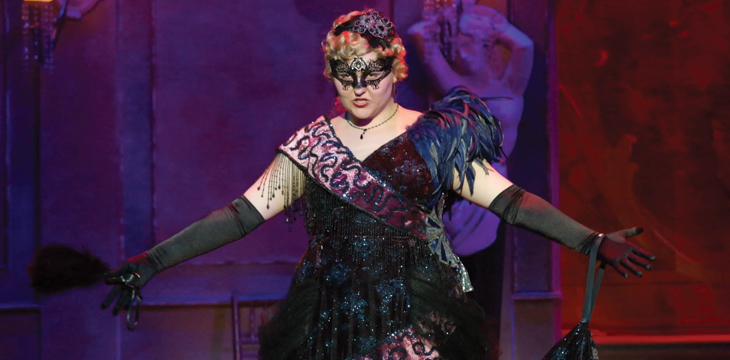 PHOTO COURTESY NANCY FASELT
Jessica Faselt stood in front of nearly 4,000 industry professionals and opera aficionados at the New York Metropolitan Opera House, ready for the biggest performance of her young career. With the house lights shining down and full orchestra at hand, Faselt was taking part in the finals of the National Council Auditions, an annual competition meant to introduce—and crown—rising stars in the opera world.
Faselt's journey to one of the world's most renowned opera stages started at her alma mater: the University of Iowa. With the encouragement of her first voice instructor, Benjamin Bentler (09BA), Faselt enrolled at Iowa and pursued a Bachelor of Music in voice. It wasn't until UI voice professor John Muriello introduced classical techniques to Faselt that she became interested in opera.
"I was a freshman at Iowa when I got my first aria, and my voice just started to float out of my body," says Faselt, who worked with opera coach Shari Rhoads to land three leading roles at the UI. "My time at Iowa really helped me to learn and grow."
So much so, that by 2014, Faselt took part in her first National Council Auditions, receiving the encouragement award. She progressed further in the competition each year, reaching the finals this past spring.
"I was a freshman at Iowa when I got my first aria, and my voice just started to float out of my body." –Jessica Faselt
As one of nine finalists, Faselt sang a challenging selection from Giuseppe Verdi's "Il Trovatore," which showcased her ability to perform both lyrical and upbeat compositions. It ended up being one of the best performances of her young career.
"When I heard the audience erupt into applause, I knew that I had nailed it," says Faselt, who then had to wait nearly two hours to learn her fate. As she stood backstage awaiting the results, Faselt felt a gamut of emotions. But, then it finally happened: She heard her name called. "Hearing my name brought so much relief and joy," says Faselt. "As I was standing there holding hands with the other four winners, I was in complete shock. The longer I stood there, the more emotional I became."
Winning this prestigious competition has now propelled Faselt to New York City's Lindemann Young Artist Development Program, which provides advanced classes, coaching, and training to aspiring performers for up to three years. Faselt also will be making her professional debut at the Met in late November with "Il Trittico," starring renowned opera singer Plácido Domingo.
"These past few months have really been some of the most defining, impressionable moments of my career," says Faselt. "And I owe Iowa a lot of the credit for getting me started."