ERIC PAHL (15BSE) AND DALTON SHAULL (16BS)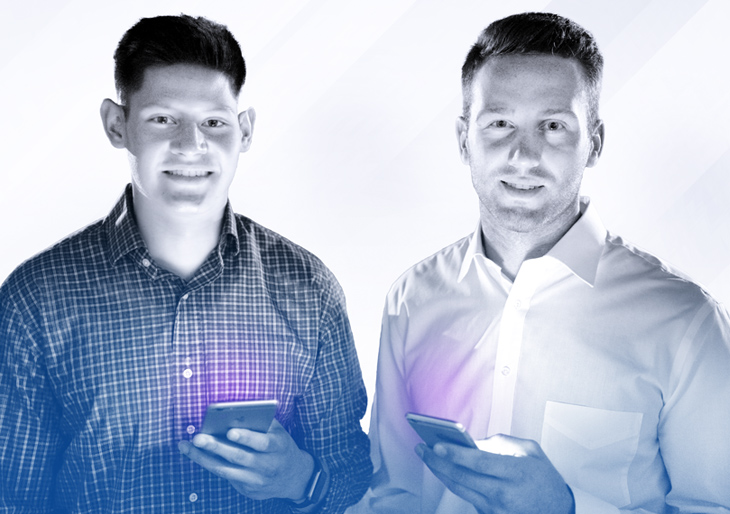 PHOTO: JUSTIN TORNER/UI OFFICE OF STRATEGIC COMMUNICATION
UI alumni entrepreneurs Eric Pahl and Dalton Shaull have received national recognition for an app designed to improve coordination of organ transplants.
The crash changed Dalton Shaull's life in an instant. On June 13, 2013, the then-UI sophomore linebacker from Oskaloosa, Iowa, was in a serious motorcycle accident on a busy Iowa City highway. It paralyzed his right arm and ended his Hawkeye football career—but it also would spark an idea that eventually landed Shaull and his business partner, Eric Pahl, on Forbes magazine's prestigious list of "30 Under 30" in 2018.
Shaull, who called the traumatic event "a real challenge, spiritually, physically, and emotionally," ultimately regained use of his arm thanks to an experimental nerve transplant. This is what motivated him to collaborate with Pahl, a doctoral student in the UI's health informatics program, in streamlining the organ transplant process.
Together, the young entrepreneurs founded HealthTech Solutions in 2015 in Iowa City and recently launched its inaugural product, TXP Chat, a secure app designed to ensure efficient communication among organ procurement and transplant centers, as well as providers and coordinators.
"Our inspiration came from the users themselves," says Pahl, an Ames, Iowa, native who has two aunts who have been waiting for new livers for two years and another aunt who died before she could receive one. "Health professionals were frustrated with their information technology systems, and this led to high employee turnover and, worst of all, bottlenecks in the transplant process."
Since the first successful organ transplant, of a kidney, in 1954, the process has saved and enhanced the lives of more than 700,000 Americans. However, organ transplantation is a complex and time-sensitive process that involves frequent phone calls, faxes, and texts—and miscommunication can result in organs going to waste. According to the United Network for Organ Sharing, a nonprofit organization that coordinates transplants throughout the United States, more than 20 people die each day while waiting for transplants, and as of January 2018, there were more than 115,000 Americans on the national transplant waiting list.
"Organ donation is very complicated and involves frequent collaboration," says Tony Hakes (01BA), public outreach supervisor for the Iowa Donor Network, which is the primary contact for organ-, tissue-, and eye-donation services throughout the state. "This app makes the process more efficient, which is important because time is of the essence in organ transplants. We want to ensure that we're making the most of a donor's gift."
That same desire motivated Shaull and Pahl—who met at a Sigma Nu Tau networking event for UI honors entrepreneurs—to join forces in improving transplant communication. And they believe it's worked. According to Shaull, their app helped facilitate more than 100 successful organ transplants throughout the United States in 2017—and the industry has taken note.
Forbes, which selects from more than 15,000 nominations annually, included the two entrepreneurs in its 2018 listing of "30 Under 30" in health care and called this year's awardees "the most definitive gathering of today's leading young change-makers and innovators in the U.S." According to Pahl, such national exposure has led to an uptick in TXP Chat downloads from new transplant centers and financing offers from prestigious venture capital firms.
Ultimately, Pahl and Shaull hope their brainchild will save lives. "My uncle is a pediatric heart-transplant surgeon and talks about the complexity of organ-transplant communication and high organ-discard rates," says Shaull. "My vision for our company is to maximize the gift of life with more intelligent communication."