UI graduate David Hammer compiles a life of legal battles into his new book "For the Record: My Name is Hammer."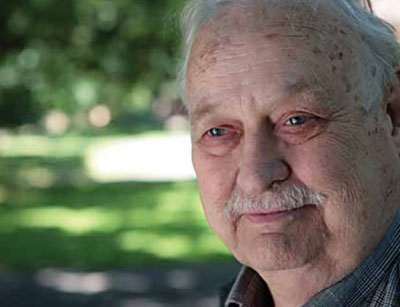 David Hammer remained perfectly calm as the state trooper held a gun to his head. A crime wasn't in progress—it had already happened, and Hammer, a lawyer, was working to uncover the truth.
That courtroom drama took place in 1992, when Hammer staged a reenactment to try to prove that state troopers, not his law firm's client, had accidentally killed a woman in a hail of bullets. Hammer, 56JD, still practices law—and, at age 80, he now claims the distinction of being the oldest and longest-serving attorney in Dubuque County.
After more than half a century in the legal profession, Hammer has lost count of all his cases—from insurance fraud to murder to the longest-running (nine months) trial in Iowa history. A prolific writer as well as a lawyer, he's collected some of the most interesting examples in his most recent book, For the Record: My Name is Hammer.
With fun and quirky chapter titles, the book recalls many memorable cases. In "The Biting Truth" he describes an early case in which his client told the court that Hammer had coached him about what to say. "I saw my new law license slipping away," writes Hammer. "The judge leaned forward with a very interested look on his face. The witness said, 'He said above all to tell the truth, recognizing that if the truth bit the other lawyer on his rear he wouldn't recognize it.' [The jury] laughed uproariously, and I knew the case was won."
In addition to writing about legal matters, Hammer is also known for his expertise and books relating to Sherlock Holmes. He has traveled to Britain several times to track down real-life locations featured in the literary detective's cases, and he's a member of the Baker Street Irregulars, the preeminent and exclusive U.S. organization devoted to Sherlock Holmes. L ike Holmes, Hammer remains committed to cracking cases. Although he now occasionally works from home instead of going to the office every day, Hammer has no plans to retire from the practice he shares with partners, including Angela Murray Simon, 85JD. As he says, "I never anticipated that the avenue of law could lead to so many fascinating places."