The Hawkeye community rallies around a Las Vegas shooting victim.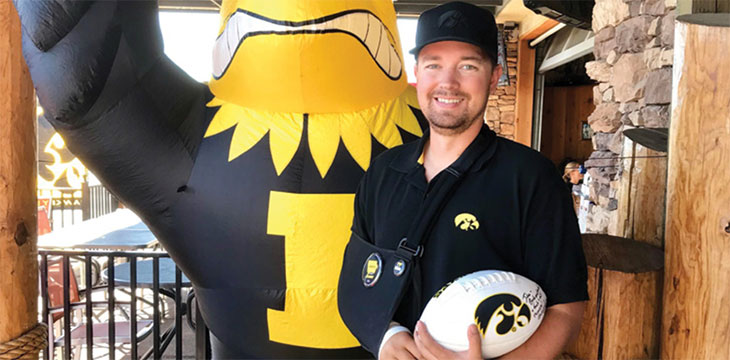 PHOTO: COURTESY LAS VEGAS IOWA CLUB
What began as a night of music and festivities turned into a living nightmare for Jake Andersen, 11BA.

The Iowa native was among the crowd of 22,000 at an outdoor country music festival Oct. 1 on the Las Vegas Strip, where a gunman opened fire from a nearby hotel and killed 58 people. Andersen suffered a gunshot wound to his arm—one of more than 500 people injured in the deadliest mass shooting in modern U.S. history.
In the days after the tragedy, Andersen credited the Hawkeye community for boosting his spirits. A board member for the Las Vegas IOWA Club, he received a signed football from Coach Kirk Ferentz and a warm reception from his fellow Hawkeyes at a football game watch event last month.

"The support I have received has been fantastic and humbling," Andersen says. "Being on the Las Vegas IOWA Club's board, I have been overwhelmed by the Hawkeye supporters that come out every week and how they are so glad that I'm still here. I consider every Hawkeye to be a part of my family. And it takes family to get through something terrible like this."
The night of the attack, Andersen was standing with a friend about 50 yards from the stage when the first shots rang out. Feeling a sting in his right forearm, he looked down and saw blood. Andersen rushed through the chaotic scene in search of his fiancée and her family, who had been sitting farther back from the stage. He later connected with his fiancée by phone and learned they made it safely out of the area.
In a medical tent, a paramedic applied a tourniquet to Andersen's arm before he was taken to the hospital. Doctors told him he was fortunate; the bullet passed through his arm without hitting bones. He later had surgery to remove bullet fragments and for minor repair to a nerve, but he's expected to make a full recovery.
After learning of Andersen's injury, Susan Griffith, director of regional programs for the UI Center for Advancement, arranged for Ferentz to sign a football to Andersen and had it delivered along with a cake to the Las Vegas IOWA Club. Kristy Hingtgen, 96BS, president of the Las Vegas IOWA Club, presented Andersen with the ball at an emotional game watch the following weekend. The club also donated all proceeds of its raffle to the family of Carly Kreibaum, an Iowan who was killed in the shooting.

"Times like this helps you to realize just what it means to be a Hawkeye," says Hingtgen, who had attended the music festival in past years but opted at the last minute to stay home this time. "There were a lot of tears in the room when we brought the cake out at halftime. It was so thoughtful, and the simple message, 'We're thinking of you,' really had an impact."