Simon Estes, 86BM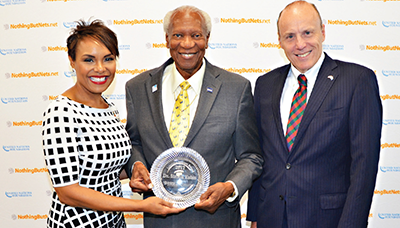 PHOTO: Courtesy of the United Nations Foundation
Simon Estes, center, receives the United Nations Foundation's Lifetime Impact Award this past summer in Des Moines. On hand for the presentation were Tisha Hyter, deputy director of the Nothing But Nets campaign, and Peter Yeo, vice president of public policy and advocacy at the United Nations Foundation.
Why did he make the news?
Simon Estes has performed for presidents and popes. He's received more honorary doctorates than he can remember. There's even an amphitheater named after him in Des Moines.
But of all the celebrated opera singer's achievements, he calls his most recent honor the most meaningful. Representatives from the United Nations Foundation visited Iowa this past summer to present Estes, 86BM, with its Lifetime Impact Award in recognition of his work to combat Africa's devastating malaria epidemic.
Since 2013, Estes and his wife, Ovida, have raised more than $500,000 for the U.N. Foundation's Nothing But Nets campaign—a global effort to stop the spread of malaria by distributing protective bed nets to families in need. A mosquito-borne disease that can be fatal if untreated, malaria kills more than 400,000 people a year.
How did he get involved?
Estes was waiting to perform during a concert at the 2010 World Cup in South Africa when he heard a statistic that stunned him: A child dies of malaria every 30 seconds (today it's one death every two minutes), and the vast majority of those deaths occur in Sub-Saharan Africa. Estes has a long history of charity in Africa, including opening the Simon Estes Music High School in 1997 for poor children in Cape Town. But the tragic scope of the malaria epidemic weighed heavily on Estes' mind.
"It really touched my heart," he says. "I couldn't believe that in this period in history, millions of children had needlessly died, and all they needed was a $5 net."
So Estes partnered with the U.N. Foundation, which today has delivered more than 10 million insecticide-coated bed nets worldwide, as well as the diagnostic, treatment, and training tools needed to help communities fight malaria. Estes has raised money for Nothing But Nets through a series of benefit concerts, and he's rallied other philanthropists and companies to pledge matching gifts.
What drives him to help?
Estes' humanitarian spirit is rooted in his humble beginnings. A Centerville, Iowa, native and the son of a coal miner, Estes worked his way through school at the UI with a series of odd jobs. He began as a pre-med and psychology student before turning his attention to music, and the bass-baritone became the first black member of the UI's Old Gold Singers. Estes left the UI for the Juilliard School and, eventually, center stage at the world's great opera houses.
As he achieved international acclaim, Estes bettered the lives of countless students through his charitable endeavors. He's championed children's health and hunger initiatives around the world and established a number of scholarship funds, including several in Iowa.
Now 79, Estes continues to mentor young singers as an artist in residence at Iowa State University. He's also served on faculties at Juilliard, Boston University, and Wartburg College and taught master classes worldwide. Even so, Estes considers his partnership with the U.N. Foundation his most important work. When the organization presented him with its award at a July luncheon at Des Moines Area Community College in Ankeny, Estes returned the favor, handing the foundation representatives a $200,000 check.
"I think God called me to this mission to do something to try to save some of these children's lives," Estes says. "We still have a lot of work to do."