The craft brewing business foams over in the Hawkeye State.
Generations of Iowa City beer lovers have wandered the cozy aisles of John's Grocery, packed floor-to-ceiling with colorful and international labels, in search of the perfect brew. Not only does the mom-and-pop Northside market stock one of Iowa's largest beer selections, it was once said to carry the most Belgian bottles this side of, well, Belgium.
These days, however, store owner Doug Alberhasky is clearing more shelf space than ever for products brewed closer to home. Iowa's craft beer industry has risen faster than a frothy pour after a 2010 change in state law allowed brewers—for the first time since Prohibition—to expand their recipes and better compete with out-of-state bottlers. The move opened the tap for dozens of new operations in Iowa, which is now seemingly home to as many breweries as sweet corn stands.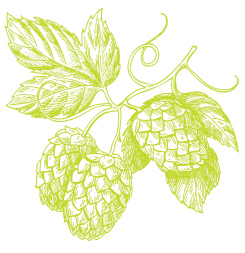 On a given day, John's stocks products from as many as 20 different Iowa breweries. When Alberhasky began managing his family's grocery store in the late 1980s after his sophomore year at the University of Iowa, there were few domestic beer options beyond those advertised during the Super Bowl.
But between a national craft brewing boom and increased interest in locally sourced food and drink, the number of Iowa beer makers—many of which have UI ties—has more than tripled the past seven years. Nearly 70 craft breweries and brewpubs now churn out Iowa-made products, and a recent study found the beer industry has boosted the state's economy by more than $100 million and created nearly 1,500 jobs.
"We've seen a real shift in what beer lovers want toward fuller flavor, more variety, and local products from independent producers," says Bart Watson, chief economist for the Brewers Association in Boulder, Colorado.
An Iowa City native and former UI visiting professor, Watson has tracked the growth of Iowa's craft beer industry with interest since his days sampling flights at Red's Alehouse in North Liberty. Iowa has followed the national trend, he says, with the number of U.S. craft beer makers more than doubling the past five years to about 5,300. Iowa currently ranks 14th in the nation for the number of breweries per capita.
The Iowans behind these businesses are at once entrepreneurs, artisans, and community builders. Some breweries have become hip downtown hangouts or destinations for weekend bicyclists, while others have given new life to small town main streets. Although a cold Bud Light still may be the drink of choice after a long day of lawn mowing, craft brewers have elevated the drink's culinary cachet. Today, Iowa beer is at the center of tasting parties, dinner pairings, and dozens of new taprooms—a shift that Alberhasky calls a "great microbrewery revolution."
Companies like Knoxville-based Peace Tree Brewing, founded by Tippie College of Business alumna Megan McKay, 99BBA, 05MBA, and Decorah's Toppling Goliath Brewing, led by brewmaster and UI alumnus Mike Saboe, 09BA, have hauled in national awards and become wellsprings of community pride. Likewise, popular brewpubs such as Big Grove Brewery in Iowa City—whose ownership team includes former UI football player Nate Kaeding, 04BA, 15MBA, and chef Ben Smart, 04BS—draw big crowds by coupling innovative beer with quality food.
Yet even with an increasing thirst for Iowa beers, experts say there's still plenty of room for growth. J. Wilson leads the Iowa Brewers' Guild, a nonprofit organization that supports the state's brewers and works to improve the quality of beer made in Iowa. On a national scale, says Wilson, small and independent brewers make up 12 percent of the overall beer market. In Iowa it's just 6 percent. In a state still dominated by national bottlers, Wilson takes his job title with the guild seriously. The Minister of Iowa Beer travels the state "preaching the good word of beer"—specifically the ways the industry strengthens the economy, tourism, and communities big and small.
Brewing is hardly a new venture in Iowa. Back in the 1800s, the state was home to nearly 150 beer companies, including three breweries in Iowa City's Northside district alone. In fact, the cavernous beer tunnels that once stored those breweries' freshly filled kegs still run deep beneath the streets near John's Grocery.
Prohibition put an end to the industry for 13 years beginning in 1920, and even in the half century thereafter, Iowa's beer production remained at a relative trickle. Amana's Millstream Brewing, currently the longest-standing Iowa brewery, opened in 1985, but the real surge of creativity and quality arrived in more recent years with looser restrictions on state brewers and a growing market. In 2010, the state legislature raised the limit for Iowa beers from 6.25 percent alcohol by volume to 15 percent, giving brewers more options and allowing them to better compete with other microbreweries.
Soon, the streets of Iowa City's Northside neighborhood will fill with beer connoisseurs for another Iowa City Brewfest, a popular fall event organized by Alberhasky and the state's longest-running beer celebration. Part of Northside Oktoberfest, more than 80 breweries and as many as 5,000 people are expected to attend the 22nd annual event Sept. 30. They'll come out for the camaraderie, the local food vendors, and, most of all, to raise their mugs to a common love: Iowa beer.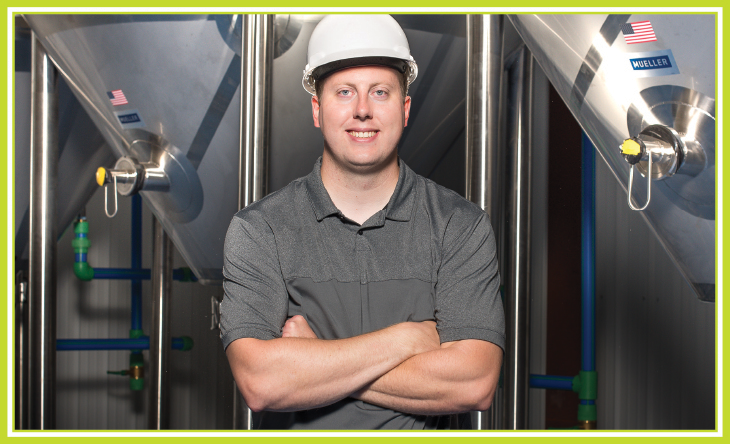 PHOTO: Nick Chill
Mike Saboe, 09bs
Toppling Goliath Brewing, Decorah
Mike Saboe had a plan. He'd earn his degree at the University of Iowa, apply to pharmacy school, and settle into a steady career—maybe in a lab somewhere.
But Saboe never did send out those grad school applications. The Monday after accepting his degree from the UI, he started work in a different kind of lab: a small brewery called Hub City back home in northeast Iowa. "In my heart, brewing was number one for me, so I decided to just go for it," says Saboe, who fell in love with the idea of beer making on a trip to Europe as a teenager. "My counselor at the University of Iowa thought I was pretty crazy when I told her."
Today Saboe is the executive brewmaster at Toppling Goliath, a rapidly growing craft brewery in Decorah that produces some of Iowa's most highly sought beers. Since its opening in 2009 and Saboe's arrival in 2010, Topping Goliath has put Decorah on the map and captured the beer industry's attention. RateBeer.com, a go-to website for beer connoisseurs, has stamped several Toppling Goliath brews with its prestigious "best in the world" label. Two of the brewery's products—King Sue, a double IPA, and Mornin' Delight, a special-release imperial stout—were even rated among the world's 100 best beers last year.
Saboe's introduction to brewing came as a high school student on a visit to Germany, where he was legally able to sample the local offerings. Later at the UI, he spent his nights and weekends experimenting with a 10-gallon home brew setup and testing the boundaries of his raw materials. He dove into hoppy beers, stouts, and sours—varieties that remain favorites to explore even today at Toppling Goliath.
Toppling Goliath now employs nearly 40 people and distributes products in 10 states. A new 100-barrel brewing facility is under construction in Decorah that will increase production capacity from 900 gallons per batch to nearly 3,000 and position the company to better meet a demand that often outpaces its supply.
"We're craft beer drinkers ourselves," Saboe says of his staff, whom he credits for the brewery's success. "That naturally keeps us attuned with our consumers."
PHOTO: CourtesyThe Gazette
Jacob Simmons, 03bs
Backpocket Brewing, Coralville
There's a bit of mad scientist in every craft brewer. Jacob Simmons just happens to have the degree to back it up.
Before perfecting Backpocket's signature recipes for its Slingshot dunkel, Wooden Nickel peated bock, and other favorites, Simmons studied microbiology at the UI and as a graduate student at Washington University in St. Louis. He worked in biotech for a time, but longed for a career that offered a measure of creativity.
A one-time home brewer, Simmons took a leap from the laboratory into an internship at Schlafly Brewing in St. Louis, then later a job at Sebago Brewing Company in Maine. His science background provided a strong foundation in a field that requires as much experimentation as artistry. It's also given him a unique insight into what's happening in his tanks when the barley and hops are churning. Says Simmons: "Understanding what the yeasts are doing and why they're doing it is important, and it helps you manipulate flavors."
In 2012, Simmons was among a group of business partners from Old Man River Brewing in McGregor, Iowa, who opened Backpocket's expansive brewhouse and taproom on Coralville's Iowa River Landing. Backpocket, which recently celebrated its fifth anniversary, is now among the state's largest brewers and distributes its bottles and kegs across Iowa and western Illinois.
Earlier this year, Simmons led Backpocket's expansion into two more eastern Iowa cities. The Backpocket Pilot Pub debuted in a renovated building in downtown Cedar Rapids, and the Backpocket Dubuque Taproom soon followed in the city's historic Millwork district. The branches also showcase not only the brewery's flagship favorites, but experimental batches such as Copper Coin 2.0, a coffee vanilla lager, and Pucker Up Right Meow, a fruity sour.
Backpocket has become more than just a beer maker in Coralville. It hosts outdoor movie nights at its beer garden, organizes a yearly road race that ends with pints at the brewery, and coordinates the city's annual winter beer celebration, BrrrFest. In July, Simmons traveled across Iowa for RAGBRAI with the Iowa Craft Beer Tent to deliver native brews to thousands of thirsty cyclists.
"It's certainly great to see so many people embracing craft beers," Simmons says.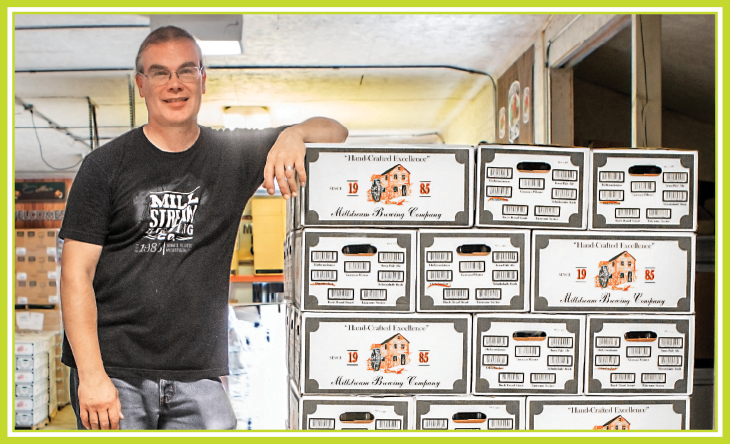 PHOTO: Mark Stastny
Chris Priebe, 91ba
Millstream Brewing, Amana
When Chris Priebe fired up the aging vats at Millstream Brewing 17 years ago, there wasn't exactly a long line of customers waiting with mugs. "There were people in town who didn't know there was even a brewery here," laughs Priebe, recalling his early days as the co-owner and brewmaster of the Amana brewhouse.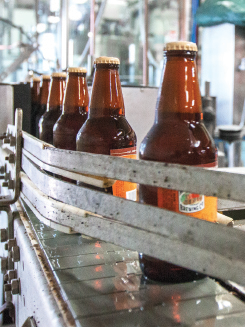 PHOTO: Mark Stastny
Today, Millstream is not only a source of pride in this tradition-rich German town, but its reputation extends well beyond the Amana Colonies. Iowa's oldest existing craft brewery, Millstream has collected dozens of national and international awards for excellence, distributes its bottles and kegs across the Midwest, and serves as a model for the new wave of Iowa beer makers.
Priebe, who studied journalism at the UI, became a brewer at a time when few in Iowa held that title. After cutting his teeth at the former Star Brewery in Dubuque, he was among a group of investors who purchased Millstream in early 2001. The brewery was originally founded in 1985 by a group of Amana business partners.
When Priebe arrived, Millstream's best-performing product was its root beer, and the brewer had to toss out a large portion of his beer batches as he grappled with quality control. But with investment, practice, and perseverance, Millstream began to produce award-winning beers. The brewery has since expanded its line to include 15 beers, including four seasonal brews and a number of limited-release, experimental recipes. Flagships like Schild Brau Amber, Back Road Stout, and John's White Ale have earned gold medals at beer festivals nationwide and have become fixtures on shelves and taps in Iowa and surrounding states.
Last year, the brewery purchased an adjacent property—the old Colony Inn—to open a restaurant and taproom called the Millstream Brau Haus. The traditional German bierhall features 20 taps, including a number of small-batch creations that allow Priebe and his team of 10 brewing employees to flex their creativity. Most of all, though, Priebe aims to make craft beers that are accessible.
"I prefer to brew more balanced, drinkable beers," Priebe says. "One of our real goals was to create and foster the craft brewing scene in Iowa, and part of that is brewing beers that people who have never had craft beer before would like."
---
Grain to Glass
Water, barley, hops, and yeast—just four simple ingredients are needed to make beer. Yet the complex process behind an artful pint is a kind of alchemy that can take years to master.
Pete Faber, 00BA, owner of the newly opened Barn Town Brewing in West Des Moines, explains the steps involved in creating beers like his Iowa Gold (a golden ale) and Millennial Disco Party (a Berliner Weiss). A former UI art student, Faber left for Chicago after graduation and eventually helped lead several Windy City pubs and restaurants. He began brewing beer as a hobby in the basement of a bar and became fascinated with the science behind it. After 16 years in Chicago, he returned to his home state to open Barn Town earlier this year. Alongside their locally sourced foods, Faber and his Barn Town brewing team work to "stretch the boundaries of traditional beers."
Here, Faber highlights the beer-making process:
ingredients
WATER: Beer is 90 to 95 percent water, and brewers can adjust its mineral content according to the style of beer being made.
GRAIN: Barley malt is the cornerstone of most beers, but wheat, rye, rice, and other fermentable ingredients can also be used.
HOPS: These vine-growing, cone-like flowers provide beer's bitterness and aroma.
YEAST: Fermentation occurs when these single-celled microorganisms feast, creating alcohol, carbon dioxide, and flavor compounds.

PROCESS
MASHING: Milled grain, known as grist, is steeped in hot water inside a special vat called the mash tun. This converts the starches into fermentable sugars.
LAUTERING: A sugary broth, called the wort, is separated from the solid grains of the porridge-like mash. A process called vorlauf—a German term meaning recirculation—is used to clarify the wort by pumping it back over the grain bed, which acts as a filter to remove unwanted particles. Next comes sparging—when hot water is trickled through the grain to extract the remaining sugar.
BOILING: The wort is heated in a boiling kettle, eliminating certain bacteria that can produce unpleasant flavors. Hops are added at this stage, with the amount dependent on the variety of beer being brewed.
FERMENTATION: After the wort is cooled and transferred to fermentation tanks, the yeast is added.
CONDITIONING: The beer is chilled and transferred to a conditioning tank—also known as a bright tank—where it continues to mature. This clarifies the beer and readies it for the kegging, bottling, or canning stage.
---