The Tippie College of Business graduate is vice president of consumer creation strategy at the sportswear company's headquarters in Beaverton, Oregon.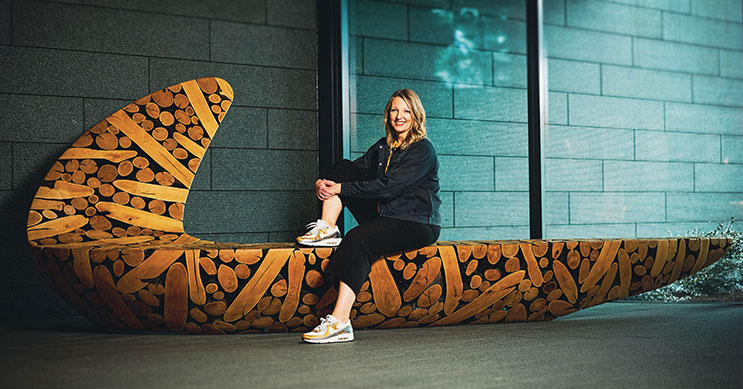 PHOTO: CRAIG MITCHELL DYER
Cheryl Davenport sits on the Nike Swoosh sculpture made by artist Jaehyo Lee for the Nike headquarters in Beaverton, Oregon.
Cheryl Davenport (05BBA) was only five years old in 1988, when an Oregon sneaker company debuted three words destined to shake up the sports world: "Just Do It." Today that business is a global powerhouse, and the former Afton, Iowa, farm girl plays a key role in keeping the sportswear giant at the top of its game.
As vice president of consumer creation strategy for Nike, Davenport heads a 40-person team at its sprawling world headquarters in Beaverton, Oregon. Her division uses consumer data and market research to craft successful strategies for the company's Nike, Jordan, and Converse brands.
Collaborating with dozens of teams and executives, Davenport's group has a hand in everything from long-term innovations such as sustainable rubber and recycled polyester to the next season's line of running shoes, soccer cleats, and streetwear apparel. "In the simplest terms, my team and I help Nike make informed bets and decisions to serve the future of athletes and sport," says Davenport.
She credits "grit and kindness," along with good luck, for guiding her journey from the University of Iowa campus to the Nike campus. While putting herself through college, Davenport studied abroad and served as homecoming queen, president of the Delta Sigma Pi professional fraternity, and commencement speaker for her class. She graduated with highest distinction after completing a major in economics, a minor in Spanish and German, and an international business certificate.
"There's an Iowa culture of community and resilience that taught me how to build teams and confront obstacles," says Davenport, who worked in management consulting and earned an MBA from Stanford University before landing at Nike.
After eight years and five promotions, Davenport credits Nike's commitment to sustainability and social responsibility for her deep belief in the brand. She sees herself as part of a "winning team" in the office and at home, where her husband, Giovanni Salimena, currently takes the lead in caring for their two young children.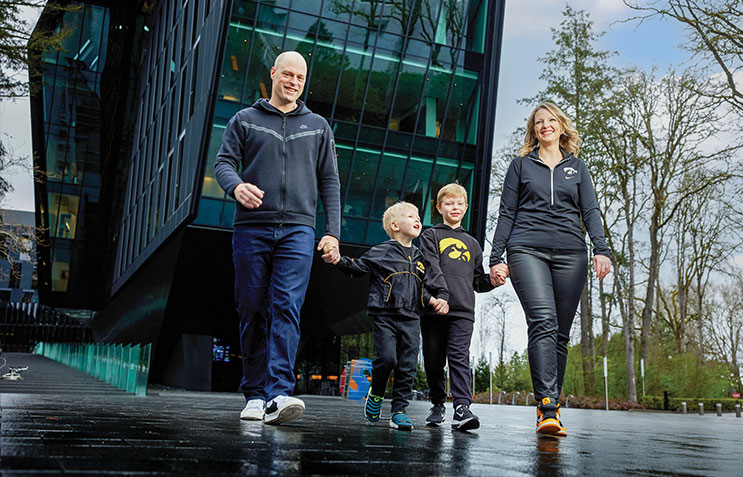 PHOTO: CRAIG MITCHELL DYER
Nike executive Cheryl Davenport is pictured at the company headquarters with her husband, Giovanni Salimena, and their children.
As a working mom, Davenport is keenly aware of the importance of access and equity for women and other underrepresented groups—whether in board rooms or on playing fields. Women comprise 44 percent of the company's leadership. Her division uses data-driven insights to help Nike create inclusive practices and products, and she also connects with other female executives in the industry.
Davenport credits her parents for her own "Just Do It" attitude toward life and career. "Both of my parents have overcome significant adversity. My mom is a brave woman who broke her generation's gender barriers and showed me how to persevere and to take on challenges with courage. I hope I'm setting the same example for others."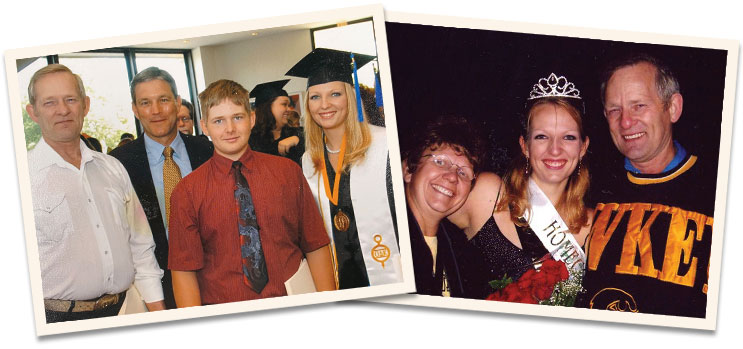 PHOTO COURTESY CHERYL DAVENPORT
LEFT: Davenport (right) and Coach Kirk Ferentz (second from left) both spoke during Davenport's 2005 UI commencement ceremony. They are pictured with Davenport's father, Charles, and brother, William. RIGHT: Davenport with her parents, Jean and Charles, at her UI homecoming queen coronation in 2004.