Elinor Krieger-Coble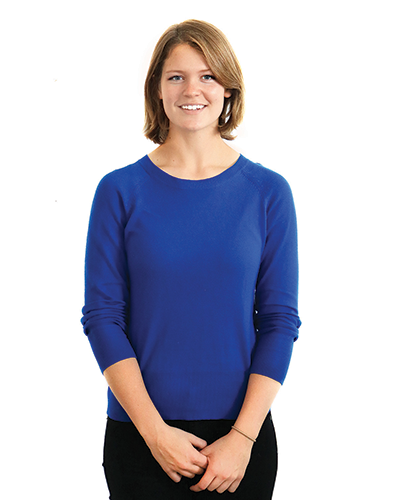 Getting up-close and personal with Hawkeye sports is nothing unusual for Elinor Krieger-Coble, whose athletic family includes eight Iowa letter-winners.
UI student Elinor Krieger-Coble finds artistic inspiration in the human body. Paying meticulous attention to the movements of the players on the field, the December art and art history graduate captured the more nuanced aspects of Hawkeye game day in a series of drawings this past fall. She and fellow student Heidi Schickel sketched from the sidelines as part of a new collaboration between UI Athletics and the School of Art & Art History that invites students to illustrate the strength, speed, and flexibility of Hawkeye football players.
"There's a big disconnect between sports and the arts, but for me, I've always done both at the same time," says Krieger-Coble, herself a former high school track and volleyball athlete. "In art, we are used to still lifes or models who stand still for hours on end, so [capturing movement] was one of my favorite challenges of this project." Krieger-Coble and Schickel's game day artwork can be seen during the week of Jan. 16 at the UI Visual Arts Building.
Scenes from the Gridiron
Krieger-Coble used a variety of media for her pieces, including graphite, oil paint, acrylic, and ink wash. Her artwork shows familiar game day moments such as quarterback C.J. Beathard releasing a pass, running back Akrum Wadley carrying the football, and the team huddled together for a pep talk. She's most proud of her depiction of the Nile Kinnick, 40BA, statue on Krause Family Plaza, which honors one of the most influential Hawkeyes ever.
A New View
Because of her close family ties to the football team (her brother, Henry, 15BS, is a former Iowa tight end), Krieger-Coble wanted her art to show a more intimate side of the Hawkeyes. From her place on the field, she could capture the emotions on their faces after each play.
"If I mess up a painting, I'll just throw it away and no one will know, but if these guys mess up, it's on national television," she says. "They're college kids, but they're put in a spotlight that not many people face."