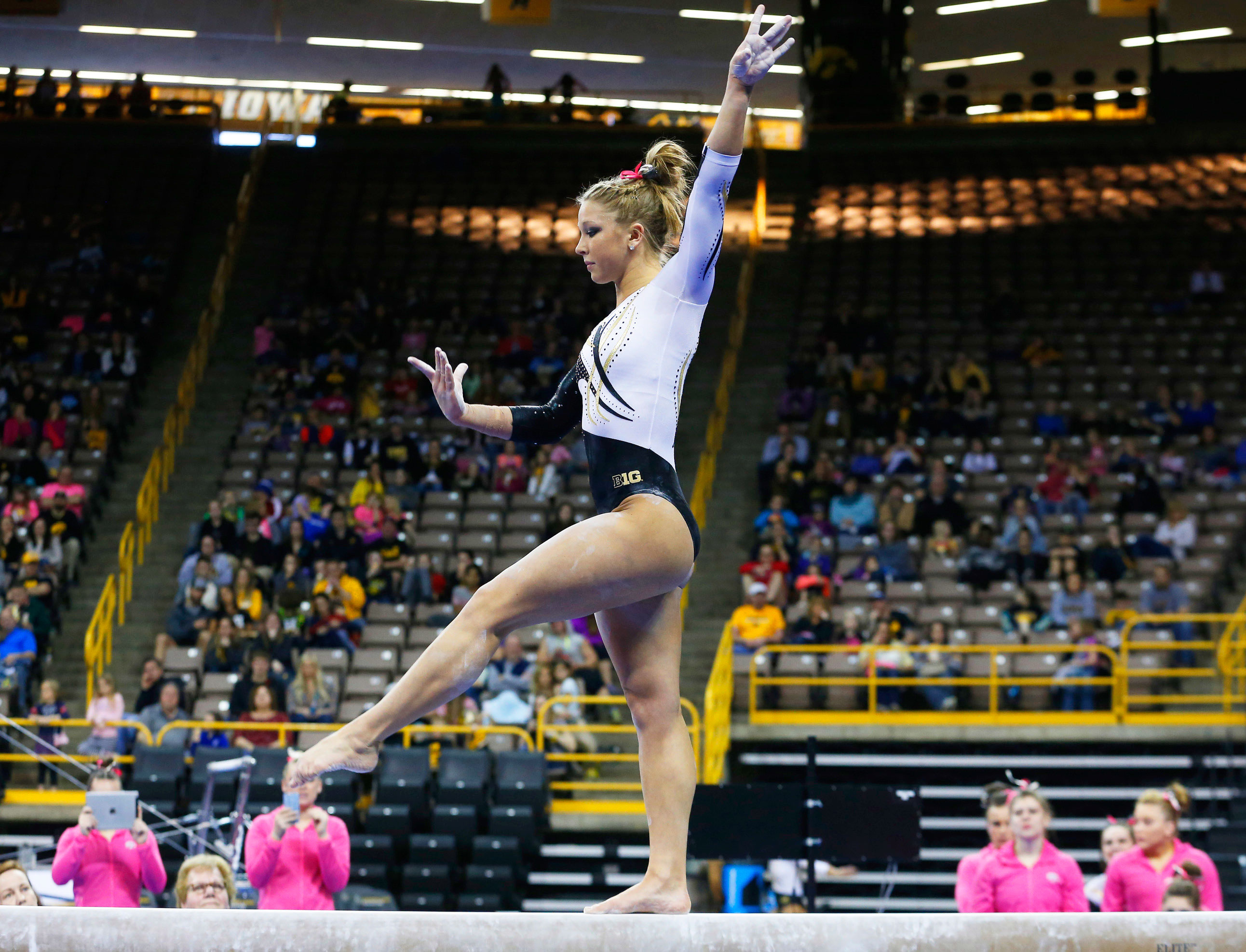 PHOTO: BRIAN RAY/HAWKEYESPORTS.COM
M
ollie Drenth had finally reached the pinnacle of her sport. Representing the Hawkeyes at the NCAA Championships this past April, the UI junior took a breath and then cartwheeled, backflipped, and spiraled off the beam to the roar of an elite crowd.
Drenth had already become the first and only GymHawk since Rebecca Simbhudas, 11BA, and Houry Gebeshian, 11BS, to perform at the NCAA Championships. But after sticking the landing, Drenth could also raise her hands in triumph as the Iowa women's gymnastics program's first first-team all-American since Alexis Maday, 04BA. "I don't think the season could have ended a better way for Mollie," says Coach Larissa Libby. "She came out here and put Iowa on the map."
Drenth's teammates drove 12 hours to Fort Worth, Texas, to support her at nationals. Says Libby: "My husband was watching on TV and texted that it looked and sounded like all of the arena were Iowa fans."
With her cheering section behind her, Drenth earned the highest score of her rotation on beam to finish third overall and also competed in floor, vault, and bars to place 13th in the all-around.
Drenth's ticket to the NCAA Championships came earlier in April when the UI hosted the NCAA Regionals for the first time in several years.
Fresh off a 10-win season, the No. 19 Hawkeyes had a rough start on floor and vault, but finished with the highest team score of the season in bars and the third-best beam score at the meet. Following the competition, Libby was named NCAA North Central Region Coach of the Year, and assistant coaches Jennifer Green and Caleb Phillips received similar recognition.
Reflecting back on a milestone season, Drenth says her coaches have taught her how to compete, lead by example, and have faith in her abilities. Ready to return to nationals next year, she plans to use her newfound confidence to bring her team to compete with her in 2017. "I'm more fired up now," says the Florida native, "because I know what it takes to get there."