Are you ready for some football—memorabilia? Hawk fans proudly show their favorite Iowa treasures.
T
here are Hawkeye fans—and then there are HAWKEYE FANS, willing to create mini shrines or dedicate entire rooms of their homes to the black and gold. Though time and distance may separate Hawkeyes from their most cherished moments at Kinnick Stadium, memories live on through the special UI keepsakes they exhibit in their homes and offices. In garages, guestrooms, and family caves across the country, Hawk fans proudly put their Iowa pride on display. Here we introduce you to a few of Iowa's faithful who have taken their love for all things Hawkeye to extraordinary heights.
CONSUMMATE COLLECTOR
Randy Koppes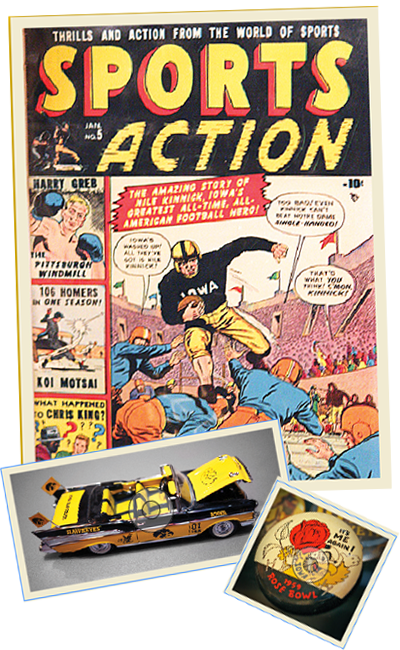 PHOTO: REGGIE MORROW
In the market for a Marvel comic starring Nile Kinnick (pictured right) or a Hayden Fry doll made during the 1980s Cabbage Patch craze?
From California to Washington, DC, fans across Hawkeye Nation have added to their collection of Iowa memorabilia with help from Randy Koppes.
Koppes, who works full-time at US Foods in Coralville, began buying and selling UI collectibles in 1997 after becoming fascinated with Hawkeye diecast toys made in Dyersville, Iowa. Since then, he's expanded his collection to include Homecoming buttons, autographed footballs, steins, programs, posters and pennants, glassware, bottles and cans, ticket stubs, and yearbooks. He also owns collectible plates highlighting campus scenes and records that feature music from the Old Gold Singers, the Scottish Highlanders, and the Hawkeye Marching Band. Koppes' personal favorite item is a No. 1 1930 Chevy delivery truck dime bank that erroneously displays the Herky logo and University of Iowa name upside-down—although that's not for sale.
"Everything [Hawkeye] is collectible," says Koppes, who participates annually in Coralville's FRYfest Hawkeye tradeshow. "I like to show others what is out there."
Watch Koppes on the Big Ten Network's Big Ten Treasure Hunters: http://bit.ly/RKoppes
FOREVER A HAWKEYE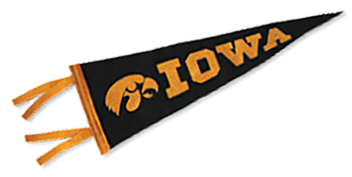 "I have yet to meet a bigger Hawkeye fan than my grandpa Tony. He went to church every Sunday, and he watched Iowa football every Saturday. When it was time for me to decide where I was going to apply for school, the only place I sent an application was the University of Iowa; in my mind, there was no other option. I joked with him about the possibility of attending the other school in Iowa, and for the first time I can remember he got serious and said, 'Don't even think about it.'
The Hawkeye Room, as it is fondly known in my family, was my favorite room to explore while visiting my grandparents. There was always something new, always something exciting, and always something I had missed the last time I was there—everything from signed books and posters to bowling pins, mugs, stuffed animals, and my favorite, Hawkeye Barbie. I loved getting him Hawkeye gifts for holidays and birthdays, because if it had anything to do with his Hawks, it was the greatest thing he'd received.
On July 11, 2015, he passed away. He battled dementia, Alzheime's, and Parkinson's disease for almost four years, but just like his Hawkeyes, he put up a fight. People told me repeatedly was how proud he was of me for going to Iowa. He wasn't well enough to see me graduate, but I know he's watching me—along with his Hawks—every day."

Sarah Wood, 14BA
Iowa City
INSIDE THE PENTAGON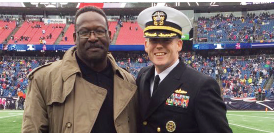 PHOTO COURTESY PATRICK MCNALLY
It's not classified that Captain Patrick McNally, 88BA, a special assistant for public affairs to the Secretary of the Navy, decorates his office at the Pentagon with a signed football from Andre Tippett—a former Hawkeye all-American and Pro Football Hall of Fame inductee.
THE HOME OF A CHAMPION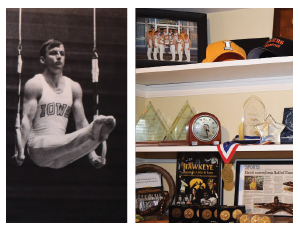 PHOTO: DON HATCH
Don Hatch's home office in Broomfield, Colorado, gives a nod to his days as a three-time all-American Hawkeye gymnast. In 1969, Hatch gave one of his personal best performances in still rings to help Iowa win the NCAA championship. The gymnastics team was the first UI squad in any sport to claim a national title . Now a member of the National Iowa Varsity Club Athletics Hall of Fame, Hatch, 69BBA, commemorates the achievement with mementoes from his collegiate career.

LEADER OF THE PACK
Ted Pacha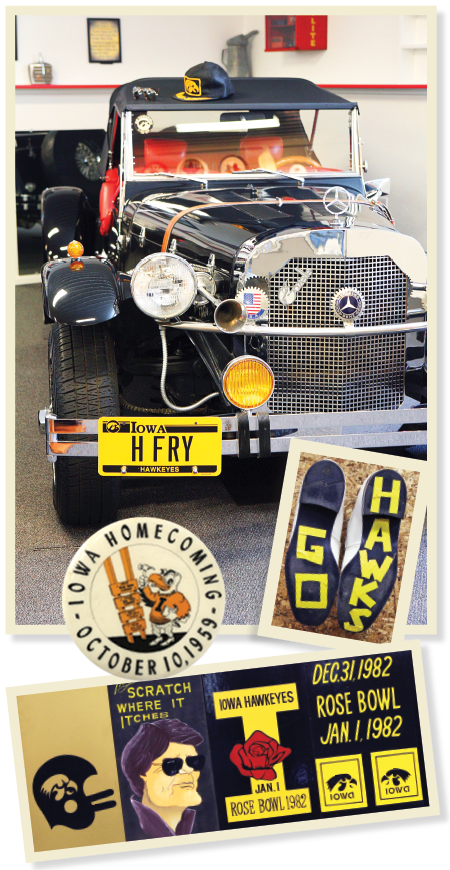 PHOTO: REGGIE MORROW
Ted Pacha, who owns more than 40 classic cars, uses his hobby to benefit the university—organizing the annual Cruis'n for the Kids car show at Kinnick Stadium to raise nearly $50,000 for the UI Children's Hospital.
A traditional red barn on the east side of Iowa City is known as "Hall of Fame East." That's because Ted Pacha, a former Johnson County and National I-Club president, has amassed enough Hawkeye memorabilia to rival the UI Athletics Hall of Fame and Museum on the west side of town. Notes Pacha: "I have some things they don't have."
Pacha began his massive collection in 1975—the same year he founded Hawkeye Medical Supply and joined the I-Club, a national organization for UI Athletics supporters. His memorabilia includes years of wooden signs autographed by Iowa football teams, a section of the old basketball court from Carver-Hawkeye Arena, and more than 18,000 Homecoming badges dating as far back as 1924 (including a paper one for 1943 when metal was needed for the war effort). Much like the hidden Mickeys at Disney World, the Tigerhawk logo can be spotted throughout Pacha's property.
The I-Club board member and National Iowa Varsity club honorary letterman's display of Hawkeye history is so extensive that even Coaches Kirk Ferentz and Hayden Fry have stopped by to admire it. In fact, Pacha owns "Putt-Putt," a 1929 Mercedes SSK replica car (pictured at top) built in 1981 that once belonged to Fry and is autographed by the legendary Hawkeye coach.
Pacha's love affair with the Hawkeyes began when he started selling pop at Iowa football contests at 10 years old, and he hasn't missed a home game since 1975. At his wedding to fellow Hawk Deb Kupka, 77RadT, Pacha wore a pair of dress shoes with "GO HAWKS" spelled out in yellow duct tape on the heels (in collage above). Family and friends couldn't help but laugh at the message revealed when the couple kneeled in front of the St. Patrick's Catholic Church altar.
Pacha gives a tour of his Hawkeye barn: http://bit.ly/TPacha
LIVING THE HAWK LIFE
Mark Wilson, 69BA, 78MA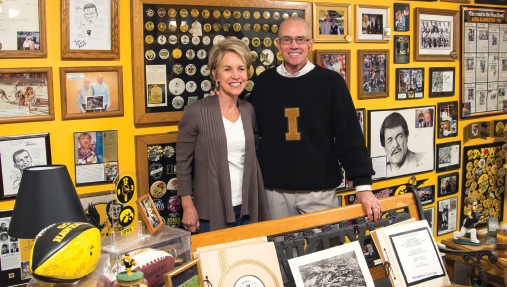 PHOTO: MEI-LING SHAW WILLIAMS/UI COLLEGE OF EDUCATION
Every decade of Mark Wilson's life holds a Hawkeye tale.
Wilson delivered the Daily Iowan as a 7-year-old, snuck into the Field House to watch Iowa basketball games as a teenager, and more recently worked with former Hawkeye linebacker Chad Greenway, 05BA, to install the first Herky on Parade statues downtown at 2 a.m. as students poured out of the bars.
However, Wilson's dearest UI memory has been traveling by train with his family to the 1957 Rose Bowl. Six decades after that trip, Wilson returned this past January to the place that first inspired his love for the Hawkeyes. While in Pasadena, California, to support last season's Iowa football team, he took a photo in front of the stadium gates—the same place he stood as a 10-year-old fan. This boyhood memory looms large for Wilson, who has dedicated an entire room of his home to the Hawkeyes. Says the Iowa City native, "Everything in here tells the story of my life."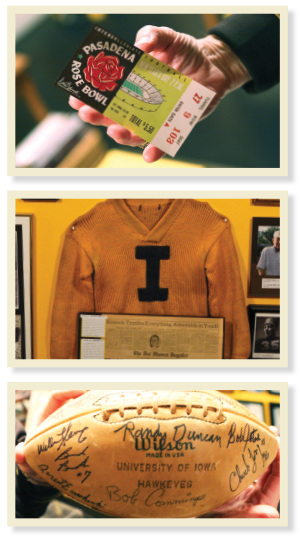 PHOTO: REGGIE MORROW
Visitors to Wilson's Hawk Room sign a guestbook and then can view part of the original wood seating from the 1929 Iowa Stadium his grandfather helped build; an Ironman sweater worn (pictured right) by William Green, 42BSC, the father of a classmate; and Wilson's photographs of Iowa football games that Bob Commings, 60BA, used to recruit players in the 1970s.
Since retiring in 2002 after 30 years as a reading teacher in the Iowa City schools, Wilson has served as an ambassador for the UI Athletics Hall of Fame and Museum. He shares his passion for the Hawkeyes by giving tours and has written a curriculum for kids who visit the museum. One of the most rewarding moments from his time at the hall of fame, though, came in 2004 when he identified Nile Kinnick's Walter Camp Memorial Trophy in a box of abandoned awards. Wilson took it home and spent three months restoring the trophy, so that it can now be displayed next to Kinnick's Heisman.
Wilson is currently writing a book about the Ironman's athleticism, intellect, and leadership, which has brought him to the same conclusion as the headline of a 1939 Des Moines Register newspaper on the wall of his Hawk room: "Kinnick Typifies Everything Admirable in Youth."
Watch Wilson talk about Nile Kinnick's legacy on CSTV's From Ballfields to Battlefields: http://bit.ly/WilsonKinnick