---
Brandon Campbell
Little Rock Fashion Week
www.littlerockfashionweek.com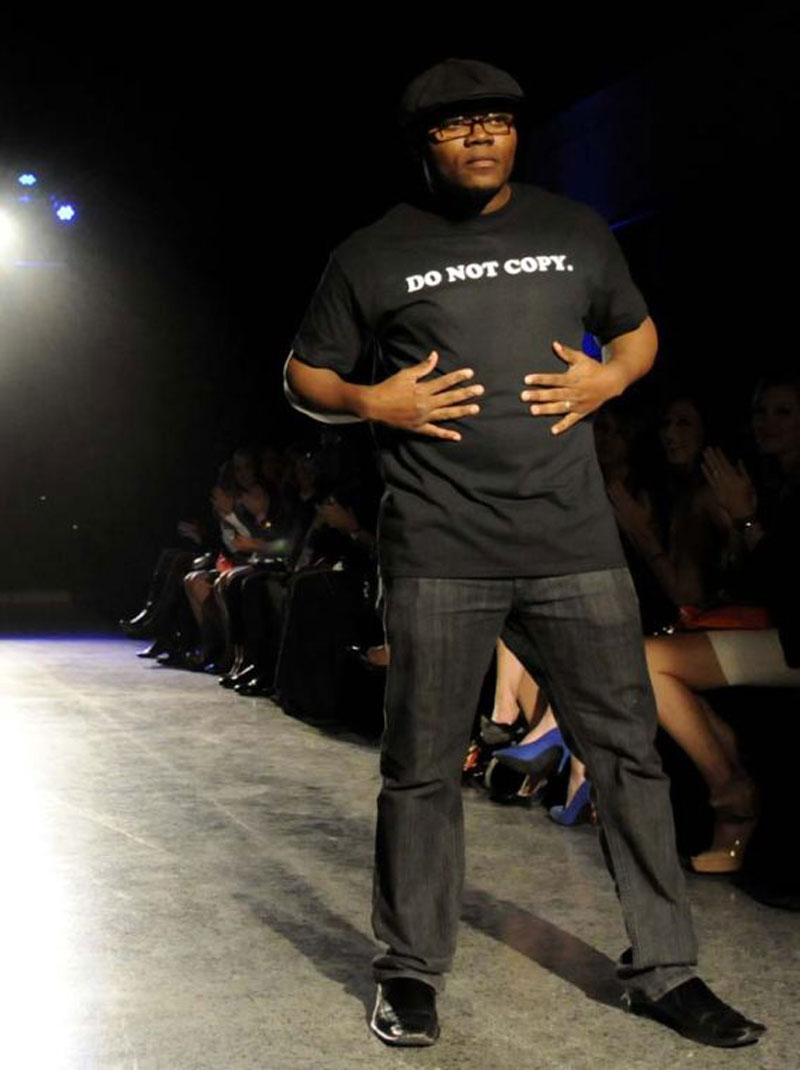 CONCEPT RENDERING: ADVANCED DESIGN & MANUFACTURING: A M.C. GINSBERG COMPANY
After covering fashion on the red carpets and runways of Los Angeles and New York, Brandon Campbell began to wonder if he could turn his hometown into the fashion capital of the South.
"In smaller cities, people don't always have a platform to showcase their talent," says Campbell, 04BA, a native of Little Rock, Arkansas. So, in 2009, he founded Little Rock Fashion Week, which has become the fastest-growing event of its kind in America. The annual July fashion show features around 14 labels each year, supports a variety of local charities, and provides opportunities for aspiring models and designers to interact with established industry leaders.
Campbell has since brought this concept to Baton Rouge and branched out into other areas of fashion, entertainment, and live event production. "The scariest part of [becoming an entrepreneur] was what would happen if I didn't do it," says Campbell, who earned an entrepreneurial certificate from Iowa. "If you want to find out what you're made of, start your own business."
---
Deanna Dozer
Deanna Marie Cosmetics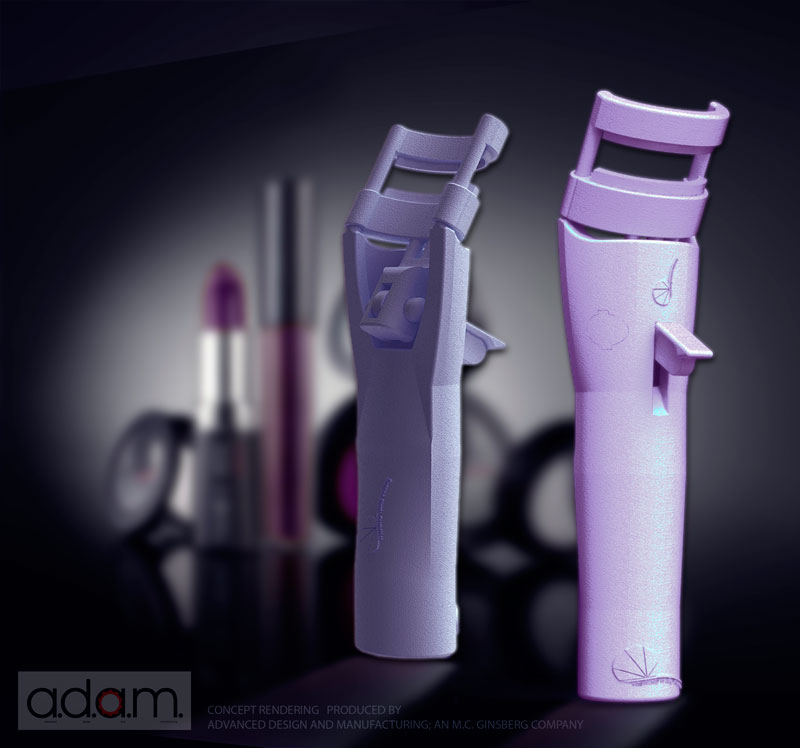 CONCEPT RENDERING: ADVANCED DESIGN & MANUFACTURING: A M.C. GINSBERG COMPANY
Applying makeup in front of the mirror one day, Deanna Dozer reflected on the excessive time it can take to get ready and leave the house.
"No one should start a morning off frustrated and late," says the UI political science major, who was constantly looking for ways to save time in preparation for law school. "I thought to myself, 'there has to be an easier way to do this!'"
To simplify her mornings, Dozer developed an efficient two-in-one mascara applicator and eyelash curler that works by pressing a lever in the back. While she awaits word on her recent patent application, Dozer receives guidance through the UI's entrepreneurial management certificate program.
Inspired by her venture into entrepreneurship, Dozer decided to focus her studies on business and intellectual property law this fall. She says, "When you are passionate about an idea, you will find yourself committed and excited to take it to the next level."
---
Amy Gharib
Dog Gone It Designs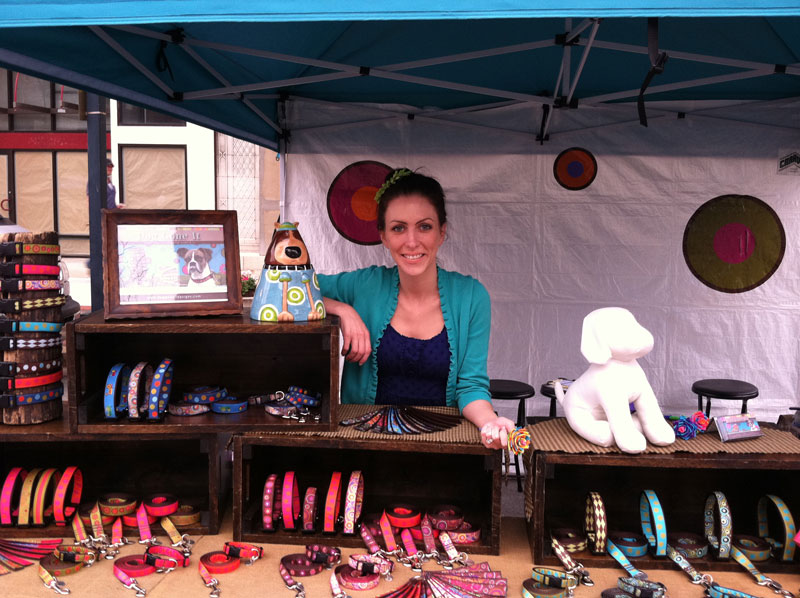 PHOTO: BILL ADAMS
Amy Gharib couldn't find the perfect collar for her beagle, Barley, or the other pets in her life, so—doggone it—she decided to make one herself. In 2007, the commercial designer turned her business full-time to the dogs.
"I will never forget when I told people I was leaving my design job to make dog collars," says Gharib, 03BA, recalling puzzled looks from friends. "But if you're waiting for that perfect time, it usually will never come."
Based in Marion, Iowa, Dog Gone It Designs specializes in high-quality collars, leads, and harnesses. Customers can personalize their orders and choose from more than 50 colorful designs. Available online, at art festivals, and in pet stores, the brand has established a base of loyal customers who appreciate Gharib's funky flair for design and dedication to furry best friends.
---
Eric Kraus
Sleeping Baby Hearing Foundation
www.sleepingbabyhearingfoundation.org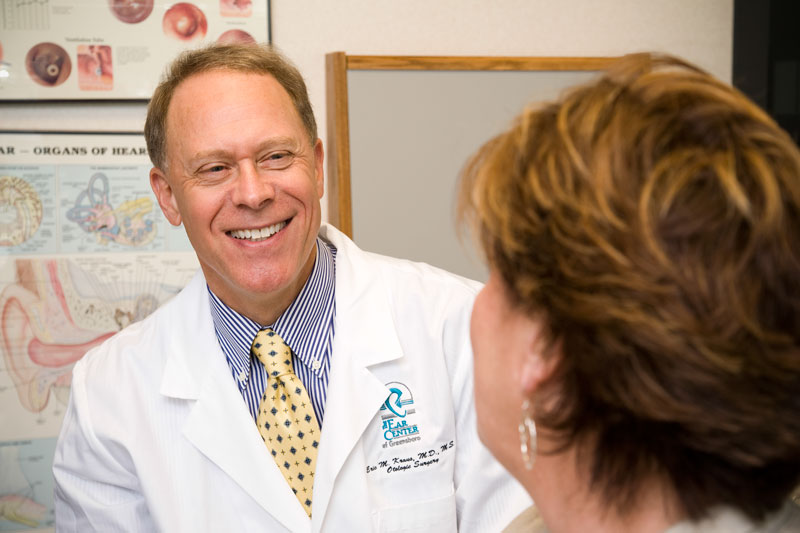 Early detection can make a big difference in the lives of children born with hearing loss. Yet many families don't have access to newborn screening—and those who do typically don't take advantage of the service.
Eric Kraus, 83MS, 83R, an otologist at the Ear Center of Greensboro, North Carolina, has now made it easier than ever for mothers to check their newborns for hearing loss at home. The Sleeping Baby Hearing Test-Home Hearing Screen is a free app that provides a non-invasive hearing screen for children two weeks to six months old.
Kraus based the app on a hearing screen developed by his mentor, William F. House, the pioneer of cochlear implants. In 2013, Kraus founded the Sleeping Baby Hearing Foundation, adapting House's screen for modern technology. Following instructions, mothers use the app's built-in sound meter to adjust the volume of their voice as they speak to their babies at a certain decibel level within five minutes of their newborns falling asleep. Babies with normal hearing typically arouse, so the app refers parents of newborns who don't respond for professional testing.
Without any marketing, Kraus's app has already been downloaded more than 1,200 times. It's currently available in English for the Apple iOS platform, but Kraus plans to adapt a second version for use in other languages and on other smartphone platforms. "More people have cell phones than toilets and running water," he says, "so we can potentially reach millions of people around the world."
---
Ryan Ries
TranslaCare
www.translacare.com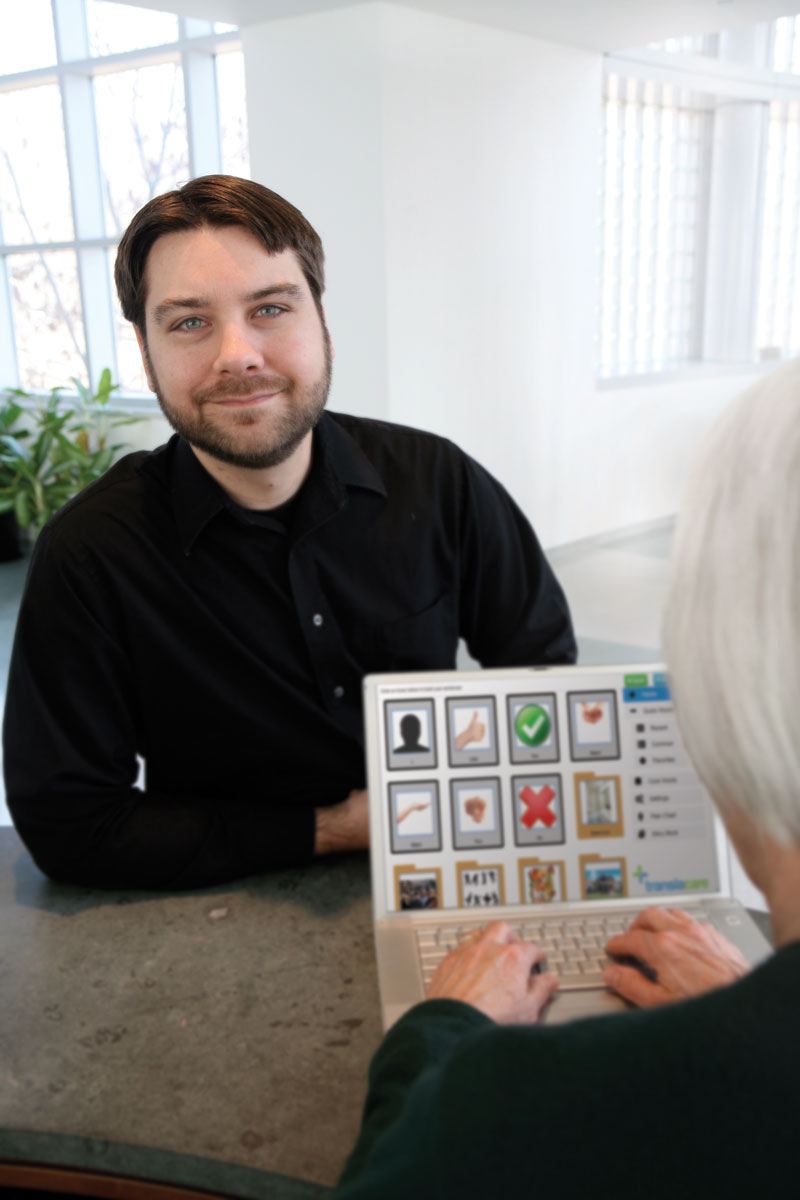 PHOTO: REGGIE MORROW
Imagine struggling to ask for a glass of water or help going to the bathroom. Such scenarios are an everyday occurrence for senior citizens suffering from dementia, amyotrophic lateral sclerosis (ALS), a stroke, and traumatic brain injury.
Ryan Ries discovered a way to improve communication between these patients and their caregivers through his company, TranslaCare. Now used in more than a thousand U.S. rehabilitation centers and senior living homes, Ries' Iconotouch software helps senior citizens suffering from language, speech, and memory problems express their needs. The program—which can be accessed through any device connected to the Internet—allows users to select words and pictures to build sentences, or use a chart to rate their pain.
Ries, 14BA, 14BS, launched TranslaCare as a UI neurobiology and linguistics student. In 2011, he joined JPEC's Bedell Entrepreneurship Learning Laboratory program, earning funding for his company while pitching his idea to investors at business plan competitions throughout the state.
Ries now helps the next generation develop an entrepreneurial mindset by volunteering with the UI Jacobsen Institute for Youth Entrepreneurship.
---
Emily Roberts
Western Wise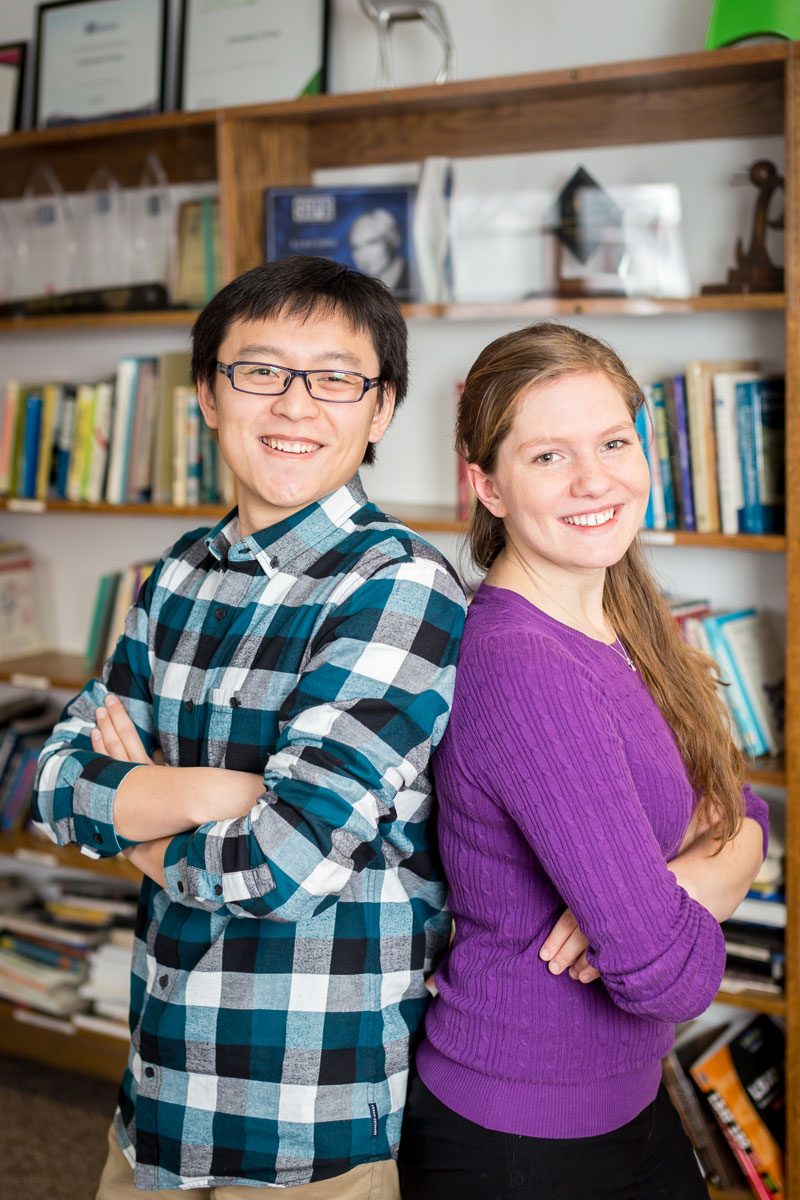 PHOTO: CHENZHE (MARK) ZHU
Halfway across the globe, thousands of Chinese students study English in hopes of continuing their education in the United States. UI senior Emily Roberts gives her clients an edge as founder of Western Wise, a consultancy that assists international students in their transition to America.
Roberts (pictured at right) formulated the idea for Western Wise as a writing tutor for the UI Tippie College of Business's Frank Business Communications Center, where she listened to many Chinese students share their struggles with mastering English. Though most had extensive training with the written language, they wished they had known more native English speakers in China to help them practice their verbal communication skills. Since February, Roberts and her team have offered English tutoring to children in China through an online video chat. This summer, Western Wise will hold a camp to help Chinese students aged 10-16 adjust to the Midwest and improve their English.
Roberts honed her business plan through participation in UI-sponsored business model competitions, the Iowa Start-Up Accelerator class, Venture School, and the Okoboji Entrepreneurial Institute. As a participant in the Bedell Entrepreneurship Learning Laboratory (BELL), she continues to receive free office space, weekly mentoring, business training, and networking opportunities. One of these networking events introduced her to Chen Cui (pictured above left), a computer engineering graduate student who has since become a part of her team that touches lives around the world.
---
Blake Rupe
Re-APP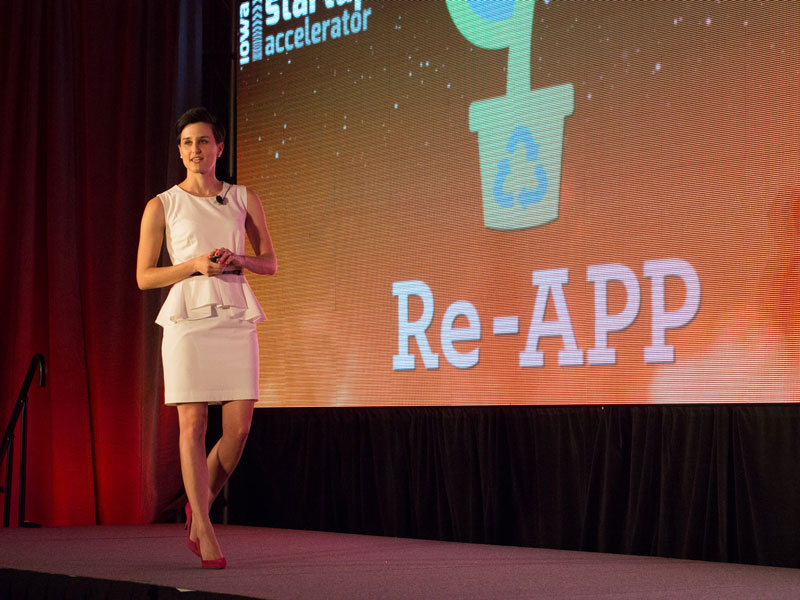 While writing a thesis on environmentalism for her masters in international programs, Blake Rupe became alarmed by the amount of garbage polluting the Gulf of Mexico's once-pristine coral reef. Concerned about the impact on the environment and human health, Rupe became inspired to create a phone app to promote recycling.
Though Rupe, 10BA, 14MA, didn't have any prior business or code-developing experience, the Bedell Entrepreneurship Learning Laboratory provided her with the resources to form her team, develop a strategy, and start her business. In January 2014, she debuted the Re-APP, recently named one of General Motors' top apps for people who want to live eco-consciously.
The app allows users to track their daily actions. Participants earn points each time they reuse, recycle, and compost that can then be used towards rewards from brands such as Target and Whole Foods. They can also interact with each other, share eco-friendly tips, and compete for the title of "Most Green."
Rupe and her team are now developing a new version of the app called Sift that will soon be available in the Apple iStore and on Google Play.
---
Shauna Mackenzie VanBogart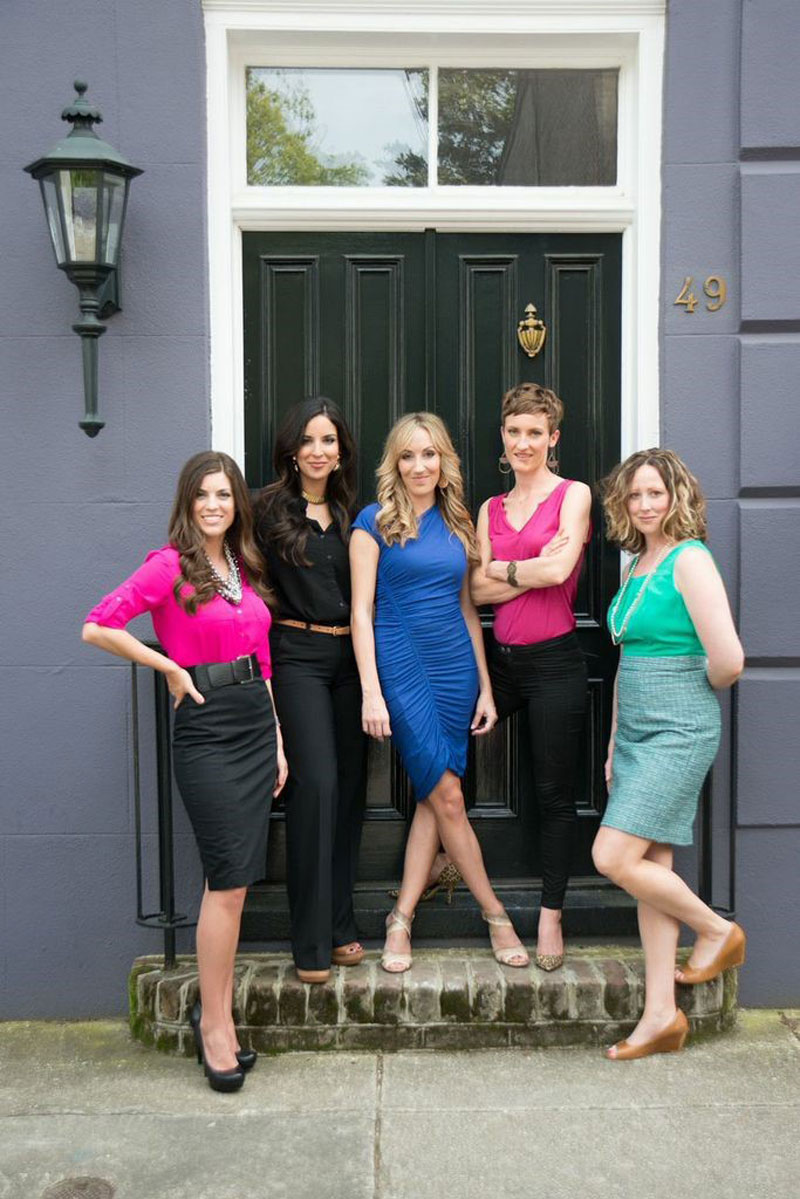 Best Kept Self
www.bestkeptself.com
As an image consultant in Charleston, South Carolina, Shauna Mackenzie VanBogart already offered female professionals advice on how to dress for success. Yet VanBogart, 06BS, noticed her clients also desired consultation in other areas of their lives, such as health, beauty, relationships, and careers. So, VanBogart assembled a national team of experts to launch an online community last year that helps women feel, look, and live better.
Best Kept Self features daily articles about issues facing career women, a premium online network, and subscription boxes filled with expert-recommended products. The company also offers e-courses and webinars on topics such as revamping a wardrobe and eating healthy. VanBogart says, "The site is like having a personal stylist, a life coach, and a nutritionist in your back pocket."
---
Alec Whitters
Higher Learning Technologies
www.hltcorp.com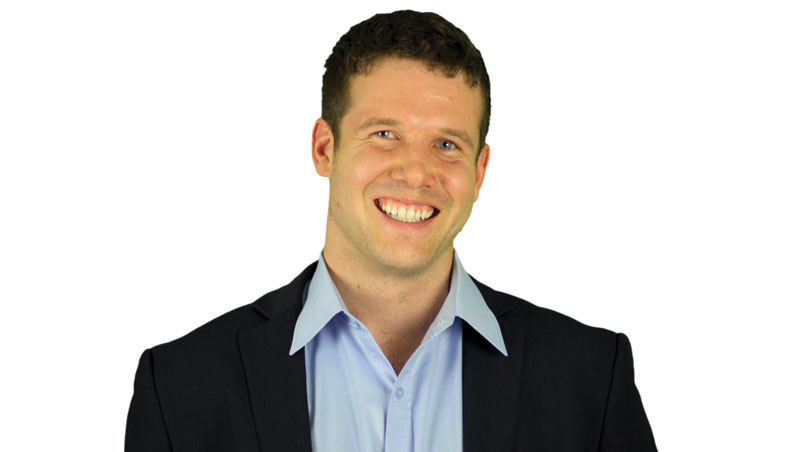 Thousands of dental and nursing students worldwide can thank Alec Whitters for revolutionizing the way they study for their boards.
As a UI student preparing for the dental board exam in 2011, Whitters felt weighed down by a thick study guide and a set of flashcards that cost him hundreds of dollars. With the help of some fellow UI students, he created a cell phone app that provided a cheaper, lighter, and more time-efficient alternative for studying for the biggest test of his life.
With the app, Whitters could study for his boards anywhere—and whenever he had a spare minute—without hauling around heavy study materials. The app tracked his mastery of content and focused his study time towards areas that needed his attention the most.
During the development process, Whitters turned to JPEC to gain advice from experienced mentors, hone his business plan, and take advantage of available office space in the Oakdale Research Park. In fall 2012, he left school to focus full-time on leading the newly created company, Higher Learning Technologies, and released the first app—Dental Boards Mastery—to the Apple iStore.
The company has since grown to offer study aids for students of nursing, financial planning, and medicine. One of the nursing apps has been the top grossing educational app sold in the Apple iStore and Google Play Store, while all five of the company's offerings are among the top 100 grossing in education. Collectively, the apps have been downloaded more than 750,000 times in the past year-and-a-half and have received the attention of publications such as EdTech, Forbes, Bloomberg Businessweek, and Inc. Higher Learning Technologies already employs 36 people, but Whitters says he hopes to expand beyond the health science market.
Ranging from $9.99 to $29.99 to download, the apps offer significant savings and other advantages over traditional study methods. "For people who have failed the boards multiple times, this test is a big roadblock in their careers," says Whitters. "We help them get through when they feel hopeless."
---
Kendra Wyatt
New Birth Company
www.newbirthcompany.com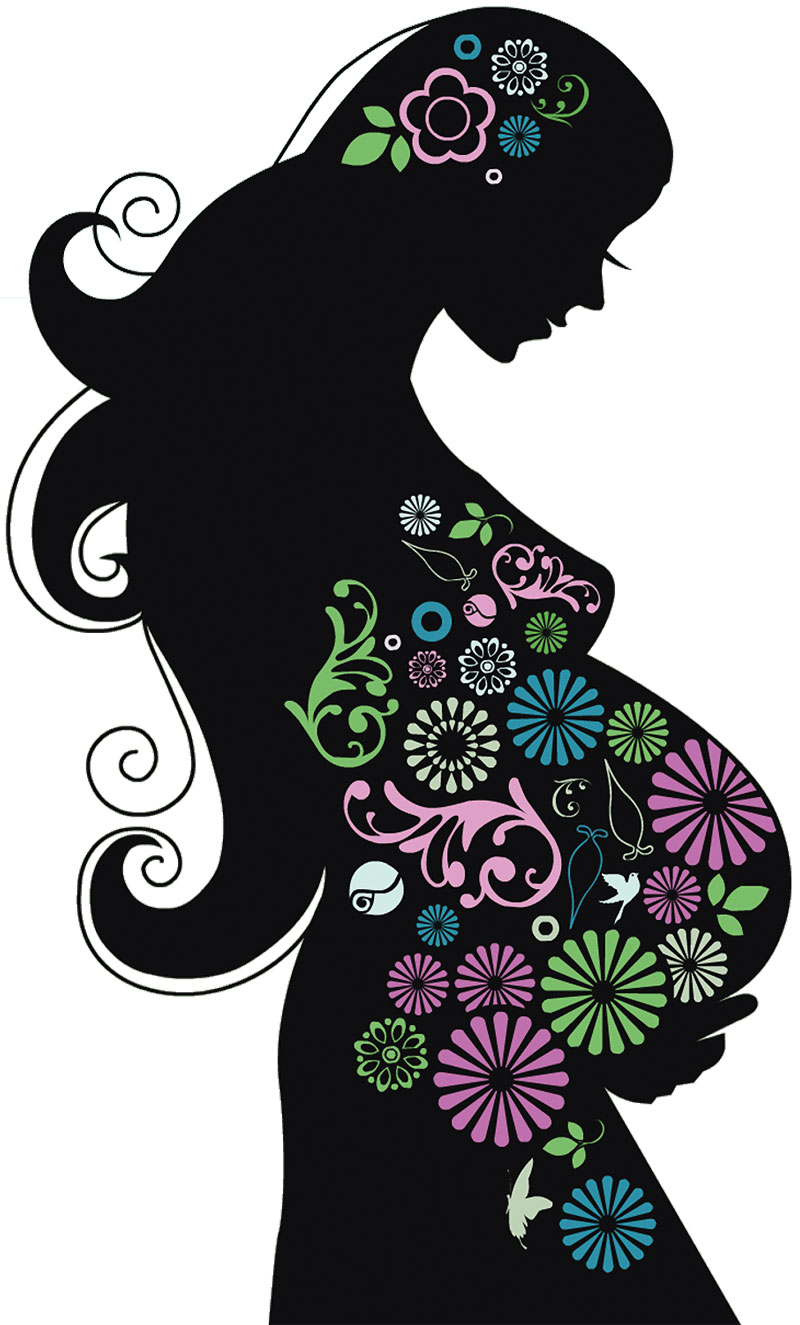 With the widespread use of labor inductions, epidurals, and cesarean sections in hospital births, Kendra Wyatt, 97BSE, says many women have lost touch with the benefits of natural birth. Wyatt offers a more intimate and cost-effective birthing alternative for healthy mothers-to-be as the owner of the New Birth Company, a free-standing birth center in Overland Park, Kansas.
Since its opening in 2011, the center has assisted in more than 1,000 deliveries. A certified nurse midwife and nurse staff the center, providing care for mother and baby throughout pregnancy, labor, and delivery, and up to six weeks after birth. The center also screens women for potential complications and will refer them to a physician or hospital partner for any concerns.
Though some insurance companies and states have licensing and reimbursement restrictions that inhibit access to birthing centers, Wyatt says more families are interested in the safe and calming environment that a birthing center provides. "It's going to be a consumer-driven movement," says Wyatt, former chair of the industry relations committee for the American Association of Birth Centers, "and moms will be our No. 1 advocate."
---