Iowans prefer plain, simple food, and they stick with something they like. In this memoir, a Hawkeye state transplant ponders his love for the infamous breaded, fried pork tenderloin sandwich.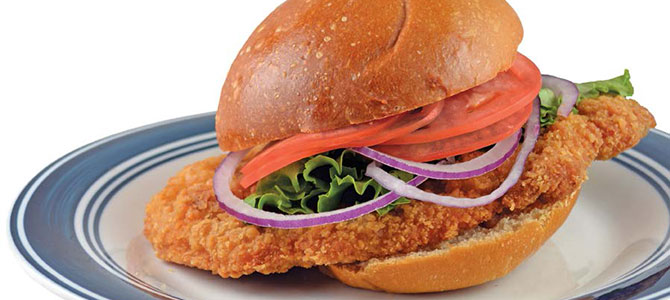 PHOTO: ZACK SCHMIDT
I started working in the rough-and-tumble grocer's world three days after my sixteenth birthday. As a part-time employee at the local Hy-Vee, I was tasked with bagging groceries, mopping up all manner of spills, and schlepping a seemingly endless supply of Milwaukee's Best twelve-packs to the store's beer cooler in an effort to quench the insatiable thirst of young, party-loving college students from the nearby Iowa State University campus.
The hours were long, the pay was paltry, and perhaps worst of all, I was required to wear a tie. I might have quit after just a few weeks if it hadn't been for the store's one saving grace—the Hy-Vee deli. It was there, at the tender age of sixteen, that I ate my first breaded pork tenderloin sandwich. It would be several more years before I lost my virginity, but that first bite of hot, juicy, delectably fried pork was a similarly religious experience.
For the next six years of my life I toiled as a bagger-stocker-checkout boy for the Hy-Vee chain, often working long, soul-crushing shifts punctuated by a glorious thirty-five-minute lunch break. Each break, I would belly up to the deli counter, peer under the glass shield separating the food from the customers, and pick out the largest, most delicious looking breaded pork tenderloin sandwich available.
You've heard of the "freshman fifteen"? Over the years I've packed on the tenderloin twenty, but it's been worth it. Each bite has been like a little taste of heaven (and undoubtedly brought me a little bit closer to actually visiting there). Pork tenderloins are not, by any definition, a health food, but then this is not the Midwest Journal of Medicine. Besides, if the National Institutes of Health funded a major study of the pork tenderloin, I'm convinced they could find some medicinal benefit. After all, the pork tenderloin sandwich is nature's most perfect food.
For the uninitiated (i.e., those of you not from middle America), the breaded pork tenderloin sandwich is a delicacy found in small-town restaurants and diners throughout the Midwest, a culinary marker that helps separate the region from other areas of the country. The sandwiches are, in many ways, the embodiment of Midwestern values—nothing fancy, but considerably more complicated than they initially appear. A perfectly constructed breaded pork sandwich begins with a carefully butchered piece of pork loin, which is then pounded into a large, thin, amoeba-like shape. It is a delicate process. Pound the loin too thin and you risk overcooking the meat, zapping it of its juiciness. Leave the pork too thick and it will cook unevenly. Tenderloin enthusiasts strive for a thickness of about three-eighths of an inch, although consensus is fleeting.
Although pork loin needs no seasoning, the best tenderloins are marinated in buttermilk to soften the meat and infuse flavor, then coated with breading. Finally, the pork is plunged into a bubbling deep fryer, heated between 350 and 360 degrees Fahrenheit, for exactly three minutes.
When executed correctly, the results are nothing short of spectacular: moist, succulent white pork encased in a crispy breading, fried to a golden brown, a massive portion of meat spilling out from beneath a preposterously tiny-looking bun like a rapturous porcine explosion. Because of the way the pork is pounded, no two breaded pork tenderloin sandwiches are exactly the same. They are the road food equivalent of snowflakes.
Quality pork tenderloin sandwiches are a point of pride in my hometown of Ames, as they are for Iowans in general. People often mistake Iowa for a corn state, no doubt swayed by Hollywood's image of baseball players fading softly into an endless field of cornstalks. In reality, Iowa is all about the pigs. According to the Iowa Pork Producers Association, at any one time there are roughly nineteen million pigs living in Iowa. The human population of the state is just over three million. At some point, the pigs will do the math and stage a bloody coup, but until then Iowans will continue to produce more pork than any other state in the country. The National Hog Farmer, a publication that bills itself as "the pork business authority," says that in 2008 Iowa accounted for almost 30 percent of the entire U.S. hog market.
Not that Iowa's pork production is all about volume. La Quercia, an artisan pork producer based in Norwalk, ships cured meats that are among the finest in the world. Chef Mario Batali called La Quercia's prosciutto "the best American prosciutto on the market." And pork from Becker Lane Organic Farm in Dyersville graces the tables of some of the best restaurants in the Midwest.
No two breaded pork tenderloin sandwiches are exactly the same. They are the road food equivalent of snowflakes.
But for most Iowans, myself included, the breaded pork tenderloin remains king, a sandwich so ubiquitous it can be found in virtually any roadside diner, restaurant, or grocery store deli.
I once asked pork tenderloin blogger Allen Bukoff, who grew up in Coon Rapids, Iowa, about why we Iowans have such reverence for the sandwiches. "We grew up in a richer environment because we had breaded pork tenderloin in our community," he said, and I wholeheartedly agree. "Think of all the children of the world who grew up without that."
It boggles the mind.
Not that Iowa has the pork tenderloin market cornered. In fact, while some will argue that the pork tenderloin sandwich was invented in the Czech neighborhoods of Cedar Rapids, evidence suggests the sandwich was born in 1904, created by a pushcart operator named Nicholas Freinstein—in Huntington, Indiana. The idea was to bring the German Wiener schnitzel to the masses. Pork tenderloin connoisseur and historian David Stovall said the Wiener schnitzel had several things working against it: It was generally served on a plate without a bun and covered in gravy, which made it less portable. And although it was breaded and fried, the meat inside was veal, which didn't play particularly well with Hoosiers. "When it translated to America, you couldn't sell veal to a working man, so pork was substituted in the Midwest," Stovall said.
Freinstein's pork tenderloin proved so popular, he opened a restaurant in 1908, called Nick's Kitchen. "As far as I can tell, there is no written record of a pork tenderloin sandwich that predates Nick's Kitchen," Stovall said.
Over the next century, the sandwich gained popularity in small-town diners and restaurants along a swath of the Midwest, from Indiana through Illinois and into Iowa, an area sometimes referred to as the "pork tenderloin corridor." The farther you stray from Interstate 80, the less likely you are to find pork tenderloin nirvana.
Throughout the years, each restaurant placed its own stamp on the recipe, some pounding the pork so thin that the sandwich became almost crispy, a style sometimes referred to as an Iowa Skinny or an elephant ear. Restaurants prided themselves on producing the biggest sandwich and hungry farmers gobbled them up.
When I attended college at the University of Iowa many eons ago, my buddies and I would occasionally skip class to drive the eleven miles up Highway 1 to nearby Solon, Iowa, home to a small diner called Joensy's, a Mecca of sorts for pork tenderloin enthusiasts. Solon, it should be noted, holds an annual town celebration called Beef Days, but it is best known for Joensy's, which sports a sign above its front door proudly proclaiming it to be "Home of the Biggest and Best Pork Tenderloin in Iowa."
The sandwiches are comically large, more the size and shape of an elephant footprint than an elephant ear. But Iowans pride themselves on thriftiness, and a Joensy's tenderloin is nothing if not a good value. One sandwich can probably feed a family of four, but I've never seen anyone split one.
The sandwiches are, in many ways, the embodiment of Midwestern values—nothing fancy, but considerably more complicated than they initially appear.
The concept of massive, artery-clogging sandwiches has not played so well with consumers outside the tenderloin corridor, perhaps because pork is not as revered in other parts of the country. Texans have been serving up chicken-fried steak since the nineteenth century, with pounded, breaded cube steak as the star. The Georgia-based Chick-fil-A, established in the 1960s, has created a near cult-like following with its fried chicken sandwiches. Neither incarnation can hold a candle to the pork tenderloin.
There have been attempts by some fast-food chains to mass market a breaded pork tenderloin sandwich, most of which have ended in abject failure. Burger King test-marketed a breaded pork sandwich called the Country Pork Sandwich in Midwestern restaurants. I tried one once. It had the consistency of a hockey puck and tasted like breaded sawdust. It was, in a word, unworthy.
As a birthday gift several years ago, my wife bought me frozen pork tenderloin sandwiches from an Iowa-based online retailer. It was an incredibly sweet gesture and a very thoughtful present, but the tenderloins were unspectacular. Because we do not own a deep fryer, the pork wound up tough, the breading overcooked, and much of the flavor was lost. I ate them anyway because they were, after all, pork tenderloins. But it just wasn't the same.
Part of the problem, I now realize, is me. I'm older now and my palate is more mature. I realize the sandwiches I ate as an impressionable young grocery store employee weren't the finest examples of the craft. Still, it made me nostalgic when I heard that my beloved Hy-Vee chain, in a show of support for local pork producers, purchased one million pork tenderloins in January 2010 and planned to sell their Jumbo Breaded Pork Tenderloin Sandwiches for just $2.88 apiece. I now live in Chicago, where breaded pork tenderloins do not fall from passing pigs like they do in my home state. The nearest Hy-Vee is more than an hour's drive away, perhaps longer depending on traffic.
Not that I'm left completely high and dry in the big city. Recently, the Wisconsin-based fast-food burger chain Culver's opened a restaurant exactly 1.3 miles from my house. As luck would have it, Culver's offers a pork tenderloin sandwich, which it hails as "inspired by an Iowa farmland specialty," made with "premium center-cut pork loin."
A couple of weeks ago, I drove to Culver's, waited in an insufferably long line at the drive-thru, then placed my order: one breaded pork tenderloin with lettuce, tomatoes, onions, and mayonnaise.
As I sat there waiting for my sandwich to be delivered, I heard the driver behind me place his order: a double Cheddar burger with bacon. I chuckled. What a sucker, I thought. Burgers are for losers. Moments later, a Culver's employee handed me my bag and I drove back home. I opened the bag to find... a double Cheddar burger with bacon. I reluctantly choked down the burger but vowed to never let it happen again.
Next time, I'll go the extra mile. I'll drive to Hy-Vee.