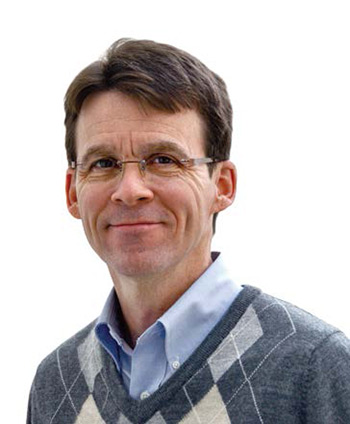 PHOTO: JOE BOLKCOM
Senator Joe Bolkcom discovered the stresses of trying to eat on a tight budget.
Iowa Senator Joe Bolkcom is no stranger to financial hardship. Growing up in a family of 11 in the Quad Cities, he recalls nights when his mother served scrambled eggs for dinner—because that's all they had left in the fridge.
Still, Bolkcom was sobered by his recent attempt to live on a minimum-wage budget for one week. Joining two other Iowa senators, Bolkcom accepted the Iowa Citizen Action Network's "Raise the Wage" challenge as a way for policymakers to draw attention to the hardships of living on $7.25 per hour.
"This was an absolutely grounding experience," says Bolkcom, 88MA, who had $77 to spend on food and transportation after subtracting rent and taxes. "I get that [this] does not equal in any way, shape, or form the reality of living on low wages. This challenge is simply a way for us to get a very small taste and feel for the difficult decisions people make every day to survive."
Bolkcom turned to Facebook to document his journey. He started with a picture of the groceries he purchased for the week's meals, followed by photos and descriptions of his progress:
I have finished my first batch of bean tacos. I will make a batch of pasta next. I am having a PBJ sandwich, chips, and banana for lunch again today. Running low on bananas. Hard to afford fresh fruits and vegetables.
Additionally, he rode his bike everywhere he could and hunkered down at home. He declined lunch and dinner outings and invitations to meet up for a beer with buddies, which put into focus the isolation that comes with a lack of discretionary income. He learned a no-frills budget required him to plan every move—there was simply no room for error or an unexpected emergency.
The Facebook posts sparked a flood of both positive and critical comments. Some people posted their support for raising the minimum wage, while others expressed anger over their daily battle to make ends meet. The senator fully admits he can't imagine how difficult the challenge would have been if he had children to support, describing that stress as "crushing."
Even only having to fend for himself, Bolkcom still fell short by the end of the week. A required trip to Des Moines for a meeting put him over budget. The experience only steeled Bolkcom's resolve to keep pushing for a bill to raise the state's minimum wage from $7.25 to $10.10 per hour, which is what he intends to do when the Iowa legislature reconvenes next month.
Says Bolkcom: "It is simply not fair to work hard every day, play by the rules, and still not have the money you need to support you and your family."