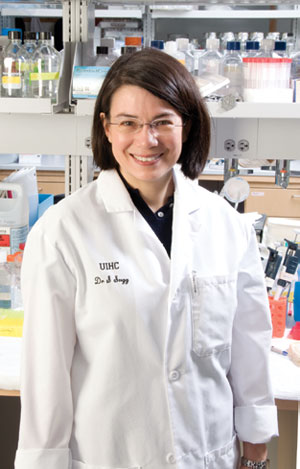 PHOTO: SUSAN McCLELLEN/UIHC CREATVE MEDIA GROUP
At the University of Iowa Hospitals and Clinics' Breast Health Center, a multidisciplinary team of surgeons, cancer experts, and specially trained nurses provide education, prevention, diagnosis, treatment, and clinical trials for breast cancer. UIHC is often the first or only facility in the state of Iowa to offer innovative treatments and approaches to help women before, during, and after a breast cancer diagnosis, including:
Advanced diagnostic tools, including digital mammograms, 3D imaging (tomosynthesis), and whole breast ultrasound, that can better screen dense breast tissue.
Intraoperative radiation therapy, which delivers a therapeutic dose of radiation immediately following surgery while the patient is still in the operating room. Convenient for patients who lack access to radiation therapy facilities, the treatment also saves time and money and decreases radiation side effects.
Genetic testing to determine the best treatments and therapies for each patient and cancer. "This personalized medicine helps tailor treatments to patients," says the center's director, Sonia Sugg, pictured above. "Not everyone benefits from chemotherapy. These molecular tests can also sift out people who would do well with anti-estrogen treatment."
Breast preservation surgery, including immediate oncoplastic reconstruction, with plastic surgery if needed.
Nipple-sparing mastectomy, which removes breast tissue and/or tumor while saving the skin and nipple. As a result, incisions are less visible and the cosmetic results are improved. "Breast cancer and surgery are particularly hard on young women, who are typically very conscious of their body image," says Sugg. "It can be very traumatic, especially as many of these women haven't yet formed stable partnerships."
Microvascular procedures during reconstruction surgery that transplant blood vessels and tissue from the patient's abdomen for a natural shape and feel to the breasts.
A surgical treatment for lymphedema (swelling in arms), which affects a small percentage of women after breast cancer surgery.