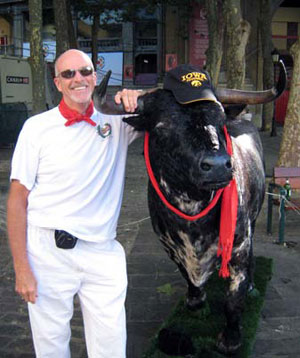 Photo courtesy Jon Noland
Jon Noland poses with a stuffed bull in Pamplona, Spain. The next day, Noland came just as close to a live version of the animal when he participated in the traditional Running of the Bulls.
Jon Noland, 64BA has always been a good runner, but during a vacation in Spain last year he ended up sprinting for his life. Prompted by the untimely death of a friend, Noland—a self-described "adrenaline-junkie" from Cordova, Ill.—decided to pursue an item on his own bucket list by participating in the Pamplona Running of the Bulls. So, at age 71, Noland joined some 20,000 other people to race half-a-mile through narrow, winding, cobbled streets, chased by a dozen bulls and steers on their way to the bull-ring.
For a week in July, the city of Pamplona celebrates the festival of San Fermin with this daily ritual. Despite several fatalities over the years, and numerous injuries from falls or being gored or trampled, many runners still attempt to touch a bull in what's considered the ultimate act of bravery.
Noland watched the race the day before he took part, but he was unprepared for the overwhelming surge of people and the ensuing chaos. "People were falling; I was pushing, I was being pushed," he says. "It was mayhem!"
Although he dressed in the traditional white shirt and pants with a red scarf, Noland also wore a black-and-gold Hawkeye cap so he could easily spot himself in any videos or photographs. Indeed, he appears in an official video for about a minute, including a scene where a bull's horn almost grazes his body.
The Iowa gear also helped another person identify him. As Noland limped out of the ring with blood-stained clothes and a torn muscle in his leg, he heard someone shout, "Go, Hawks!" The fellow Hawkeye turned out to be a soldier from Muscatine who was stationed in Germany.
Noland spent the rest of his vacation hobbling around, but he harbors no regrets about his dangerous adventure. "All is well today; my wounds are healed, and I'm back running," he says. "And I possess a memory I'll never forget."